Latest LaCie Rugged Thunderbolt USB 3.0 1TB SSD hard drive in review for my video editing needs. Which hard drive do you use for YouTube videos? Do you edit all your videos through your Macbook Pro? Is there a hard drive that works well for editing and rendering 4K videos? Should you buy a Macbook Pro with a 1TB hard drive? Since I first wrote about my video editing workflow and showed what I use to edit my videos, the questions have just been pouring in. Maybe I should also post a YouTube video about video editing with my LaCie Rugged Thunderbolt hard drive on my channel soon.
LaCie Rugged Thunderbolt USB-C hard drive in review – high-speed for video editing?
For a good year now, you can often see the orange hard drive attached to my laptop while traveling or even on my desk. It is the LaCie Rugged Raid with 2x2TB volume, which is used as my standard hard drive for Adobe Premiere and Lightroom and always contains my most current data. I use the hard drive on my Macbook Pro (Late 2016) with Touchbar via the Thunderbolt port with adapter.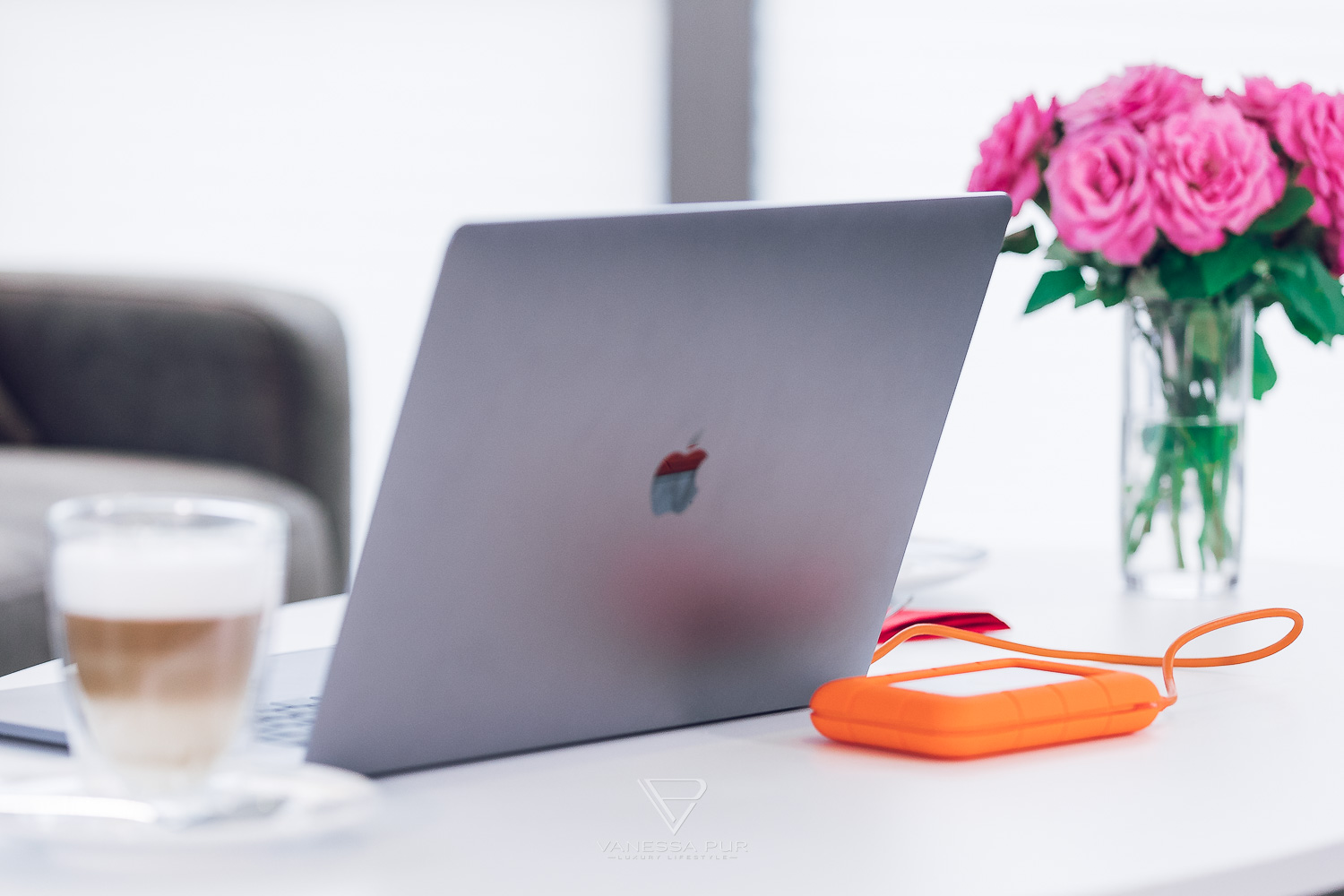 After a year – about 100 videos for the YouTube channel and countless photo edits – I am still absolutely satisfied with the hard drive, as on the first day and can only make the recommendations again. Since my workflow has expanded even more with now three to five videos on YouTube per week, it was time to integrate another product into the workflow – the new LaCie Rugged Thunderbolt 3.0 USB hard drive with a storage capacity of 1 terabyte.
In my workflow, I always have four to five current video products in editing at the same time, animations are created with After Effects, the video is edited in German and English, and often when I'm traveling I'm already sifting through and categorizing the raw footage on the train or plane. How I optimize my video workflows, I like to show you once in a video or even separate blogpost on my technology blog.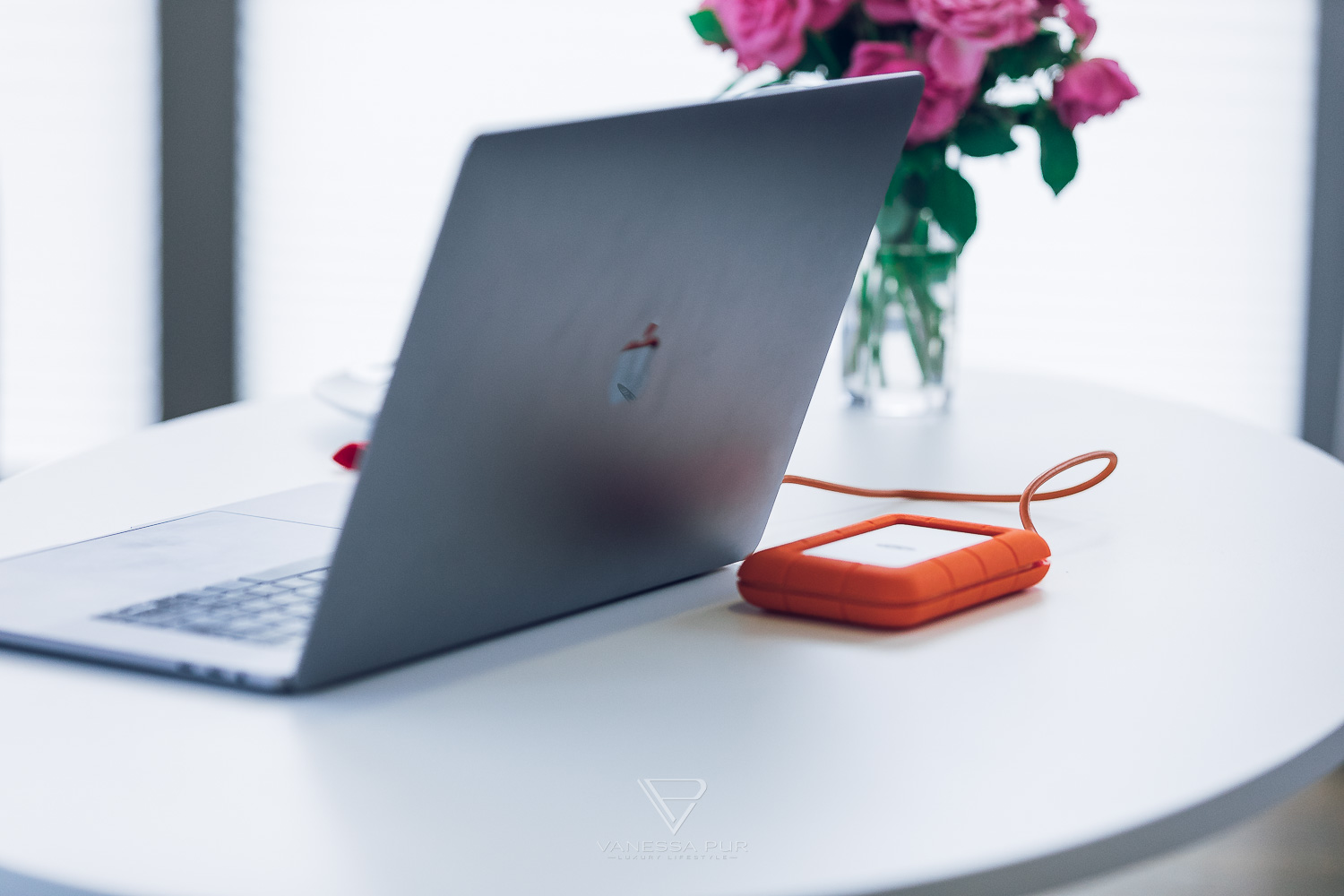 After the projects are completed, the videos go online, these projects are then moved and archived. Files that I can't use at all (e.g. various moderations) are permanently deleted. Now, in order to create some order between the "archive" disk and the work disk, for some time now the files are first stored on the new LaCie Rugged Thunderbolt USB 3.0 1TB SSD hard drive, converted and prepared for editing in Adobe Premiere.
Filming is done with very different cameras, such as currently the Canon 1Dx Mark II (for 4K and slow motion recording at 120fps), plus as a supplement the Canon 5D Mark IV as a fixed camera and often the Canon 80D and Canon 77D for vlogging moments. Shooting in 4K in particular creates incredibly large amounts of data that not only takes up space on the hard drive, but also needs to be very fast in data processing and delivery.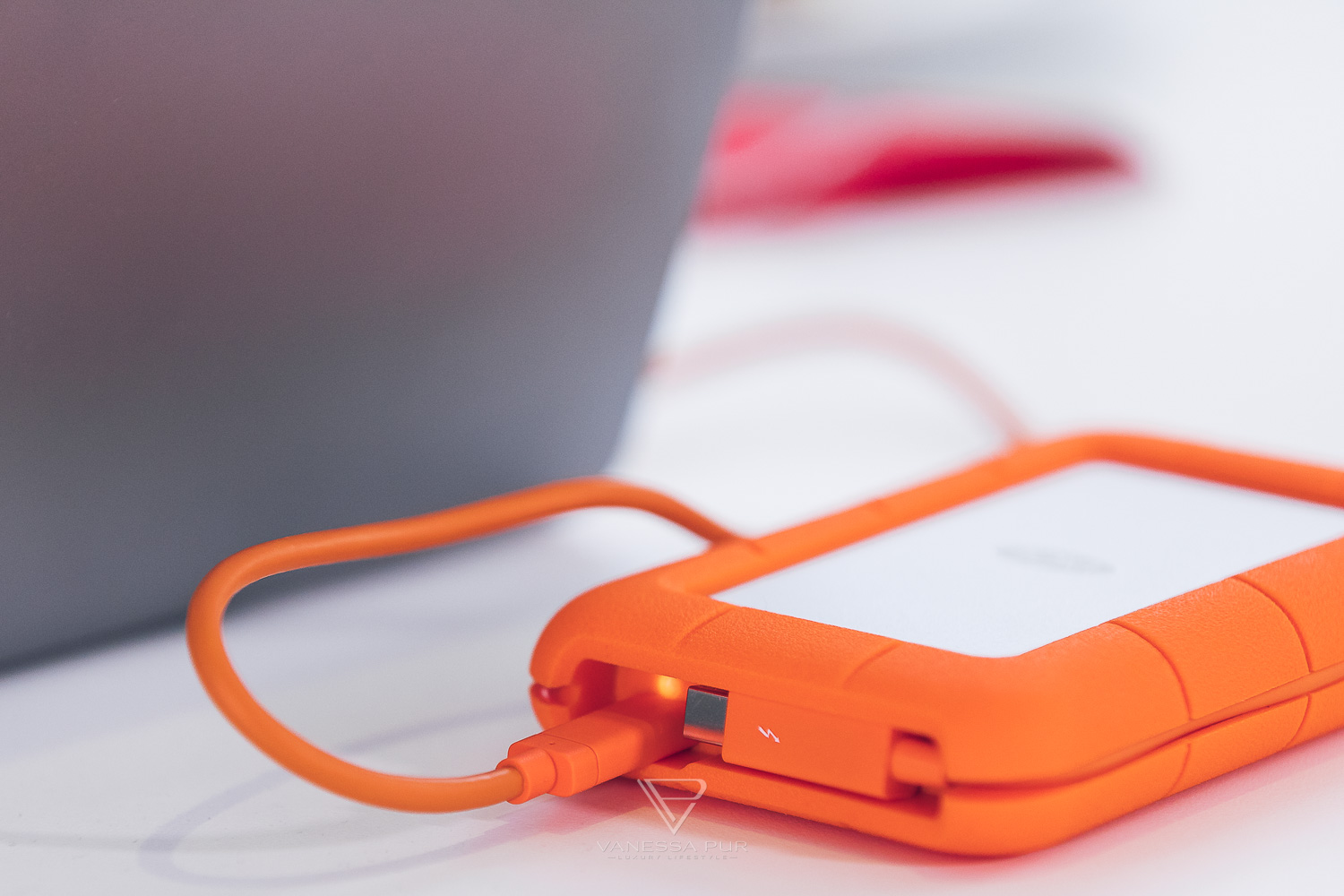 The previous LaCie Rugged Raid 4TB hard drive has been absolutely reliable with the data so far, the Macbook Pro was also brisk when rendering, but a bit more speed would just be even better :-). You can never be fast enough in video editing….
According to LaCie, the LaCie Rugged Thunderbolt USB 3.0 1TB SSD hard drive should offer up to 540 MB/s through the data pipe (with USB-C connection), compared to 240 MB/s for the Raid hard drive (Raid 0 configuration) and thus no longer be "noticeable" in the connection as an external hard drive.
LaCie Rugged Thunderbolt USB-C hard drive in review – high-speed for video editing – experiences
If you've ever seen LaCie's orange hard drives with Neil Poulton's design, you'll recognize them from a distance. There are certainly many hard drives that are thinner, more discreet and perhaps a bit cheaper – but when it comes to reliability, there are no two opinions among professional users.
If you look around at professional photographers, big YouTubers, and videographers, you'll see the orange case everywhere, which can forgive a rain shower on an outdoor shoot, like a small fall, or even (theoretically) being run over by a car.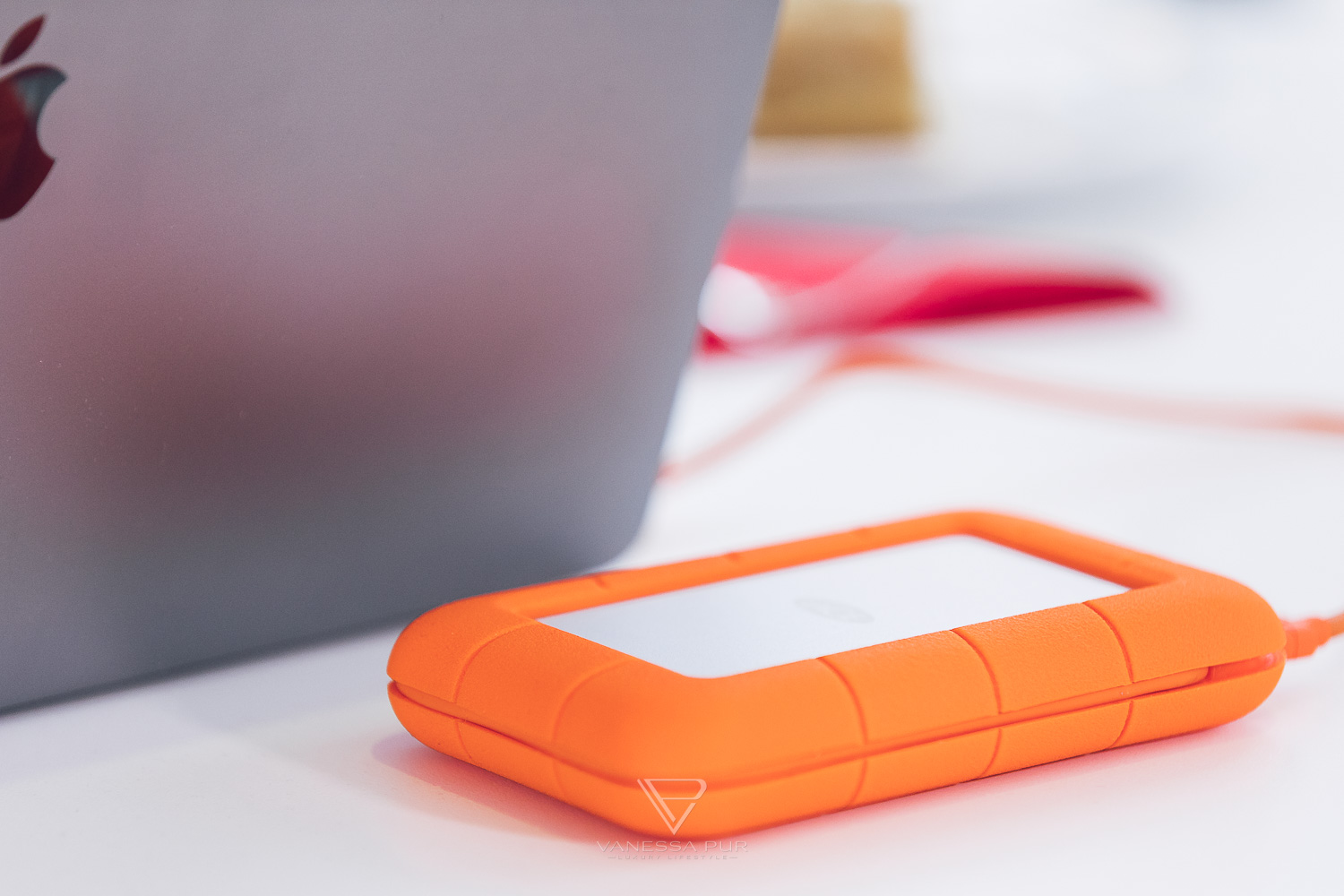 My biggest concern with external hard drives and data storage has always been when traveling. If you have to have your carry-on luggage screened, the hard drives stowed in your suitcase, are all the data still there when you arrive or do I make the effort and rather store that data in a cloud. It takes much longer, but I still have the data available then. What works with a few documents, a few templates and Excel files of course, is no longer possible for 4K videos or thousands of raw photos and sometimes you only have one chance for the perfect shot.
Therefore, my first priority for a hard drive is robustness, insensitivity to shocks, movements, etc. and if it works then I also have nothing against a secure stand on the desk, the fold-out table on the plane or in the train and if the disk is then still fast, it could be the perfect device for me. (Fact: The LaCie Rugged Raid survived a fall on the plane from the table to the floor without problems and continued working directly).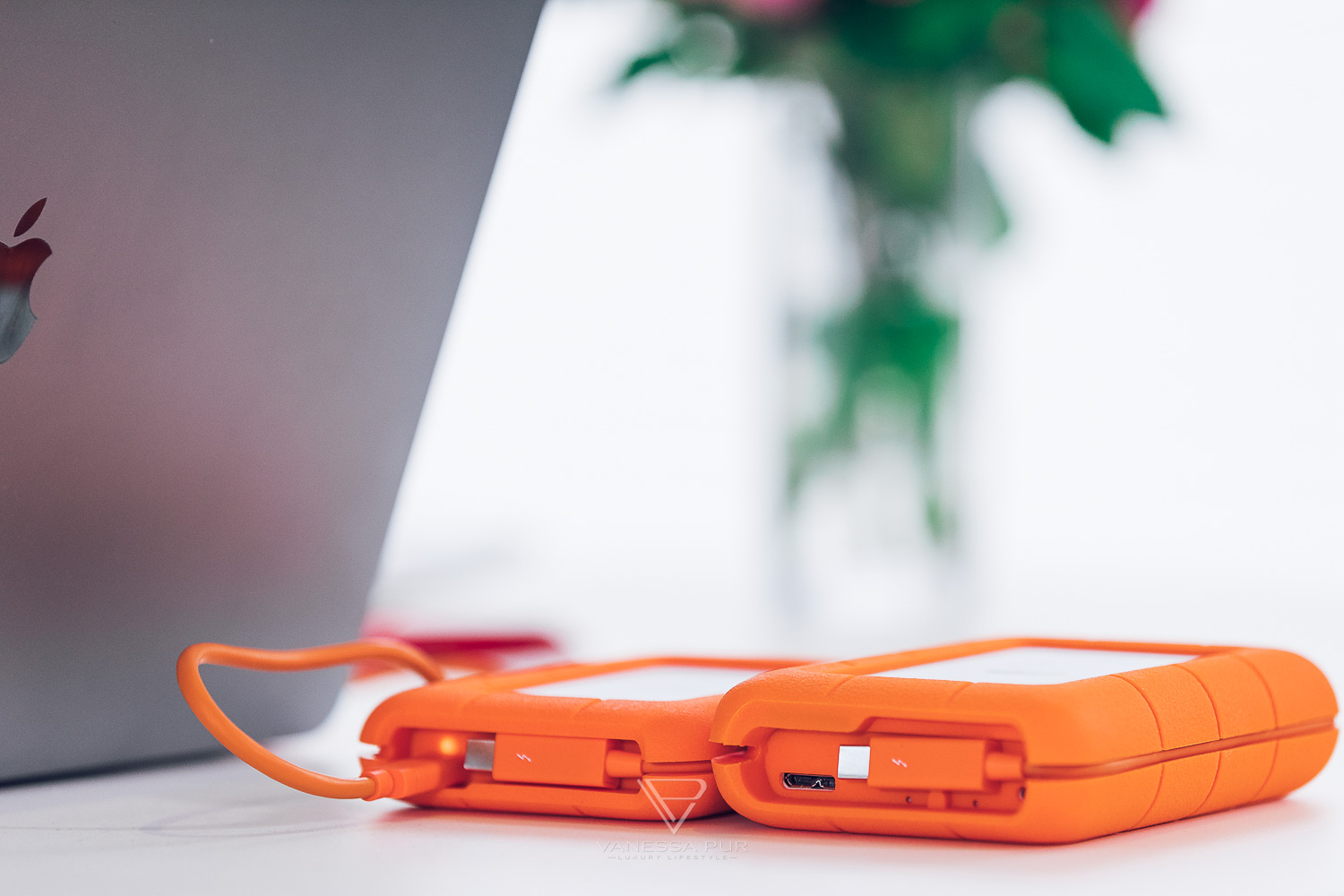 Anyone who chooses a hard drive from LaCie knows quite clearly, the hard drives stand out, but are absolutely reliable and incredibly fast. LaCie has meant reliable data backup for me for years, whether on the road or in the various stationary solutions.
What has excited me about the LaCie Rugged hard drives from the beginning is the flexibility and at the latest if you have forgotten the external cable (as in my case), you are faced with a problem to get to the pictures or the backup. With the LaCie hard drives, the cable is already integrated into the case and is protected by a rubber cover.
If it should happen on turbulent travels or shootings that the lid gets lost, a second lid for the connections is included as an additional backup. However, it has not even happened to me in 250 days in hotels. Tip: Remove the connector and immediately reintegrate the lid in the case. It couldn't be easier. (the spare lid is always packed in my photo backpack).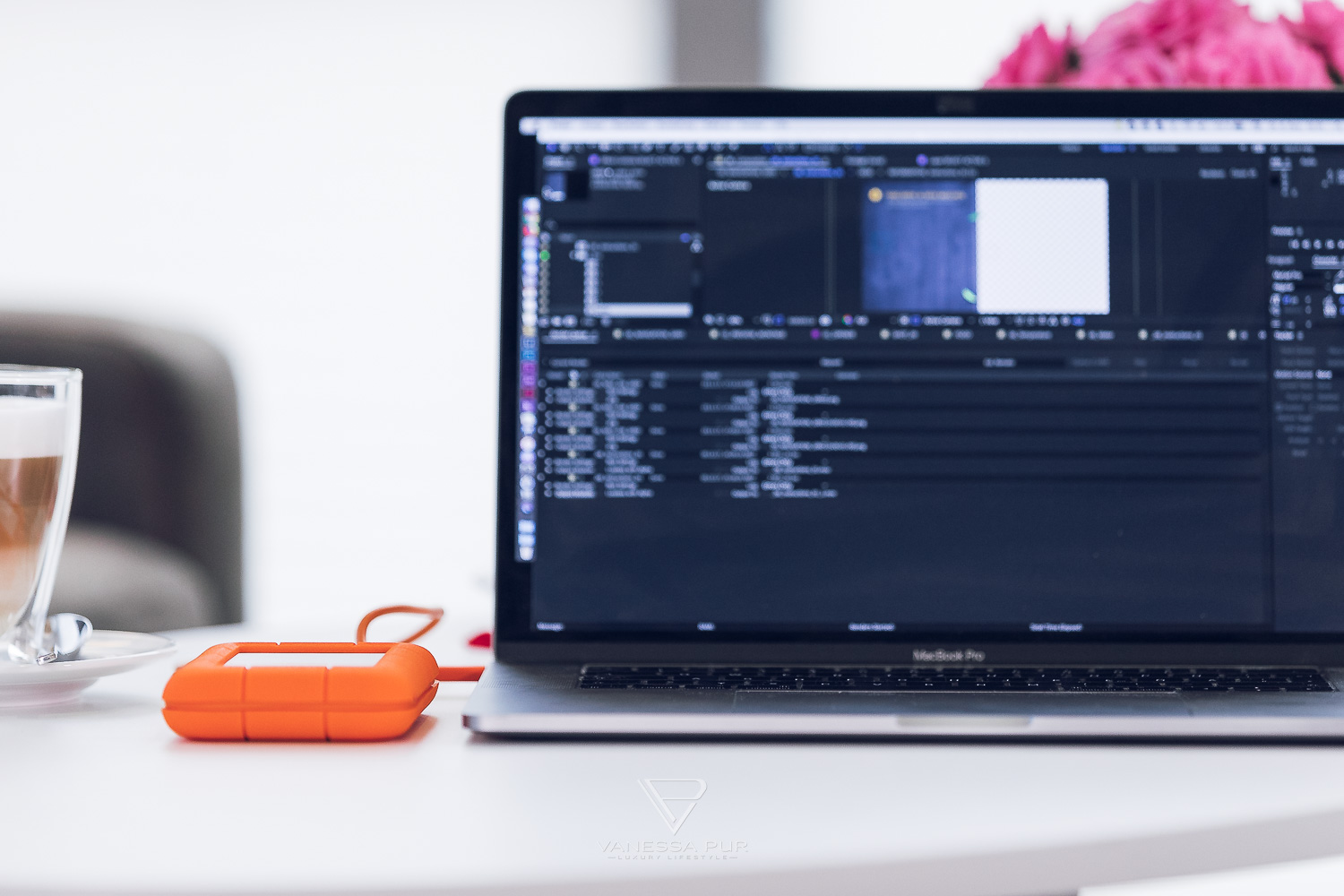 LaCie Rugged Thunderbolt USB-C hard drive in review – high-speed for video editing – connections and performance.
As you would expect from LaCie, the LaCie Rugged Thunderbolt USB 3.0 1TB SSD hard drive offers a connection via the Thunderbolt port firmly integrated into the case (suitable for all Macbook Pro up to Early 2016 or with an adapter also for Late 2016 as in my case) and in addition a USB-C cable (also in orange) and another cable from USB-C to USB-A, as is required for older Macbooks, for example.
Compared to the LaCie Rugged Raid hard drive, the LaCie Rugged Thunderbolt 1TB SSD hard drive has become significantly thinner, the operating light has also become smaller, and the weight has of course also become significantly lighter (534 grams for the LaCie Rugged Raid compared to 288 grams for the LaCie Rugged Thunderbolt USB-C 1TB SSD hard drive).
When you first plug in the LaCie USB-C and LaCie Rugged Thunderbolt SSD for photo editing and video editing, the installation menu automatically launches and you, as the end user, have the option of choosing between a Mac-only version or formatting the drive for Windows compatibility as well. Since in my workflow only iMacs and Macbooks Pro are in use, I choose the Mac version. For those who are not yet sure whether they want to share the data at some point, the version for both operating systems is recommended.
You already notice when you first open the hard drive via the Finder – the drive is fast and was connected to my Macbook via the USB-C port in combination with the included cable. Often one is cautious with values from advertising, LaCie speaks of a read speed of over 500 MB/s and this could be confirmed several times in the review (see screenshot above – 508MB/s read speed).
Compared to standard hard drives, these speeds are a completely different dimension. Many hard disks that are offered as a "backup" for one's own photo collection advertise speeds of 80 MB/s in the ideal case, but in the actual review it is often only 25-35 MB/s. If you only want to back up a photo from your vacation every now and then, you can certainly be satisfied with this, but if you want to use these devices professionally and also need a high level of security for the stored data, the LaCie Rugged Thunderbolt USB 3.0 1TB SSD hard drive is perfect.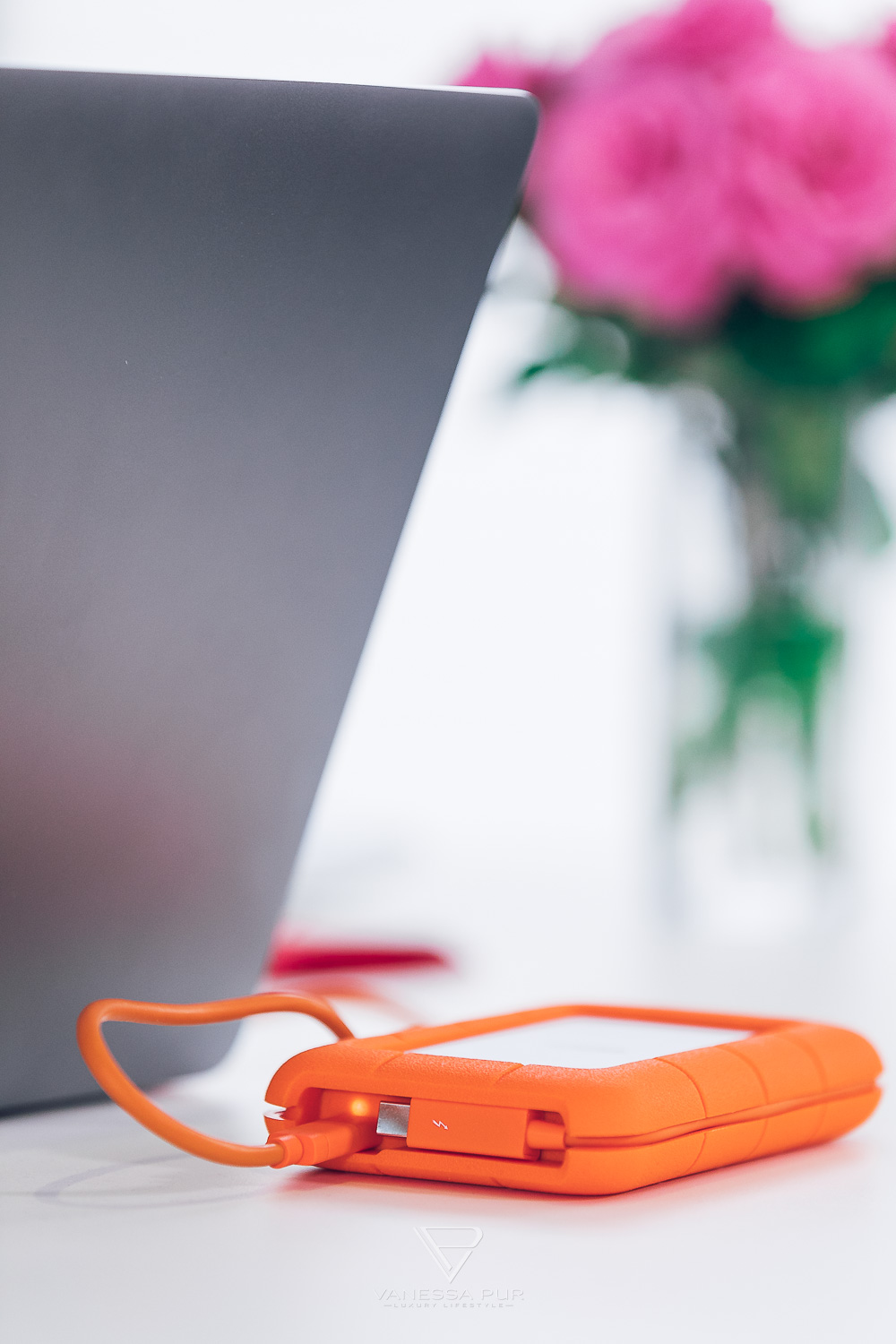 LaCie Rugged Thunderbolt USB-C hard drive in review – high speed for video editing – CONCLUSION
LaCie adds the LaCie Rugged Thunderbolt USB 3.0 1TB SSD hard drive to its range of reliable storage options with a handy and insensitive hard drive for professional users, such as photographers and videographers.
I prefer to carry 50 grams more hard drive weight in my luggage and photo luggage, but I'm sure that the hard drive won't let me down even during elaborate productions. Especially for YouTubers and videographers, it is particularly important to be able to rely on the hard drive even at 0°C after a complex day of shooting, for example in the mountains with car shots, drone images and perhaps 4K recordings.
What good are the best cameras, the biggest equipment, if I can't rely on the data backup. In addition, the too small case in discreet gray or black is not always the best solution when traveling, the hard drive quickly falls out of the photo backpack or remains in the hotel room. The orange LaCie Rugged series definitely stands out and will not be forgotten.
Surely there are a few hard drive alternatives that are a bit cheaper, but by far then do not offer the speed and security. A day of shooting is simply much more costly if it has to be scheduled again and the worst effect of that is, many shots can't be recovered and reshot at all.
If you're looking for a hard drive that's ultra-fast and far above competitors with smaller hard drives on the one hand, but on the other hand you're also looking for a high level of security and above all an insensitive hard drive, you'll find the dream device in the LaCie Rugged Thunderbolt USB-C 1TB SSD hard drive.
The LaCie Rugged Thunderbolt USB-C hard drive confirms the impressions again with well-fitting cables, a wide range of connectivity options and a completely insensitive case.
If you're looking for a reliable hard drive for your next Full HD or 4K video productions, you can't go wrong with the LaCie Rugged Thunderbolt USB-C hard drive. The hard drive gets an – unqualified recommendation – from me.