My personal top 5 list of must-have red lipsticks from my favorite brands MAC and Chanel. Often lately I've been asked "What red lipstick do you wear?" "Can you recommend a red lipstick for me?" "I'd like to buy a good red lipstick, and I don't know which one?"
I'm always happy to help out, and now I thought my readers might be asking themselves the same questions, so I've summarized my recommendations for red lipsticks and red lips.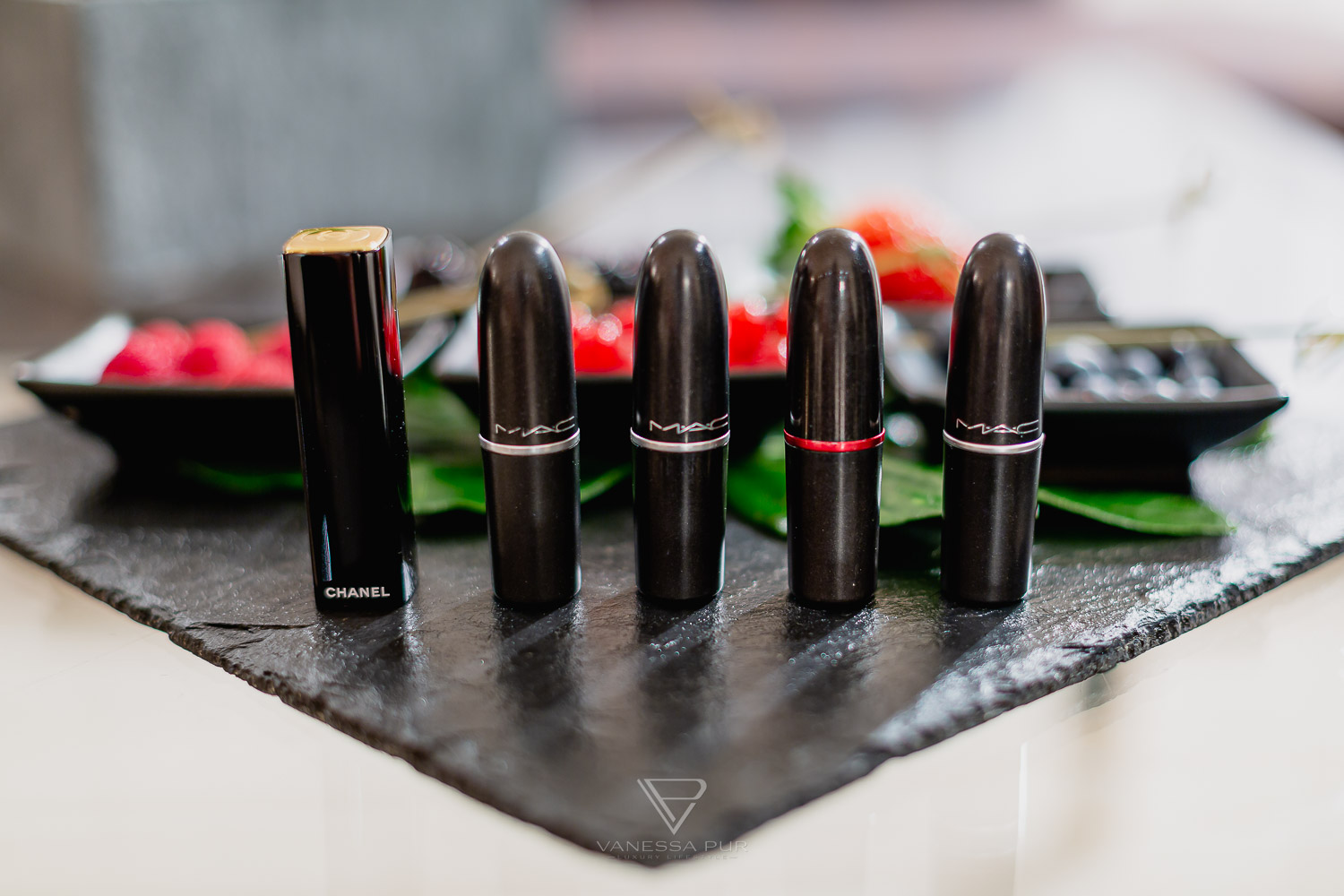 Best red lipsticks – red lips
Of course, the preference of certain red lipsticks changes again and again, but I like to present you my current basic equipment of red lipsticks once. Among my current top 5 have made it lipsticks from CHANEL and MAC. I simply have a weakness for these two brands – so I can show you here my favorite lipsticks with pleasure.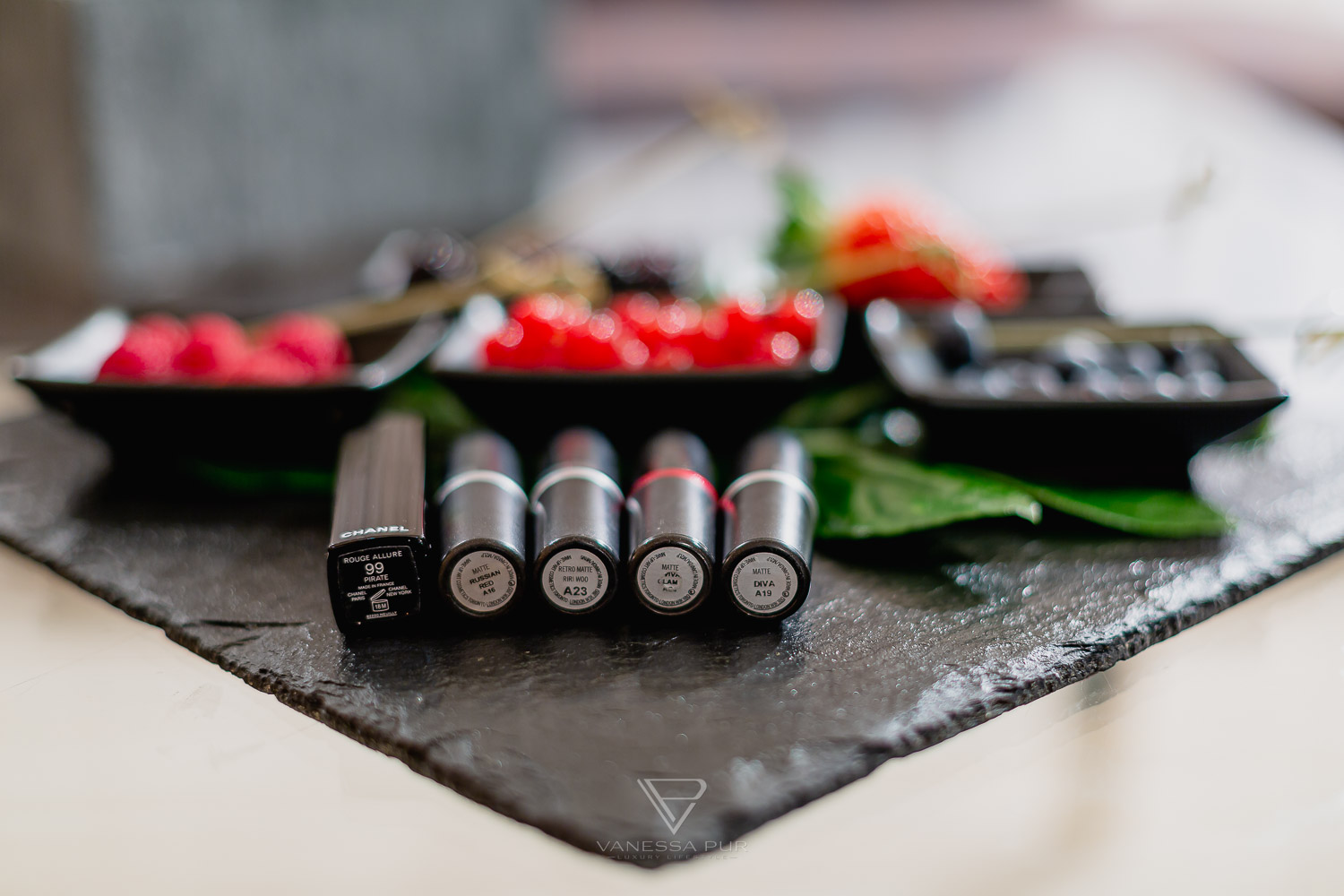 It really happens absolutely rarely that I'm out and about without red lipsticks and then it's usually a red shade. I personally just love red lips and I don't have them to match my red nails and red soles :). For me personally, the color red radiates pure confidence and femininity – especially with dark hair. Some may find red lips too intrusive – I see much more advantages than disadvantages.
My top 5 must-haves red lipsticks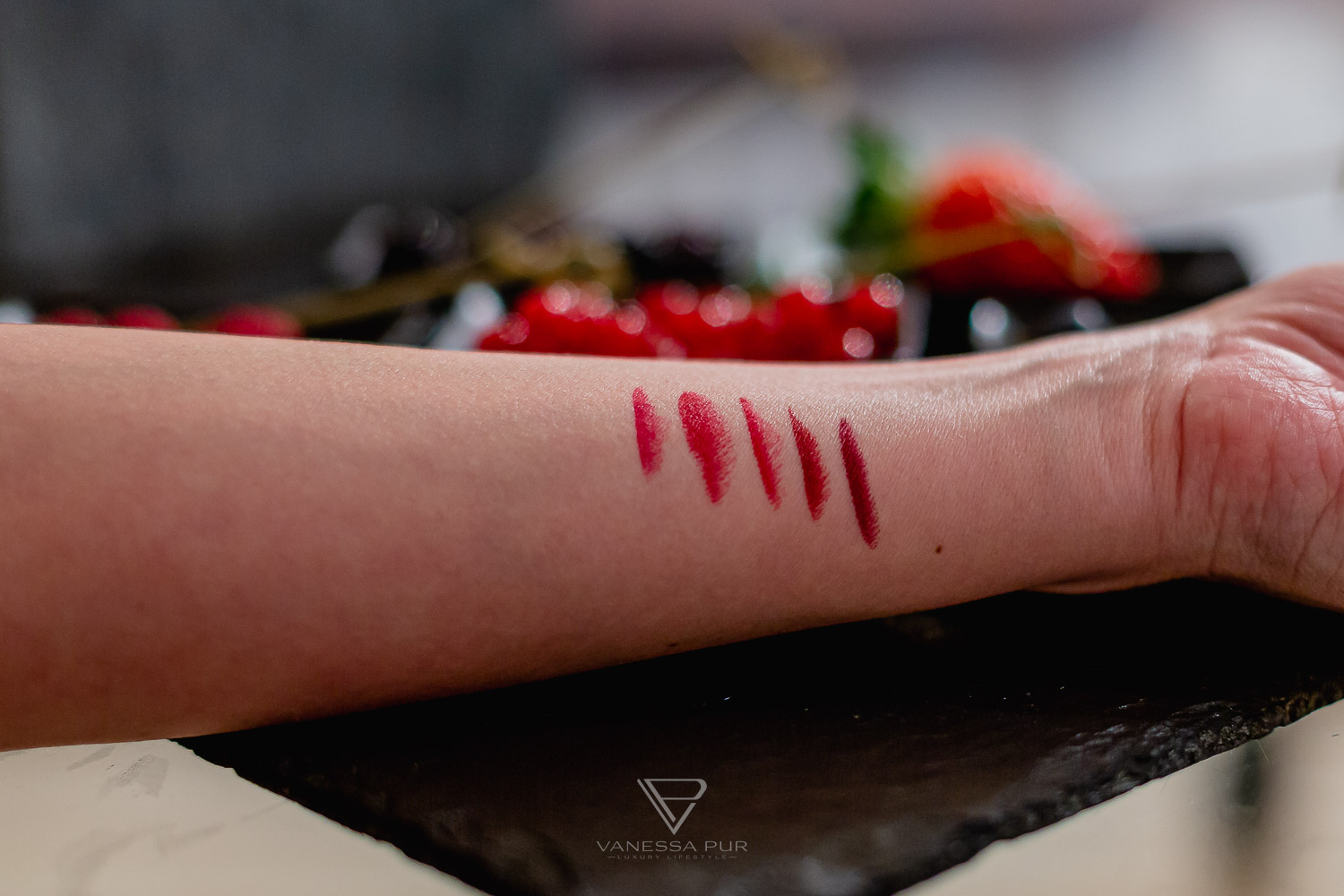 (from left to right)
CHANEL – Pirate 99 – Rouge Allure – red lipsticks
The lipstick smells fruity (berry) – the red shade is bright, but not garish. A full red shade with bright accents. In the application very creamy and caring – the durability is good, as long as you do not eat anything. For me at the moment due to the care effect an everyday red
MAC – Russian Red – Matte (A16) – classic red lipsticks.
This red lipstick is a firmer lipstick – the red is intense and lasts very long on the lips without drying them out completely. For me, the best bright red lipstick for a longer evening with small bites and drinks. Smell a bit artificial.
MAC – RiRi Woo – Retro Matte (A23) – a limited edition (Rihanna) – dark red lipsticks.
The driest red lipstick I own. The color is typical Rihanna red for me. Intense and thick. Quite dry in application – however, it does not hold as perfectly as I had hoped. It quickly looks fringy in my eyes. The smell seems to me something like dough to neutral. For all those who can no longer get this lipstick, since it was only a LE: Ruby Woo is supposed to be quite similar to this lipstick.
MAC – VIVA GLAM – Matte (A04/A24?) – dark red lipsticks.
My dark lipstick that never lets me down. Perfect for classy evening events where you don't want a cast on the glass. Firm and long lasting. A bit dry, but comfortable on the lips (don't forget lip care the night after). Due to the darker shade, I have often been asked about my bright white teeth – it seems to be a great side effect of the lipstick to make the teeth look brighter. The smell is rather artificial.
MAC – DIVA – Matte (A19) – really dark red lipsticks.
My really dark red lipstick with pleasant durability. This lipstick is also a bit drier, but has a nice dark red shade that lightens a bit during the evenings when it fades, but doesn't have any weird residue. It has a bit of a creamy smell.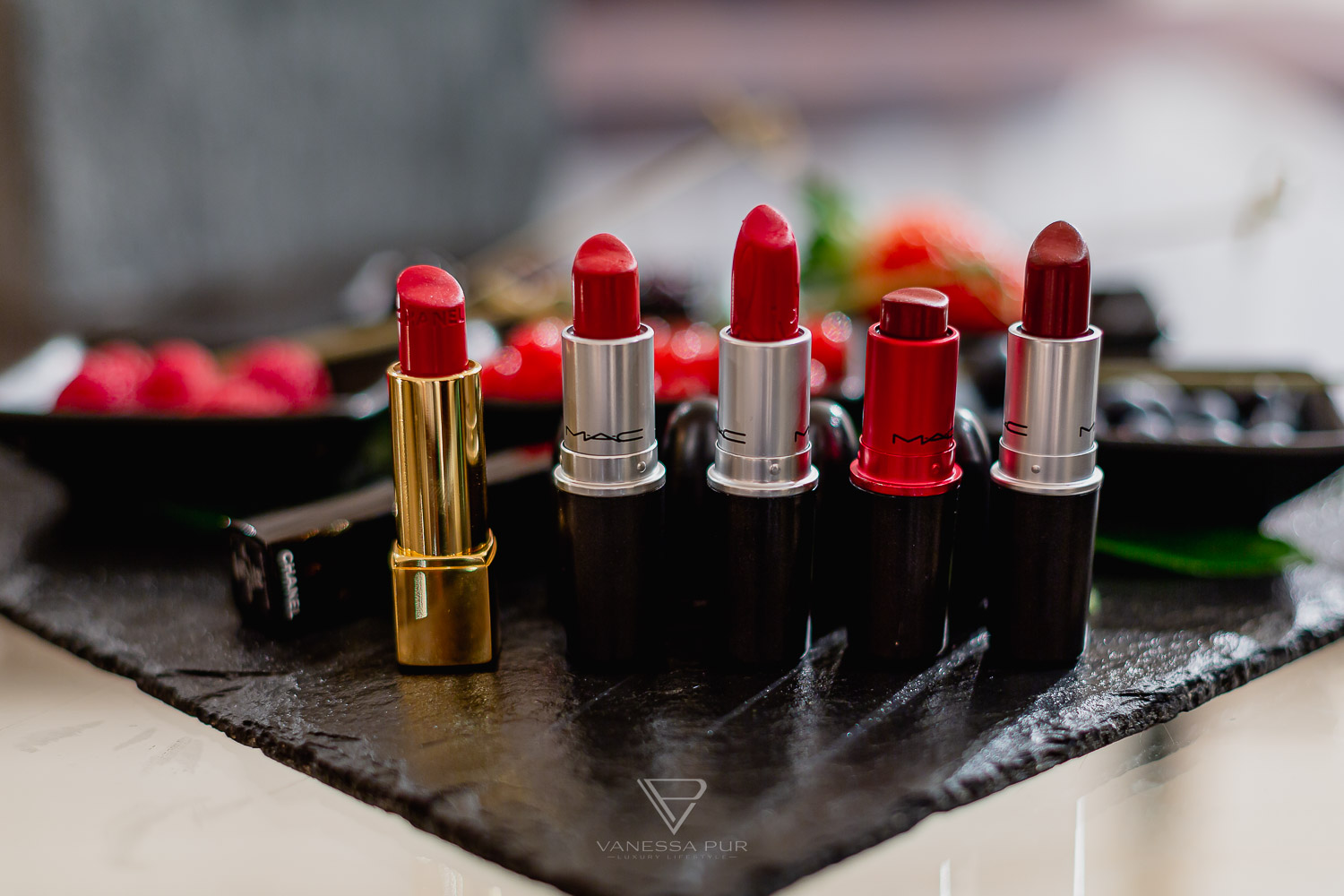 Red lipsticks for summer and winter
I like to wear red lips all year round – preferring the bright light shades in the summer and the darker shades in the winter. The eyes I emphasize nevertheless gladly in addition darker – although one says, one is to emphasize only lips or eyes – I like it gladly both emphasized.
I always use a red lip liner, with the darker tones also like a dark red to brown lip liner. Through the liner, the lips stay in shape or are quickly drawn again neatly, which is otherwise somewhat more difficult to refresh with firmer lipsticks then takes over the liner.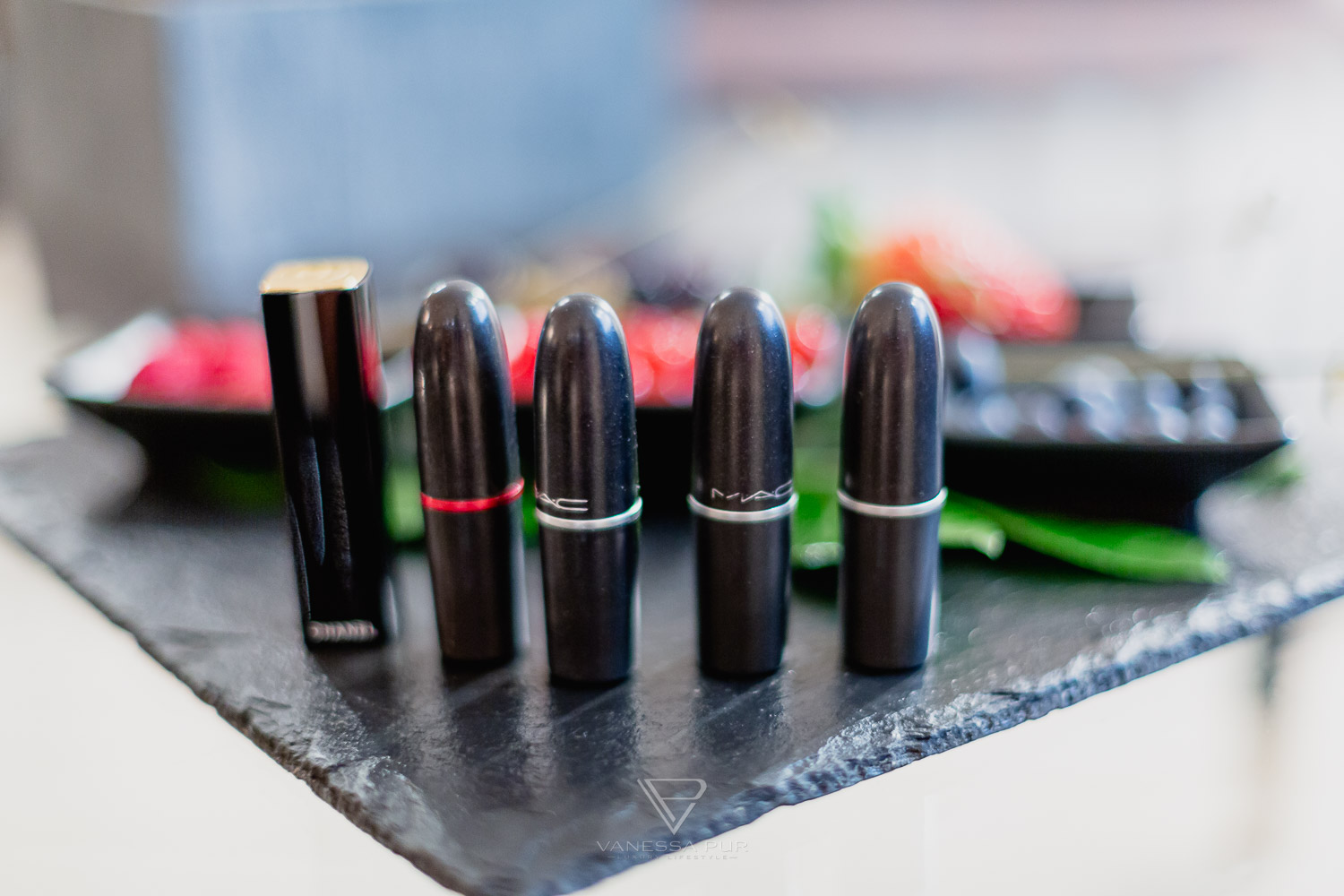 If I do not buy my lipsticks directly from MAC Cosmetics, then you can find me online or at Douglas – other brands besides MAC that I always like to use are ARTDECO, Yves Saint Laurent Beauty, Giorgio Armani, Bobbi Brown, Clinique, Tom Ford Beauty and many more.
I find red lips very suitable especially with white, gray or black tops – depending on the desired effect. Of course, I also wear other colors on my lips from time to time – for example, when I wear a purple colored nail polish. I would be happy to introduce you to these lipsticks in more detail. You can find more beauty articles in my Beauty & Make-up section.