Melina Best hairdresser in Cologne is simply one of the best celebrity hairdressers and expert in tape extensions in Germany. The small salon in Cologne on Barbarossaplatz is bursting at the seams, as is the matching appointment book. Since my last visit, there are now two more hairdressing stations, another sink and many more "visitor chairs". For me, Melina and her team are among the most important and best hairdressers in Cologne, in NRW and in Germany. Very close to the trend, very close to the IT girls and influencers.
I was super excited to meet Melina again and had a short journey thanks to my hotel, the Hyatt Regency Cologne on the Rhine with a view of the cathedral. I was extremely excited to see what Melina would have to say about my outgrown extensions from my last visit. Sometimes you can't really judge for yourself if it might be too extremely knotted.
Melina Best Hairdresser Cologne
Expert for hair extensions, extensions, balayage
Pantaleonswall 65, 50676 Cologne, stop Barbarossaplatz
Opening hours: Mon-Fri 10 a.m. – 7:30 p.m., Saturday 10 a.m. – 6 p.m.
Phone: +49 221-93284950
Web: melinabest.com
Instagram: @melinabest_hairstylist
Price for tape extensions (125gr. – 45cm length): EUR 495,00
Vouchers as a gift idea for Christmas, Valentine's Day, birthdays, Easter!
The last time I saw Melina Best was before Fashion Week and now five months later I am back in Cologne to have my extensions renewed. Five months with long hair and five months with extensions. Reason enough to take a look back and describe my experiences with Great Lengths extensions in retrospect.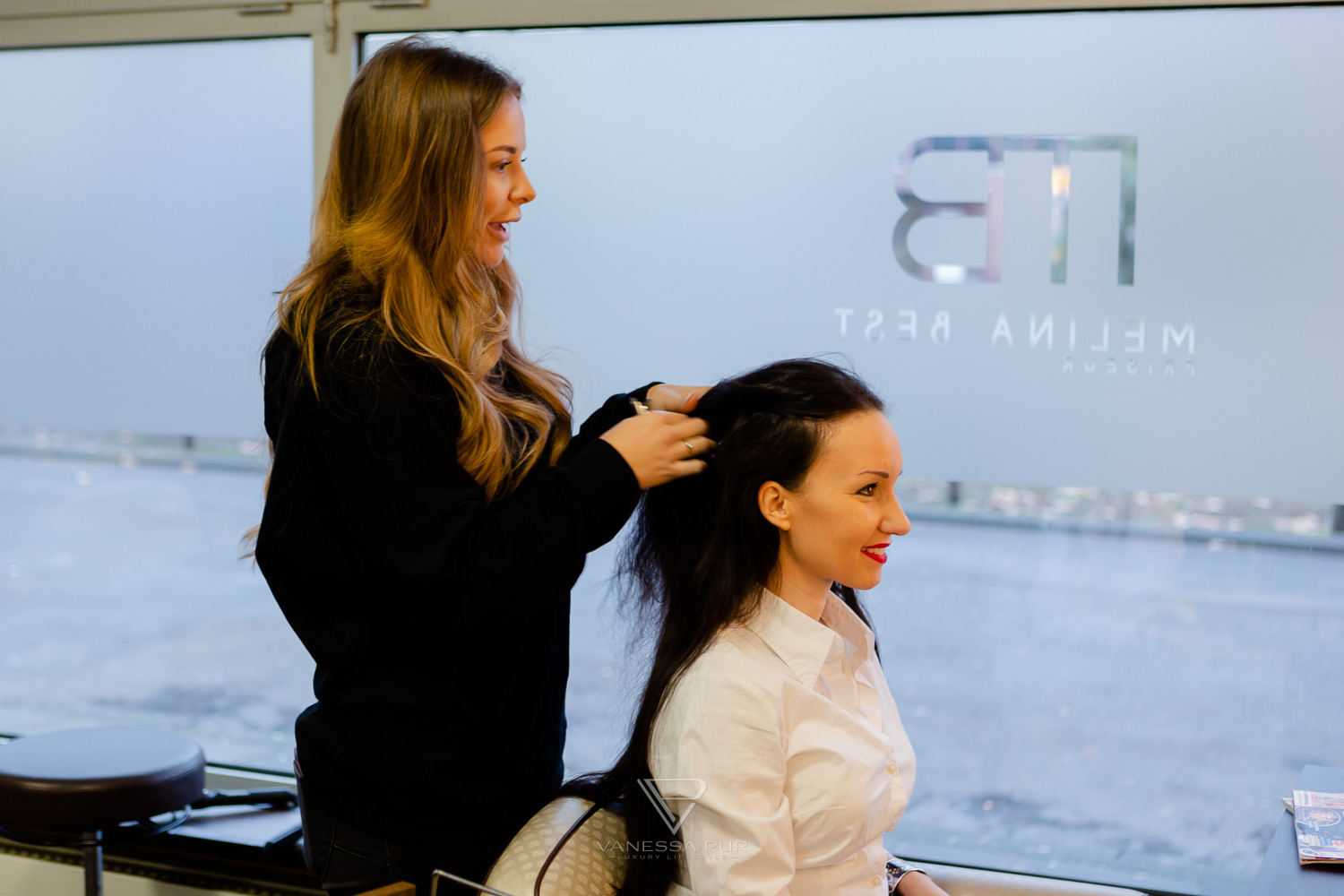 Experience with hair extensions – review
During my last visit to Melina Best hairdresser I was happy to get extensions from Great Lengths, because I knew exactly that I got along with the quality and feel of Great Lengths hair best so far. The first few nights are always extremely uncomfortable as you have to get used to the new bondings. Gradually, you lose your own hair as normal, but then it no longer falls to the floor, but remains in the bondings.
In the long run, the hair roots can get in the way and lead to tangles and slight matting. As the bondings grow out more and more, it becomes more and more difficult to cover them with your own hair, even if you keep doing a cleanup cut to remove the loose hair roots. I would have chosen extensions and hair extensions of this type again any time if Melina had not provided an even better option for me.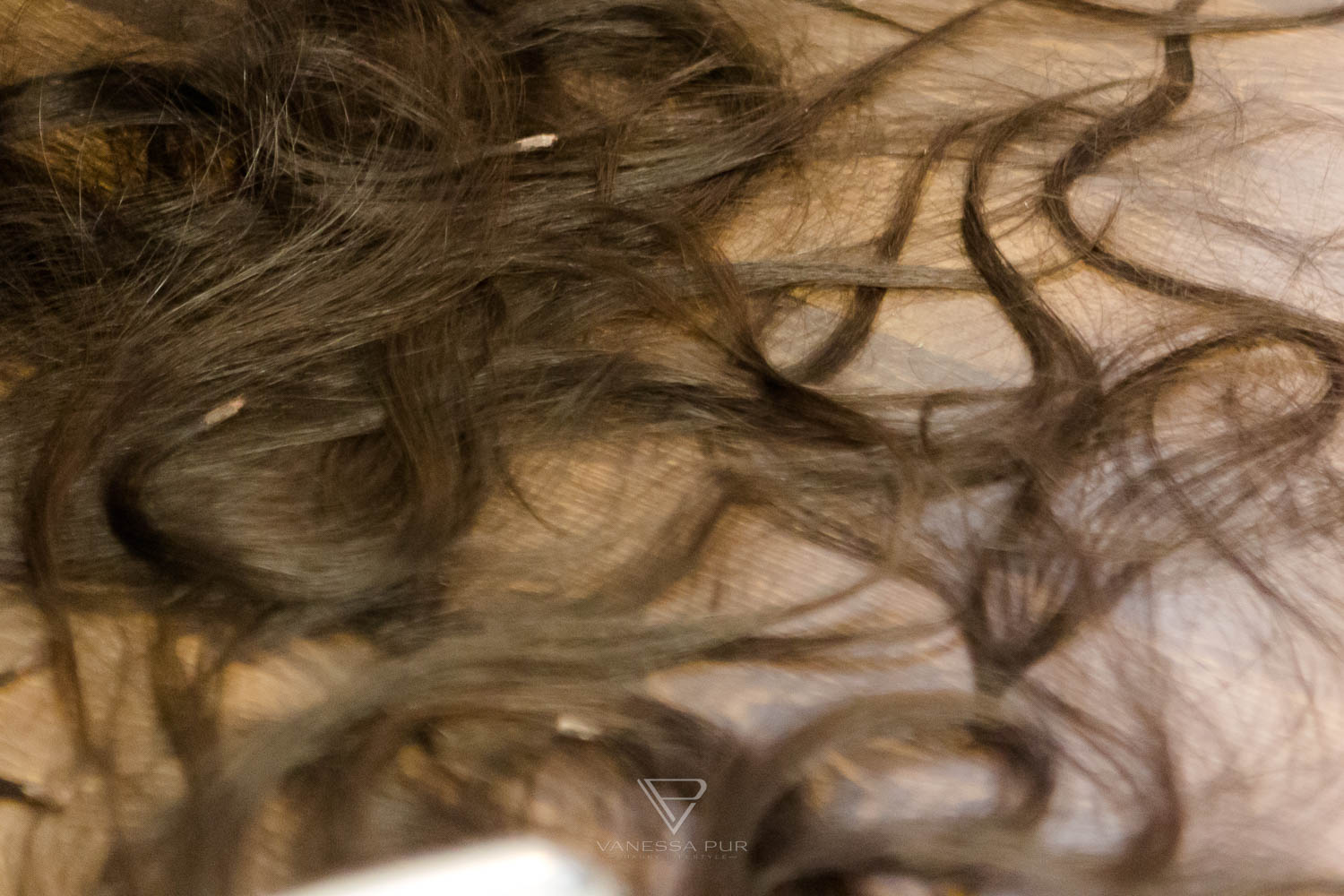 While Melina was loosening my old extensions with pliers at the bonding points, she explained more of the new system to me. By the way, my hair was not extremely knotted or tangled even after five or almost six months. After about 30 minutes, all the old hair extensions were removed and my roots could be recolored in peace.
It is absolutely unfamiliar to feel only your own thin hair, to hold a braid and to realize how little own hair you actually have. Of course, you can also come to terms with it again and make friends, but I find my long extensions on me more beautiful.
Hair trend – elegant hair, long hair
However, before I have new extensions inserted, I ask Melina about the hair trends. After the new trend color will be the grass-green "Greenery", I was curious whether this will probably also be reflected in the hair? No, the trend is long and elegant hair. So I am with my hair already before the hair trend :-).
Big waves and definitely balayage, dark approaches and light tips with a beautiful transition. Colors like pastels are already out and even "gray" as a granny style is rarely requested because it is so difficult to keep. Cool colors are in, cool blonde and classy brown.
Melina must know, because the trendsetters go in and out of her – or is she perhaps the actual trendsetter in hair? Melina definitely knows what she's talking about, as she not only conjures up great hair and hairstyles for many players' wives, IT girls, celebrities, influencers and not least the teen stars "Lisa and Lena".
What her customers wear on their heads often comes months later in the magazines and then only at the other salons. With Melina, you are therefore months ahead of the trend and always have a good feeling and well-groomed hair. The reviews in all portals to Melina Best hairdresser Cologne and her staff I can also only confirm at any time.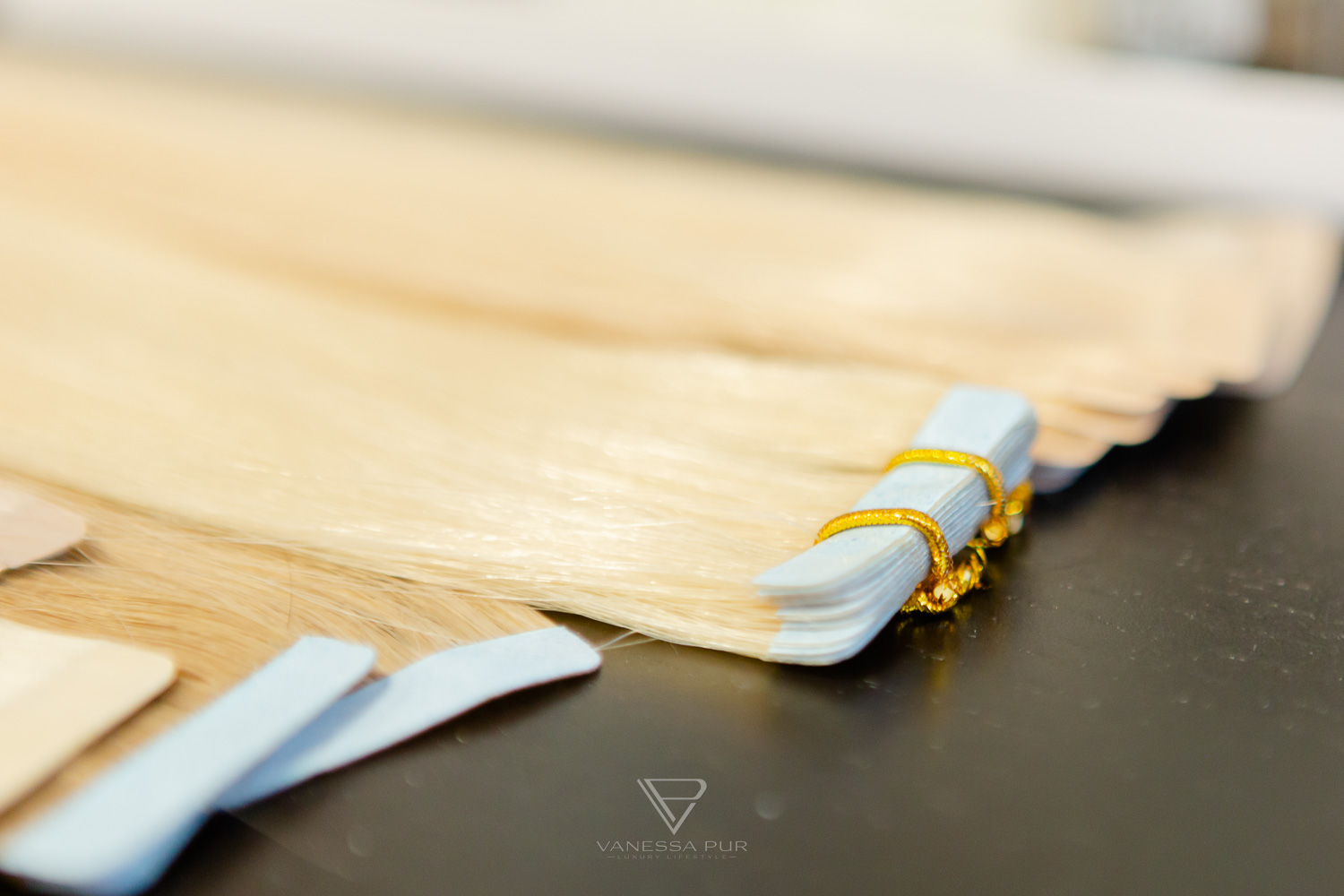 Best extensions – Tape extensions from Melina Best Friseur
During my last visit to Melina Best Friseur, Melina showed me her own hair extensions with tape extensions. At that time I was still a little skeptical, because it is so rarely seen on others. However, I found the method interesting even then. It looked at that time with Melina already absolutely perfect and I also read more and more about tape extensions as hair extensions and was somehow curious.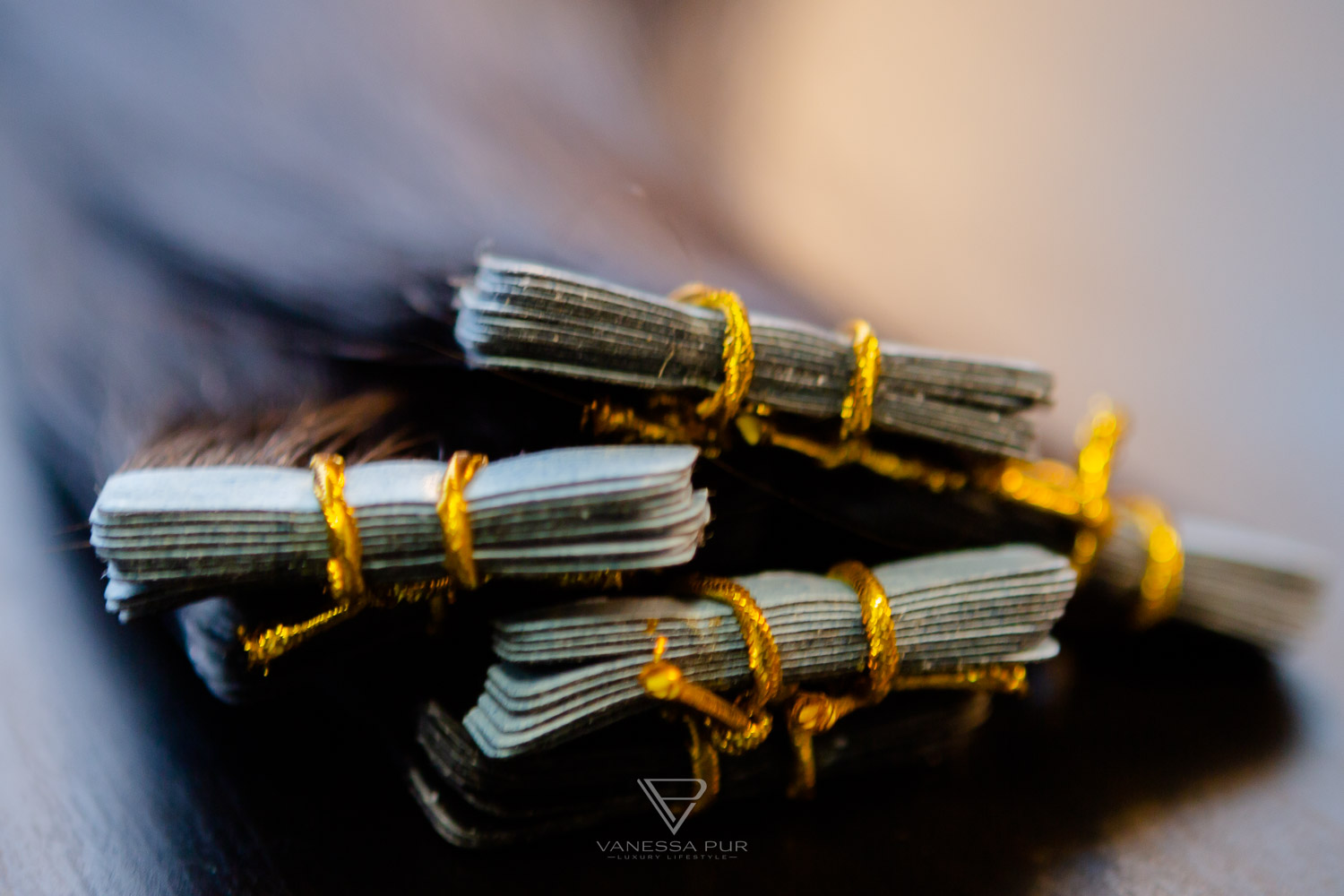 In the meantime, tape hair extensions have become accepted as a method at Melina Best's hair salon. Almost every customer who wants a hair extension gets tape extensions. If someone absolutely wants a hair extension with bondings, Melina is still happy to do this type of hair extension. However, tape extensions are healthier and much gentler on the hair and I noticed the difference myself when I put in the new tape extensions instead of the bondings (see below).
So I was curious to see how extreme the differences between tape extensions and bonding extensions would be. First, Melina showed me the hair and the different lengths. We decided on plain dark brown and a length of 60cm, so they are even a bit LONGER than mine had now grown out. I think the length is extremely classy for winter. The tape hair felt really soft and healthy.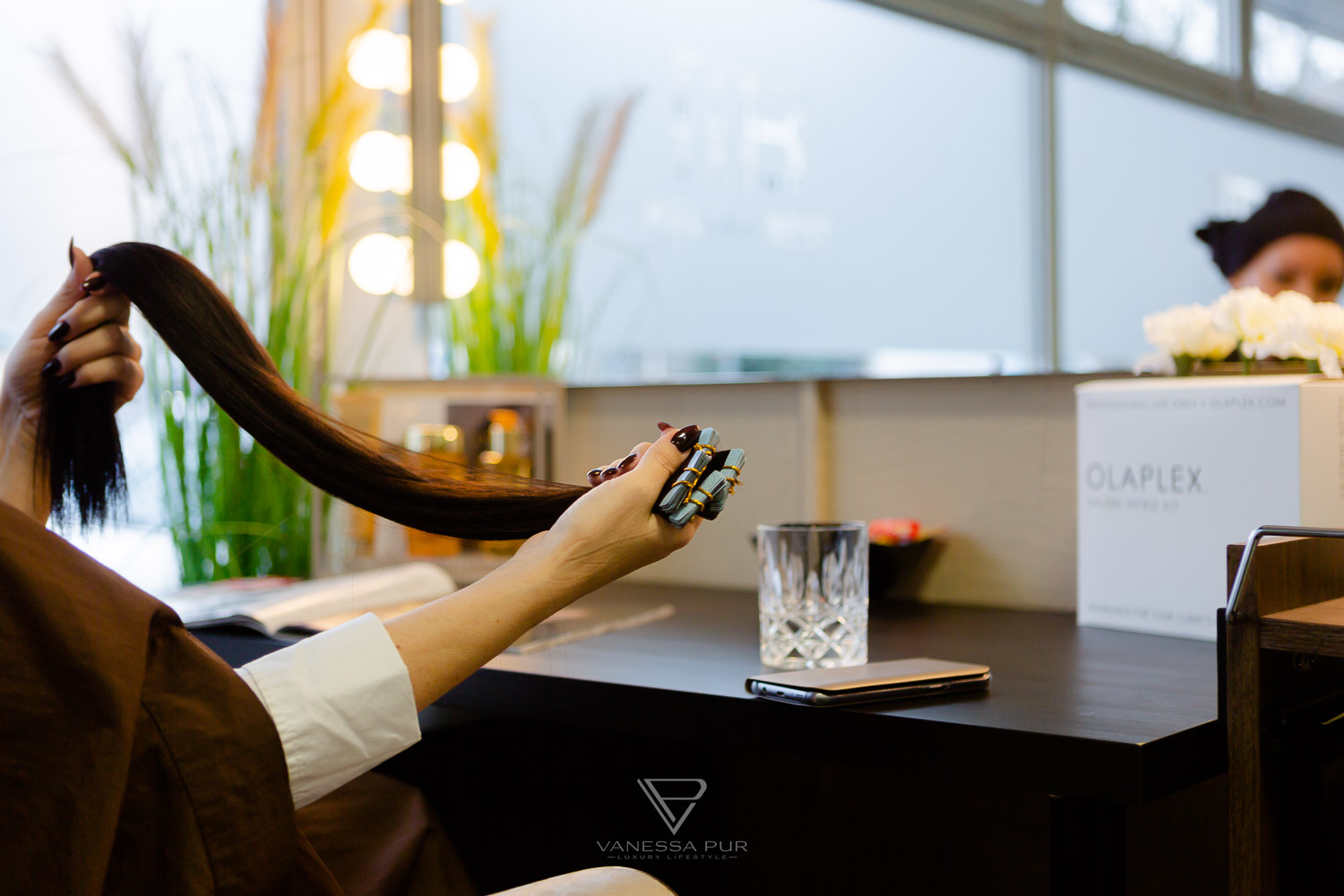 Olaplex for healthy hair – hair building care.
First, my color was washed out of my hair. With Melina, there is an Olaplex treatment with every hair coloring in addition, in order to preserve and care for the hair. Also with me the own hair looked after drying again much more maintained and shinier. Now they felt really good again thanks to Olaplex and were perfectly prepared for the new extensions.
Olaplex helps to rebuild and repair your own hair structure. That's exactly what you see and feel immediately. Even with dark hair, the changes are immediately visible. With bleached hair the effect is even more extreme visible and I can only recommend a treatment with Olaplex to every reader.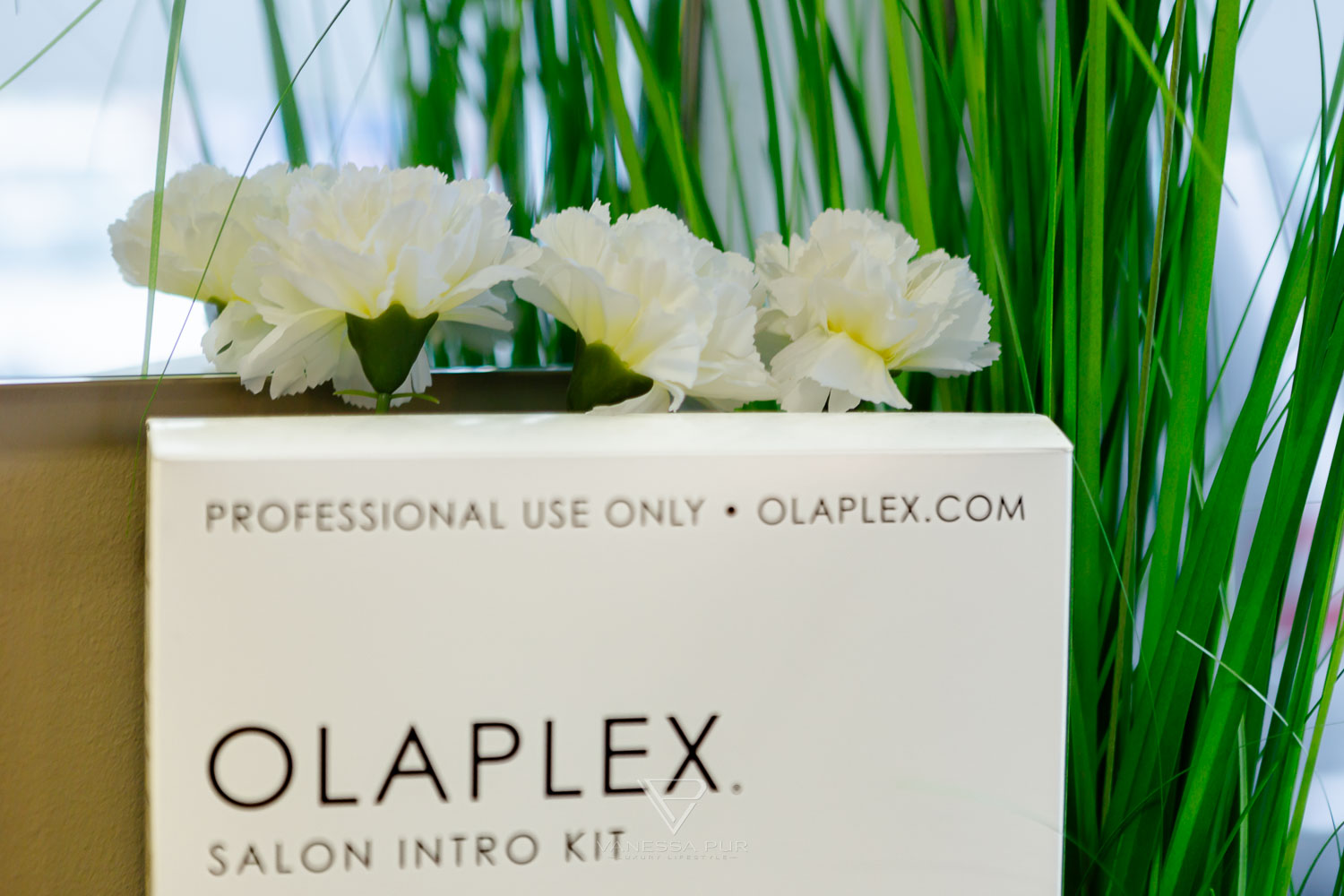 Tape Extensions – Melina Best Hairdresser – MB® Wir Sind Das Original 
When putting in the new tape extensions, the biggest difference is immediately obvious. The hair strands are glued into a wide strand in your own hair. You do not need heat to weld strands to your own hair, as with the bondings. The "fake" real hair is now no longer hanging on a thin strand of hair with its weight, but spread over a larger area. The feeling with tape extensions is completely different from the beginning and much more pleasant.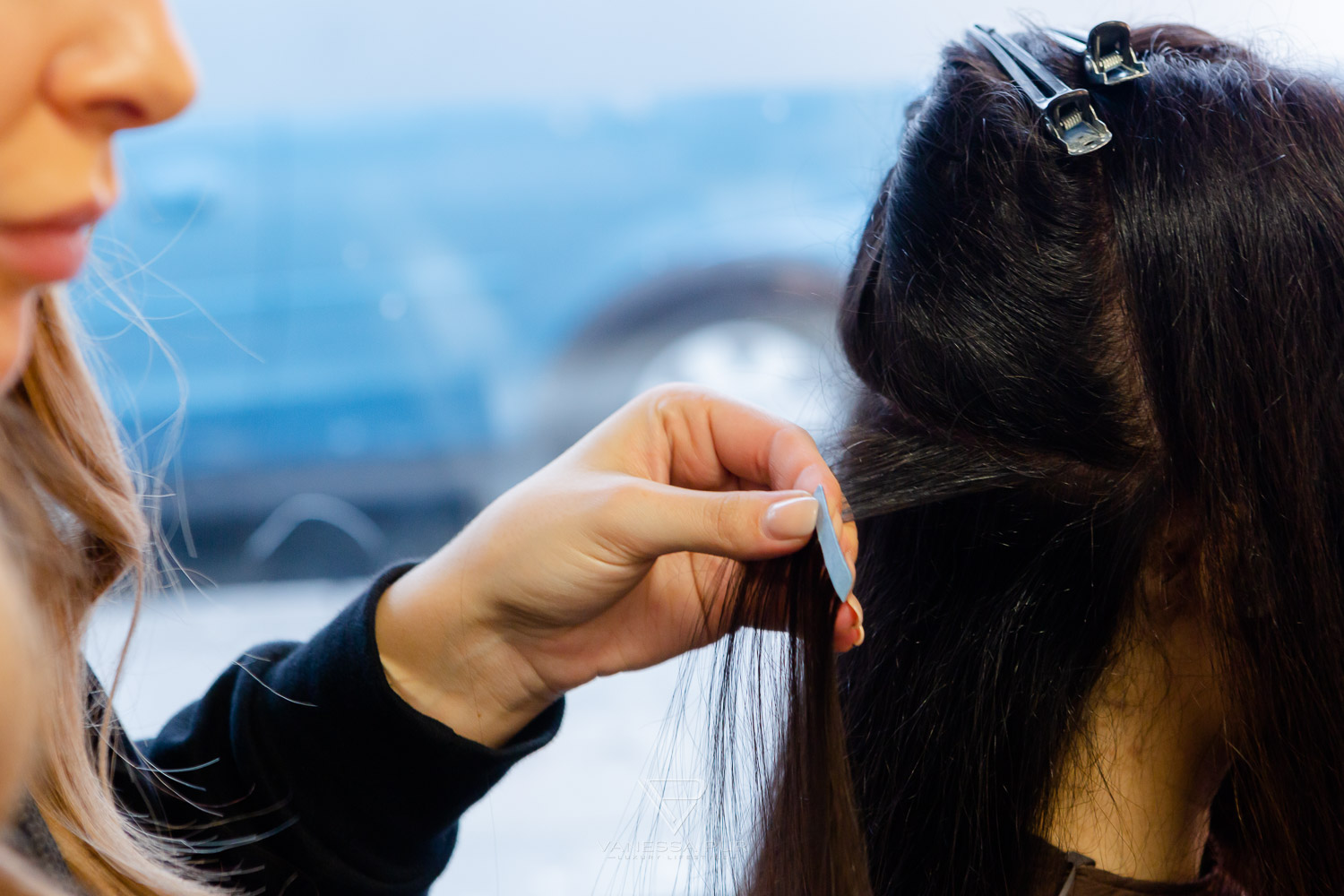 Melina only uses the straightening iron to straighten her own hair before putting it in to get an even surface for the tape extensions. Small "kinks" and waves can easily change the overall look. The straightening iron is not necessary for the attachment.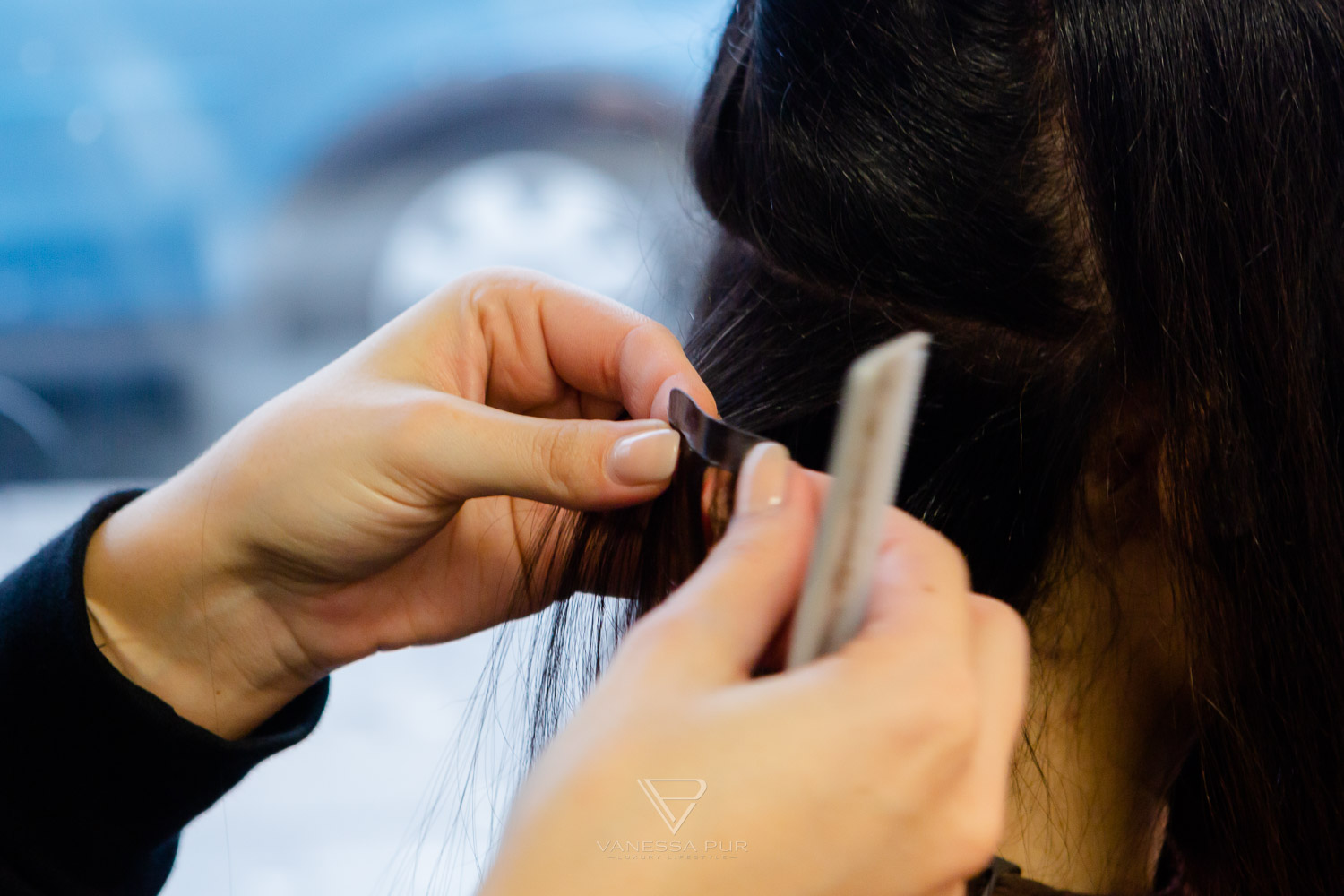 Strand by strand of tape extensions is now distributed and "glued" to your own hair as usual. Since I told Melina that I would like to make myself a high braid from time to time, she was able to pay direct attention to this when inserting them. The insertion is much faster than with the bondings and due to the wider strands, you need fewer individual strands and also the overall look afterwards even more perfect and looks like real own hair.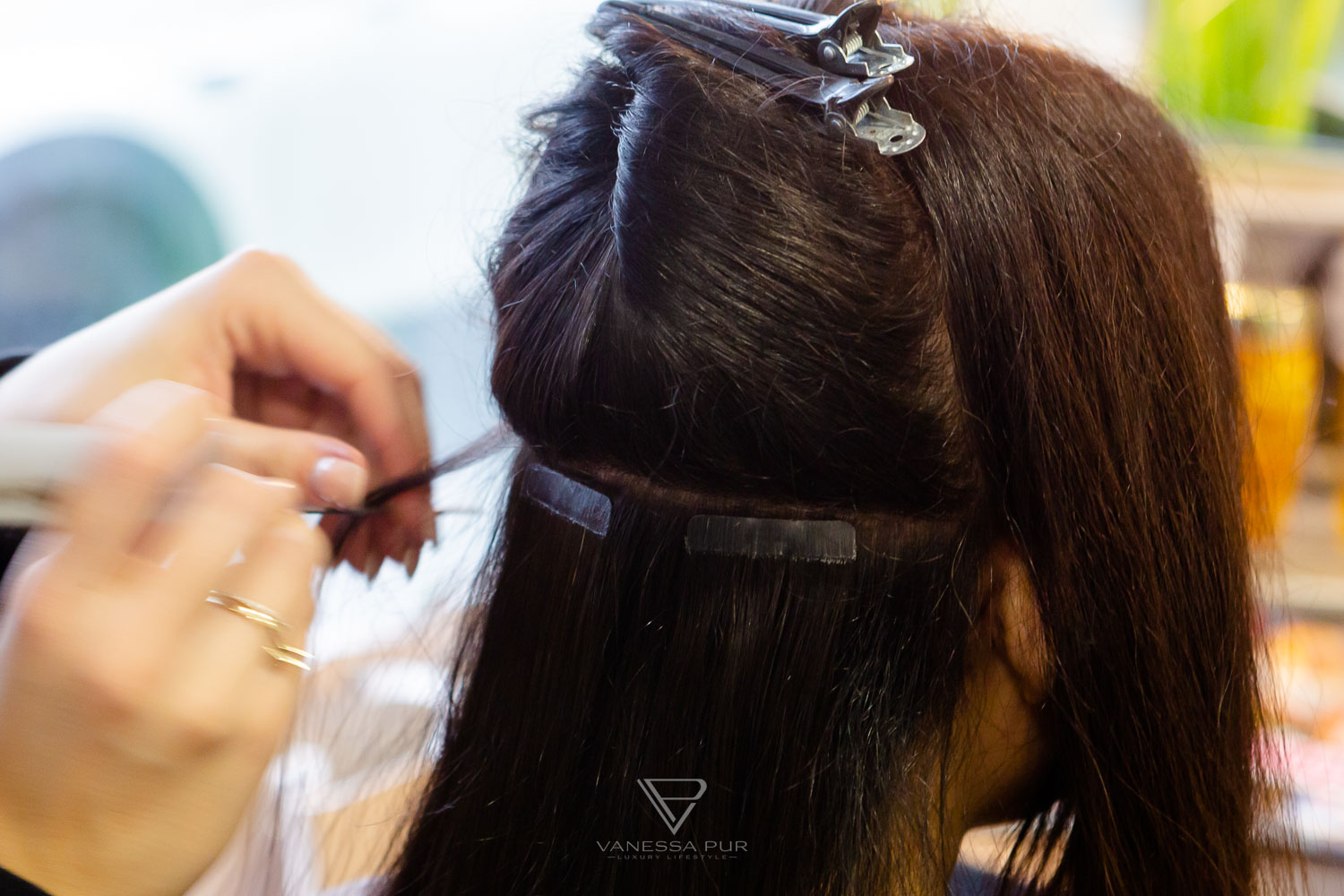 Finally, the hair was then adjusted from the length and cut. The new technique saves a lot of time and also the removal should be much faster and more gentle on the hair. You just need a lot of oil to loosen the glue. However, I do not need to be afraid of normal hair oil.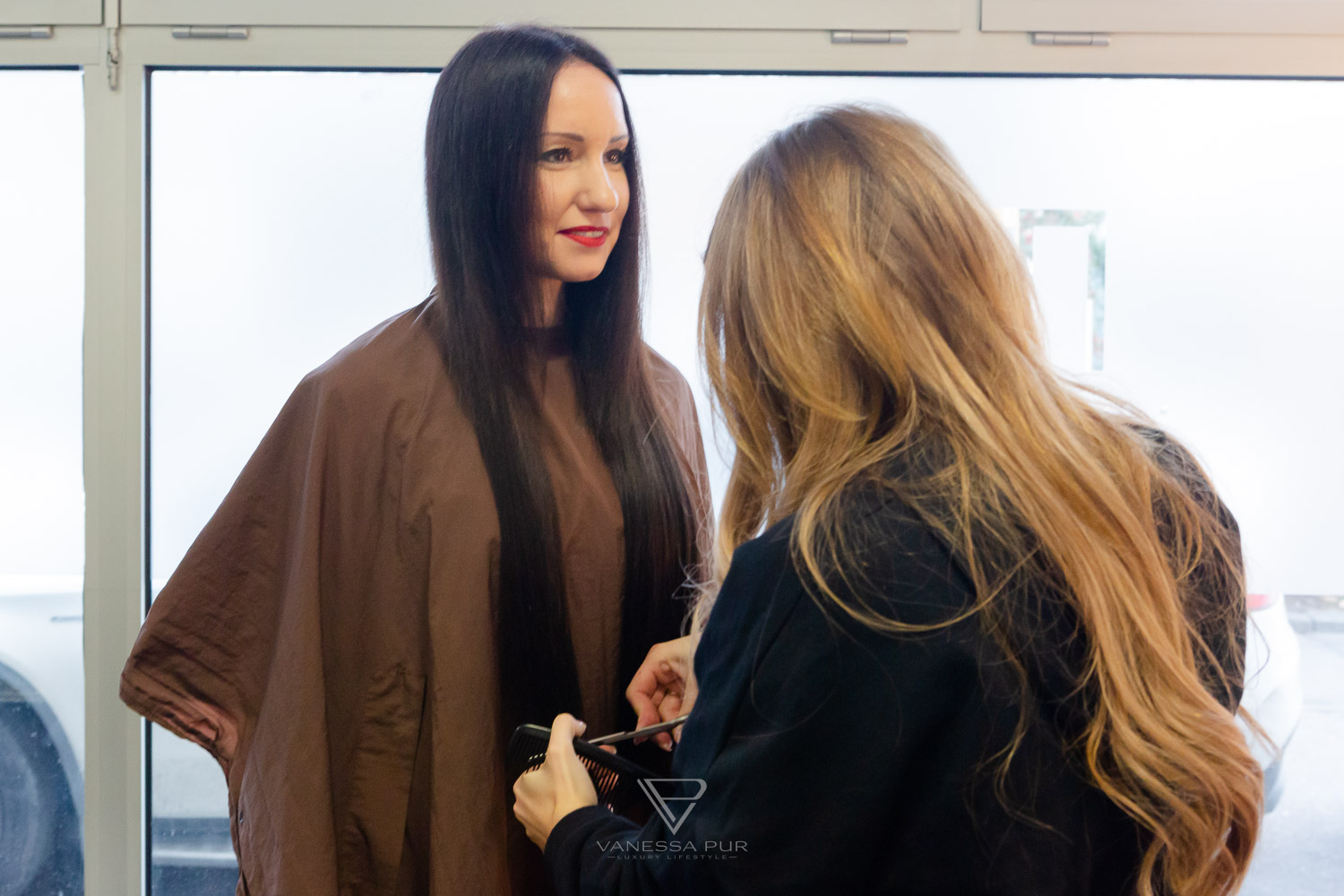 By the fact that you no longer need pliers to break up the bondings when removing the tape extensions, your own hair is of course also more spared. But before I think about removing them, it's much more important how the feeling is in the long run with the new tape extensions…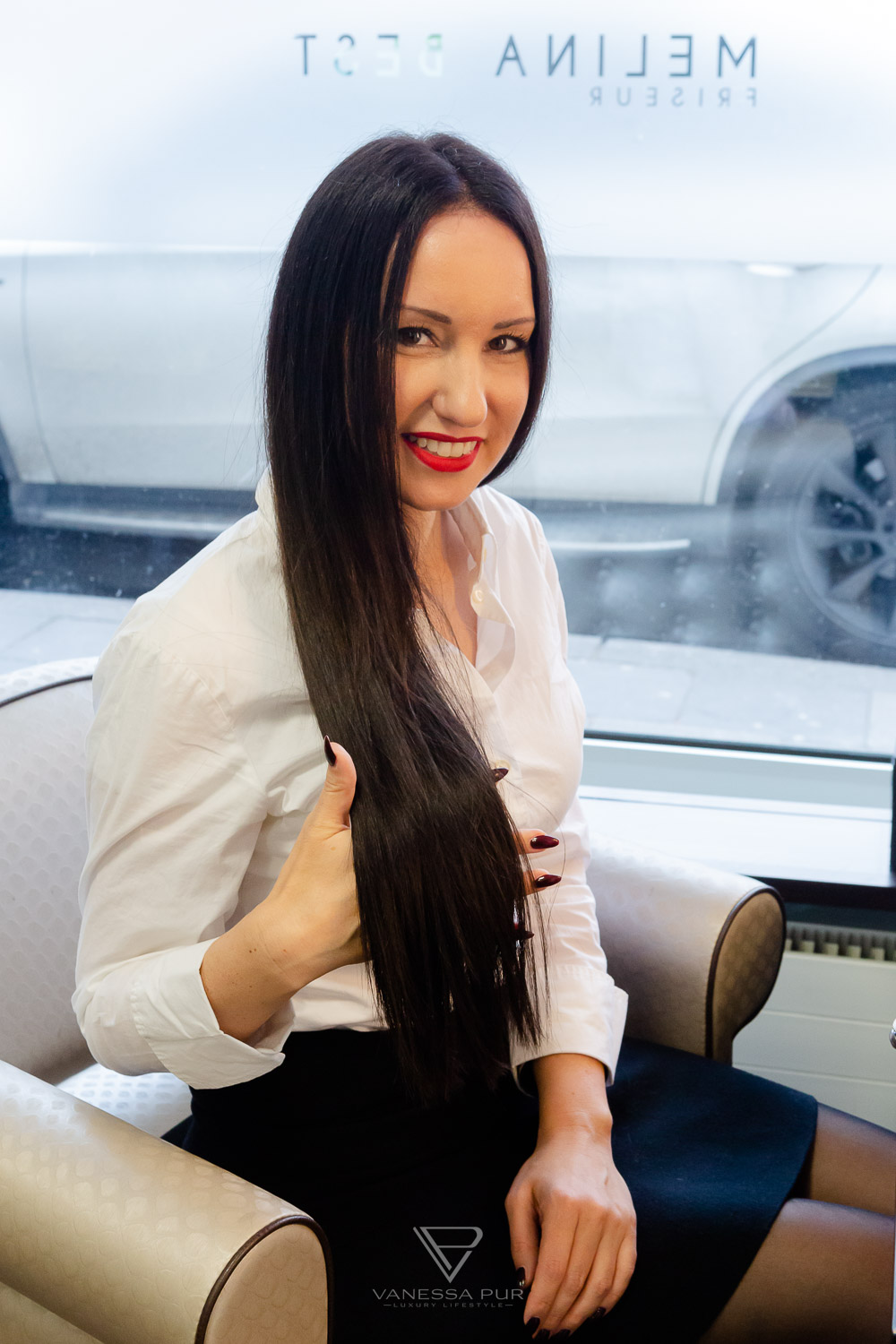 The tape extensions from Melina Best "MB® Wir Sind Das Original", which by the way she has made as her own brand, feel perfect. So soft and light, like I never knew from hair extensions before. The most extreme change, however, was the connection points. You can't feel yourself stroking your head anymore. It's super unusual for me to not feel any hard spots on my head anymore.
The tape bonds are soft and pliable, like a thicker sheet. While with the bondings you sleep worse the first few nights because everything hurts a bit, with the tape extensions you can sleep well right away. I was super positively surprised.
Finally, Melina showed me how I can best make a braid. However, I should quietly wait a bit with it until the tapes are no longer quite close to the scalp and can "fold over" more easily.
Care for hair extensions – care advice, shampoo
Finally, Melina gave me two care products from Kérastase for hair care for the tape extensions. I should wash my hair best only two times a week. As a shampoo, I use the Discipline Bain Fluidealiste with Morpho-Keratine for my hair from now on. The Smooth-in-motion Shampoo is especially for unruly hair and gives the hair shine. It protects against split ends and opens it up to the appropriate conditioner.
As a conditioner, I use the Discipline Fondant Fluidealiste with Morpho-Keratine. The Smooth-in-motion Care conditioner provides flowing hair, bounce, shine and anti-frizz. The care can stay in the hair for a short time or longer, depending on the time and care intensity. Afterwards, I use my hair oil Elixir Ultime as usual for even more shine, care and heat protection. Also a new brush, which makes my hair with tape extensions even smoother, was still allowed on the way home.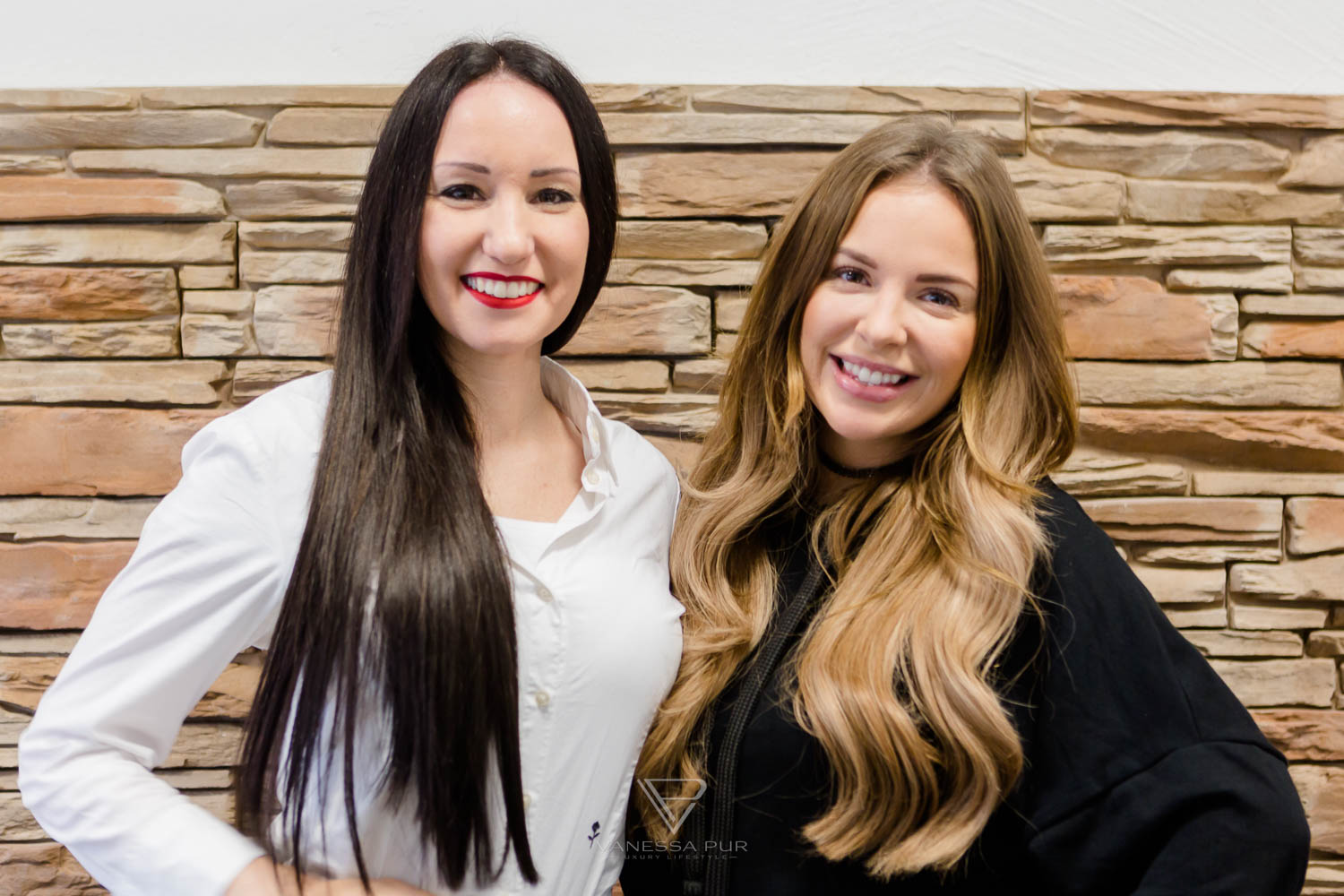 Conclusion – hairdresser visit to Melina Best hairdresser in Cologne
Once again I am absolutely happy and satisfied with my new extensions. I got used to the tape extensions super fast and now I know why they are so popular. My hair extensions have never been so easy and uncomplicated.
However, I was also extremely happy to see Melina again and hear how she is doing. I already wrote more about her in my last report about my visit to Melina Best hairdresser. Her story and development is just great and in addition you begrudge Melina, because she is such a lovely, honest and direct person. I am already looking forward to my next appointment with Melina and the great time with my new hair.