The Sonoro Relax serves as a compact sound solution, an all-in-one system that is well suited for young people, style-conscious audio fans, as well as families at first glance. It offers full sound, many different sources from digital radio to your own Spotify playlist and, of course, Bluetooth linking with your smartphone, but most importantly, a way to meditate, rest and relax with help to fall asleep. 
Sonoro Relax Audio in review – the compact stylish music system
As announced a few weeks ago, my blog is getting a much larger technology section and after smartphones, tablets, laptops and especially cameras, audio now follows. The reviews will be presented on the blog on the one hand, but also repeatedly on the YouTube channel.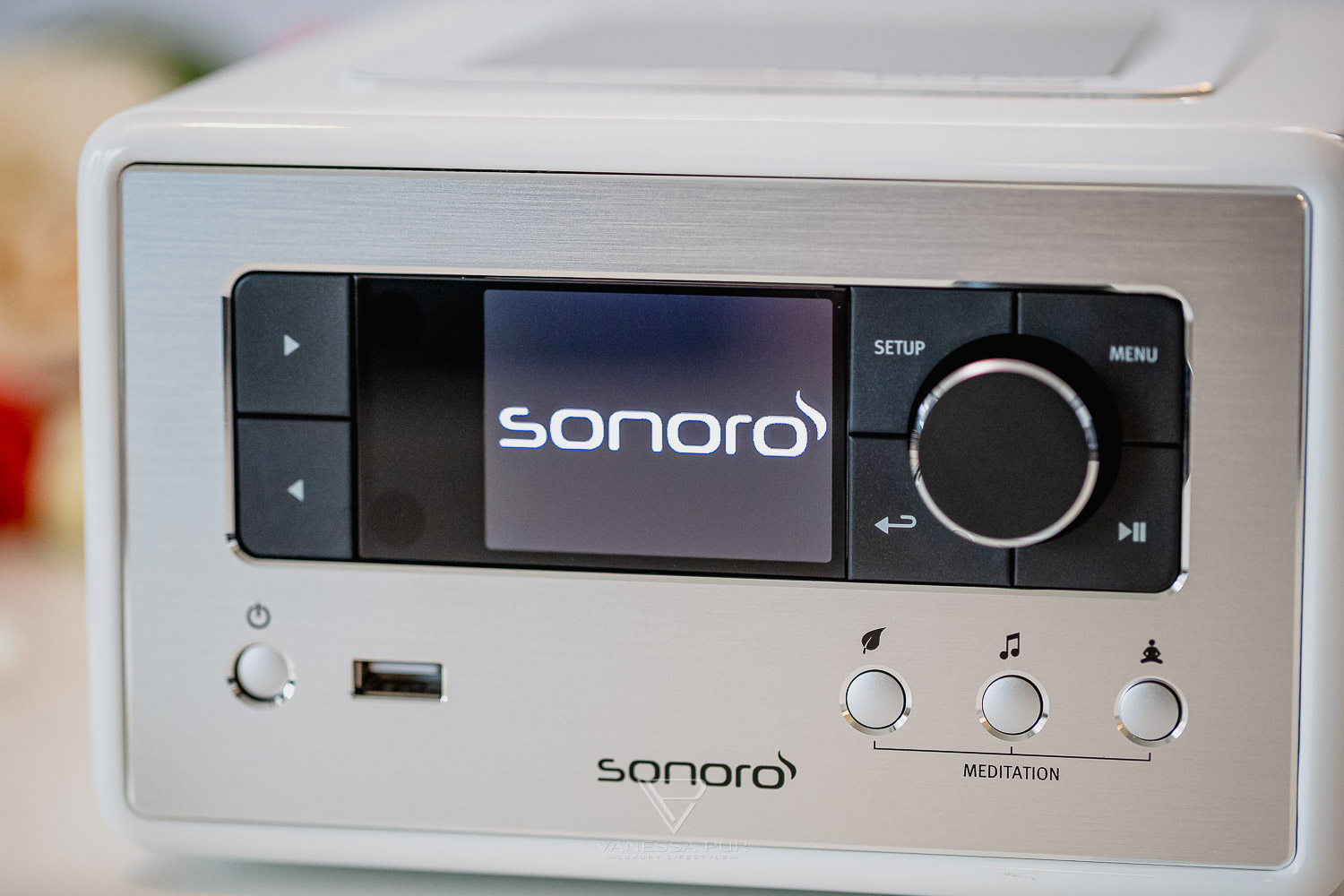 The audio technology presentations kick off with the new sonoro RELAX and the sonoro Stream, which are each not only a well-equipped smart audio system, but above all can provide for one's own relaxation and a healthy break.
I myself have already written several times about Detox and Ayurveda, relaxation and recreation and so an audio system like the sonoro Relax fits perfectly, as a link between luxury travel and special hotels and modern but timeless audio solution. Anyone who travels a lot, spends many nights a year in hotels, will have often seen sonoro devices as "alarm clocks on the nightstand" or at the work area in the hotel room or suite.
At first glance, the sonoro Relax seems almost somewhat inconspicuous, not very obtrusive, and yet after the first time it is switched on, it is a small miracle of sound, and so is sonoro's orientation.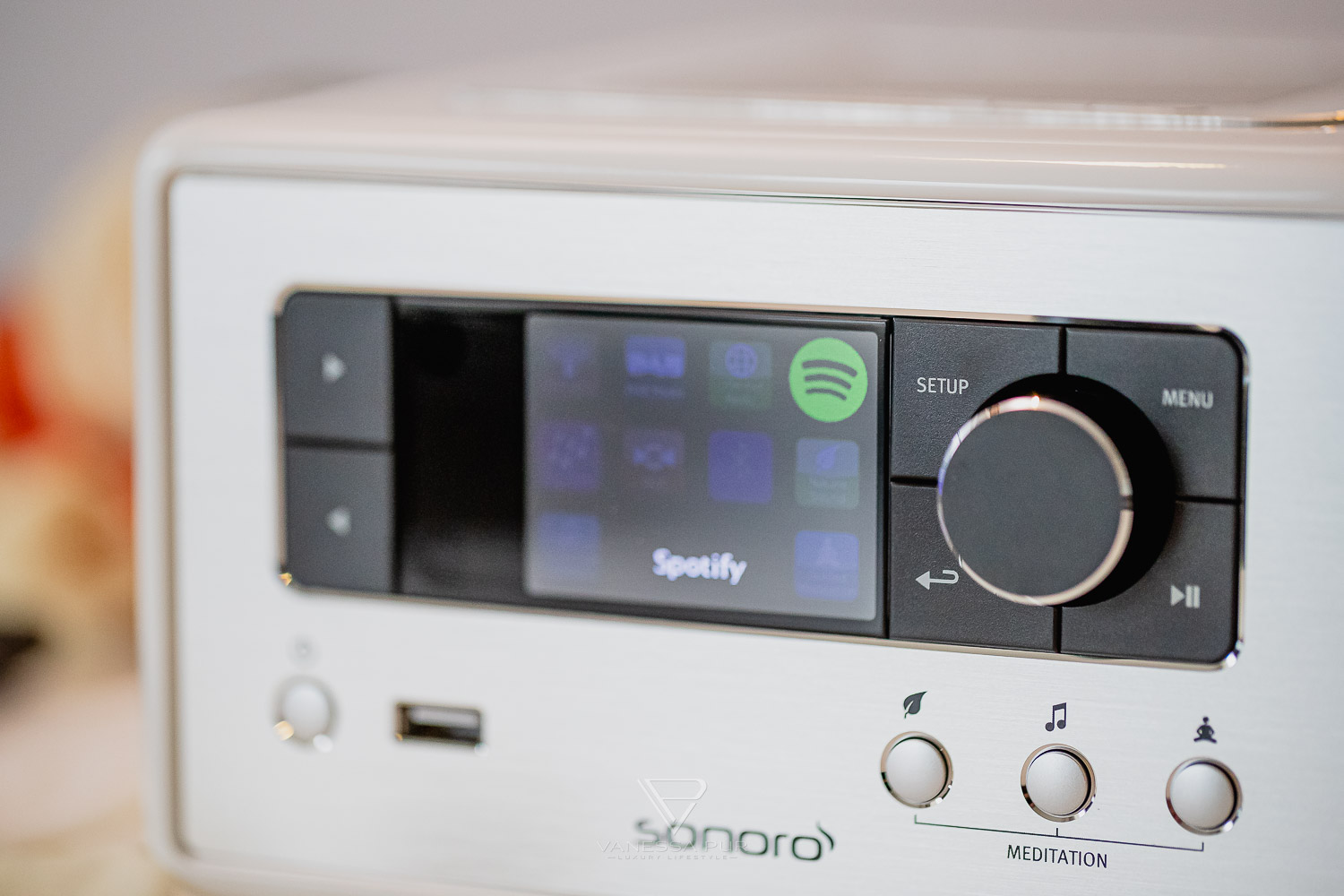 I already talked to the still relatively young company at the IFA trade show in Berlin and found the discreet "understatement" very pleasant. They want to go their own way, not orient themselves to other audio system brands and feel comfortable in their own niche. This was also noticeable at the booth, it was a pleasant and cozy atmosphere and the novelties all looked promising.
When you take the relatively small 180x115x223mm music cubes of the sonoro Relax in your hands, you are immediately surprised by the value. High-quality and glossy wood combined with discreet controls round off the sonoro Relax.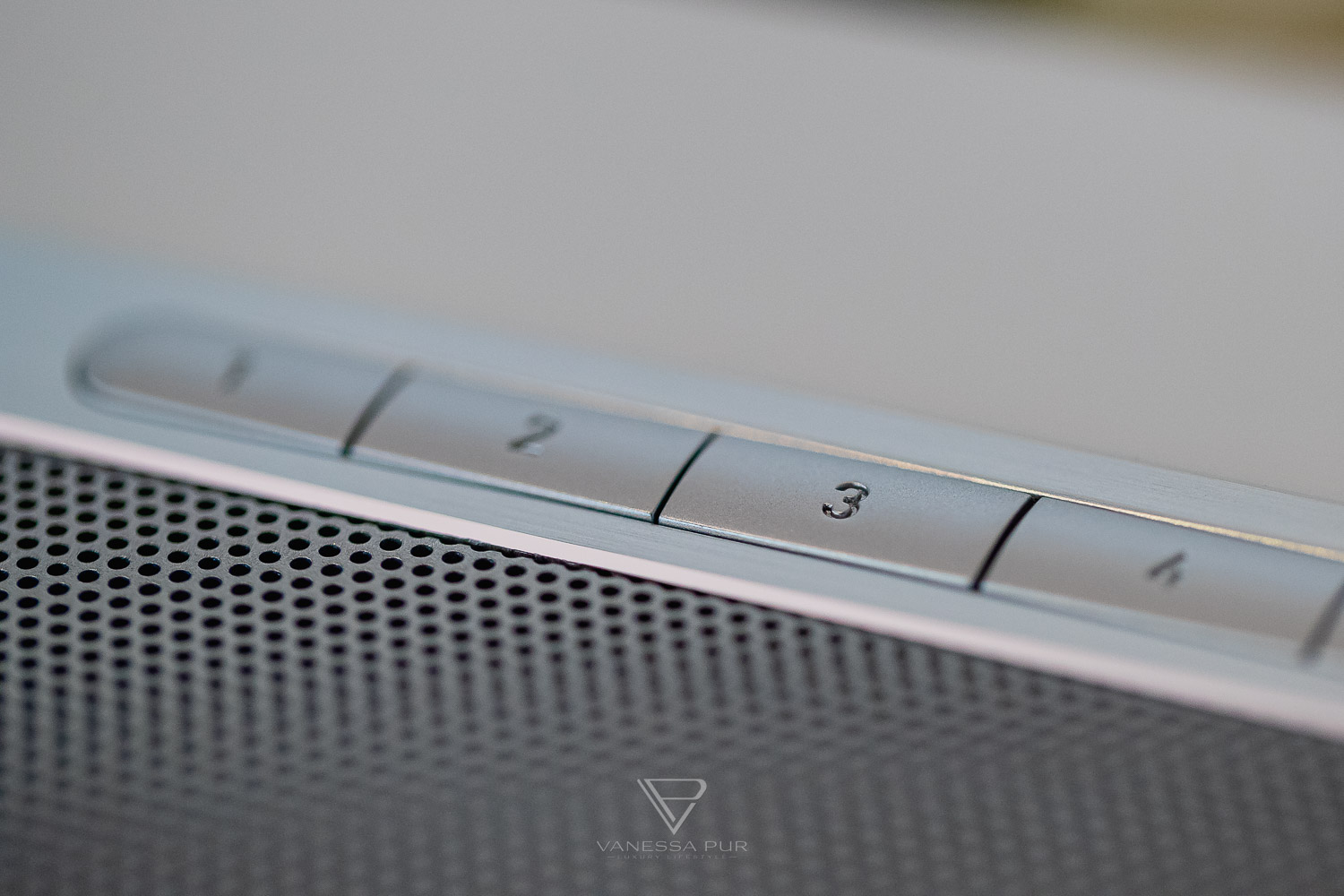 The sonoro Relax has no plastic parts or buttons that you don't need, no functions for which you first have to leaf through a large manual – self-explanatory and simple. The sonoro RELAX is currently available in black, white, silver and red. Once the sonoro Relax system is connected to the power outlet, the installation menu guides you smoothly through the basic settings, easily detects WiFi networks, and is fully set up in less than two minutes.
The sonoro RELAX offers a wide variety of options for selecting music, radio programs and relaxation, such as
The well-known FM radio
DAB radio
Internet radio (with over 25,000 stations!),
Spotify
My Music
AUX input
Bluetooth streaming (ideal for Netflix connection with laptop and tablet)
Nature Sound
Meditations Music
Guided Meditations
For me, it's just useful to have my Spotify playlists directly on the sonoro Relax (up to ten playlists can be stored at once) and be able to access them at any time. For me, Spotify is simply an integral part of life, and whether I'm traveling, in a hotel room, or even writing blog posts, I almost always have Spotify turned on.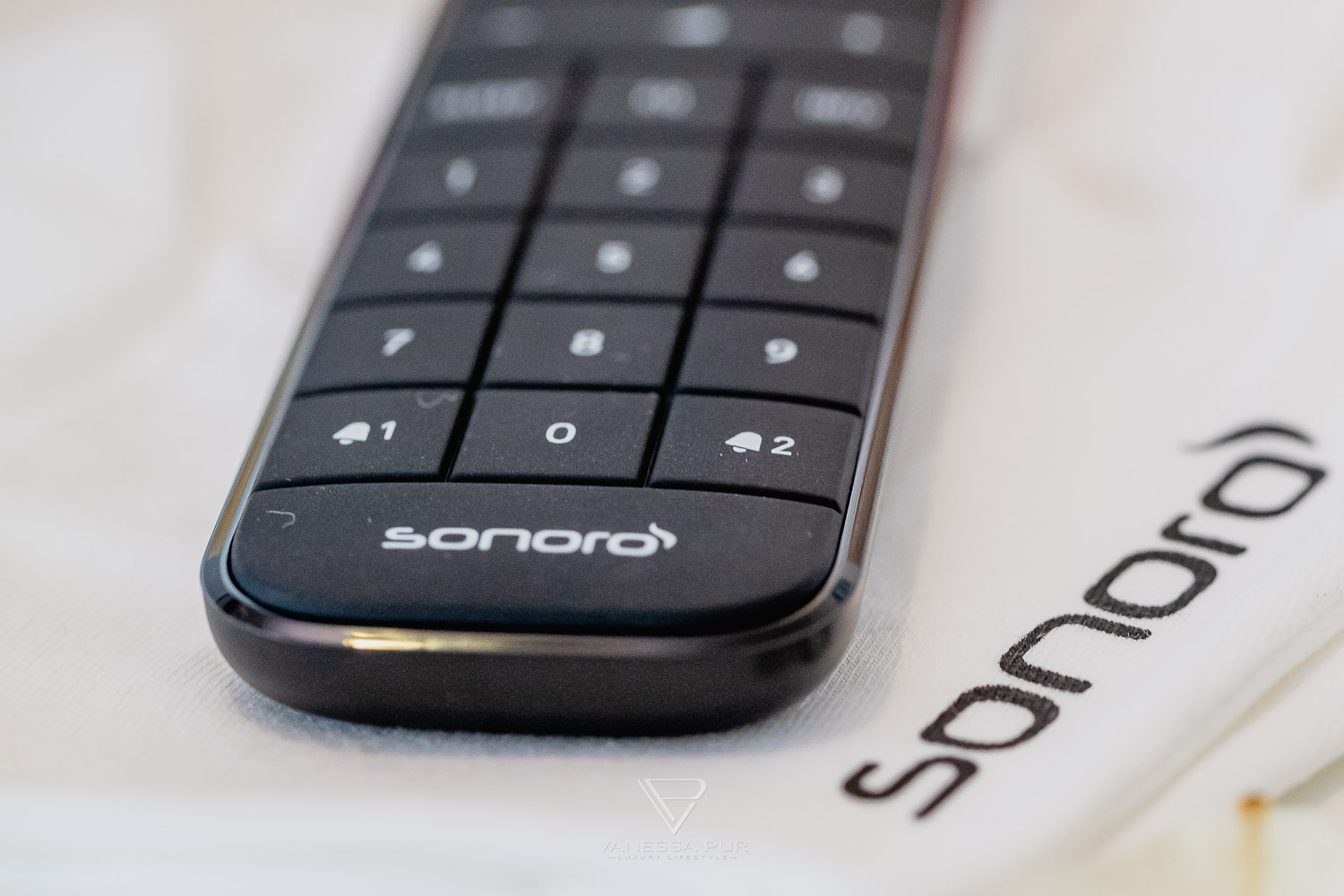 Another important function with the sonoro Relax is the connection with the laptop or tablet to watch my favorite series on Amazon video. i just find it incredibly convenient to watch the series at any time and then have the right sound available for it in my private life. Thanks to connection via Bluetooth, this happens in a few seconds.
If you take a closer look at the sonoro RELAX with the 2.4-inch color display, there are many functions that are absolutely well thought out and make enjoying music much easier.
6 station buttons on the device (very helpful placed behind the speaker grille, so you can find them easily even on the bedside table)
Spotify function with up to 10 playlists
WiFi connection via WEP, WPA, WPA2 (PSK) and WPS encryption (ideal even for beginners to connect the device securely to their own router) – with 2.4 and 5GHZ frequency bands. Very easy to integrate into the Fritzbox.
LAN interface (even though I like WiFi, I prefer a secure and stable LAN connection for my media devices, especially to the home media server) – perfect that this hasn't been eliminated, as it has been with many companies
Alarm function with two separate timers. (Very helpful for me, on the one hand different times on weekends and sometimes the second alarm clock is simply a good security, e.g. with an early flight and getting up at 3 o'clock)
Alarm clock additionally with alarm sound, radio or sonoro nature sounds (my favorite)
Meditation, pre-installed nature sounds, relaxation content and explanations at the touch of a button. The big advantage is obvious, while in the past you had to awkwardly first pick out a CD or set the problem, are already three program buttons on the front of the sonoro Relax retrievable and explained. In addition, the contents of the meditation "guru" Robert Betz are already included and calm.
Very practical – the sleep function between 5 and 120 minutes. So far I have always set a maximum of 45 minutes and can not remember that the device once switched off 🙂
But as practical as the sonoro Relax sleep function is, the Sonoro sound system has another very positive factor for me – the multi-room function.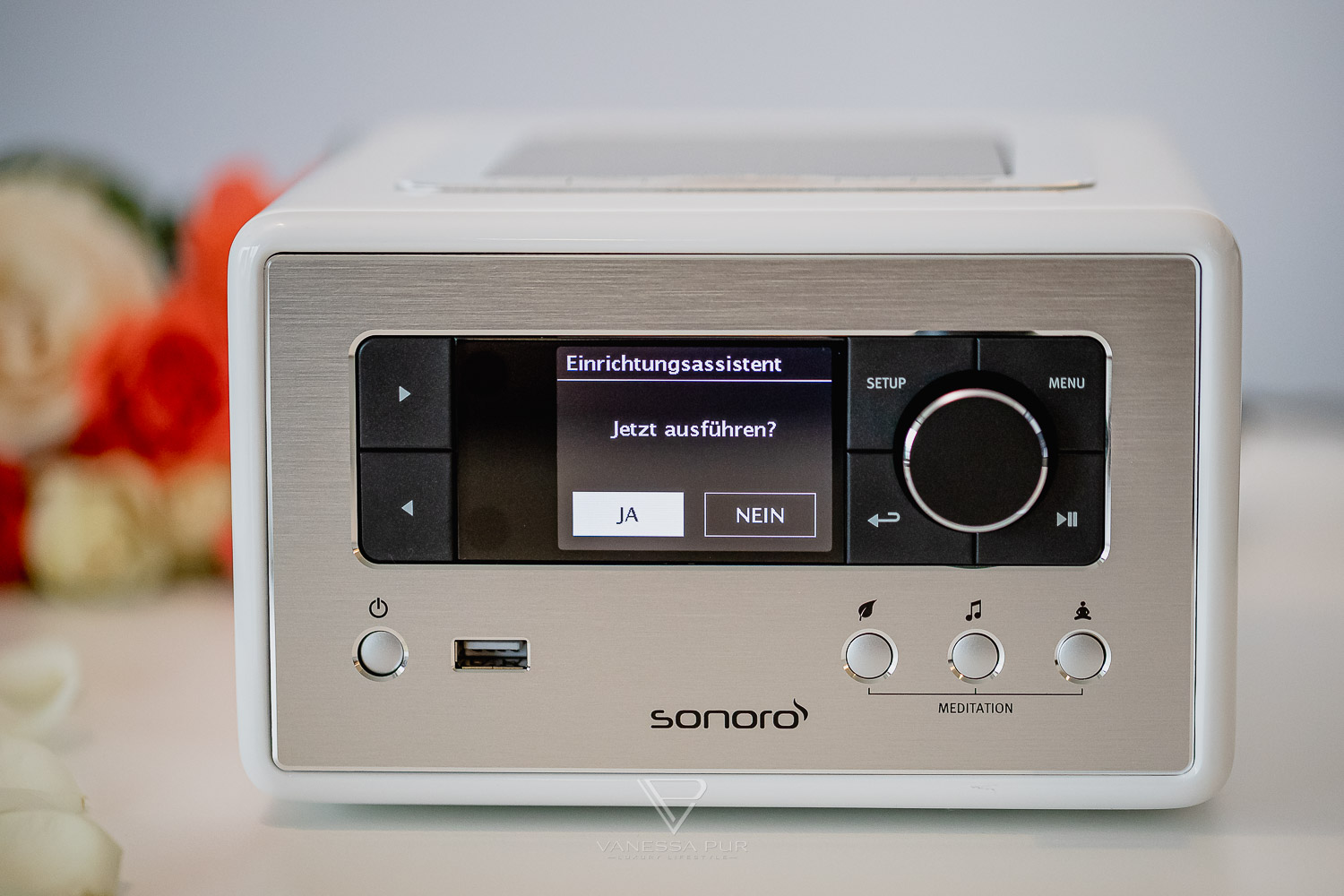 As the name implies, the Multiroom function gives you the option of using a device from the Sonoro family as a server and letting it continue playing on up to four other clients.
For me, it is a corresponding example just in the morning. I usually let my favorite music wake me up and need a few minutes before I still go to the bathroom in the "half-asleep" and first stand under the shower. For me, it's absolutely important to be able to enjoy the time and just wake up slowly.
For many years I had a radio standing, which did not tolerate the humidity in the bathroom very well and above all, caused a crackling at every sound of a smartphone. Matching the Sonoro Relax, there is for the bathroom, that Sonoro Stream.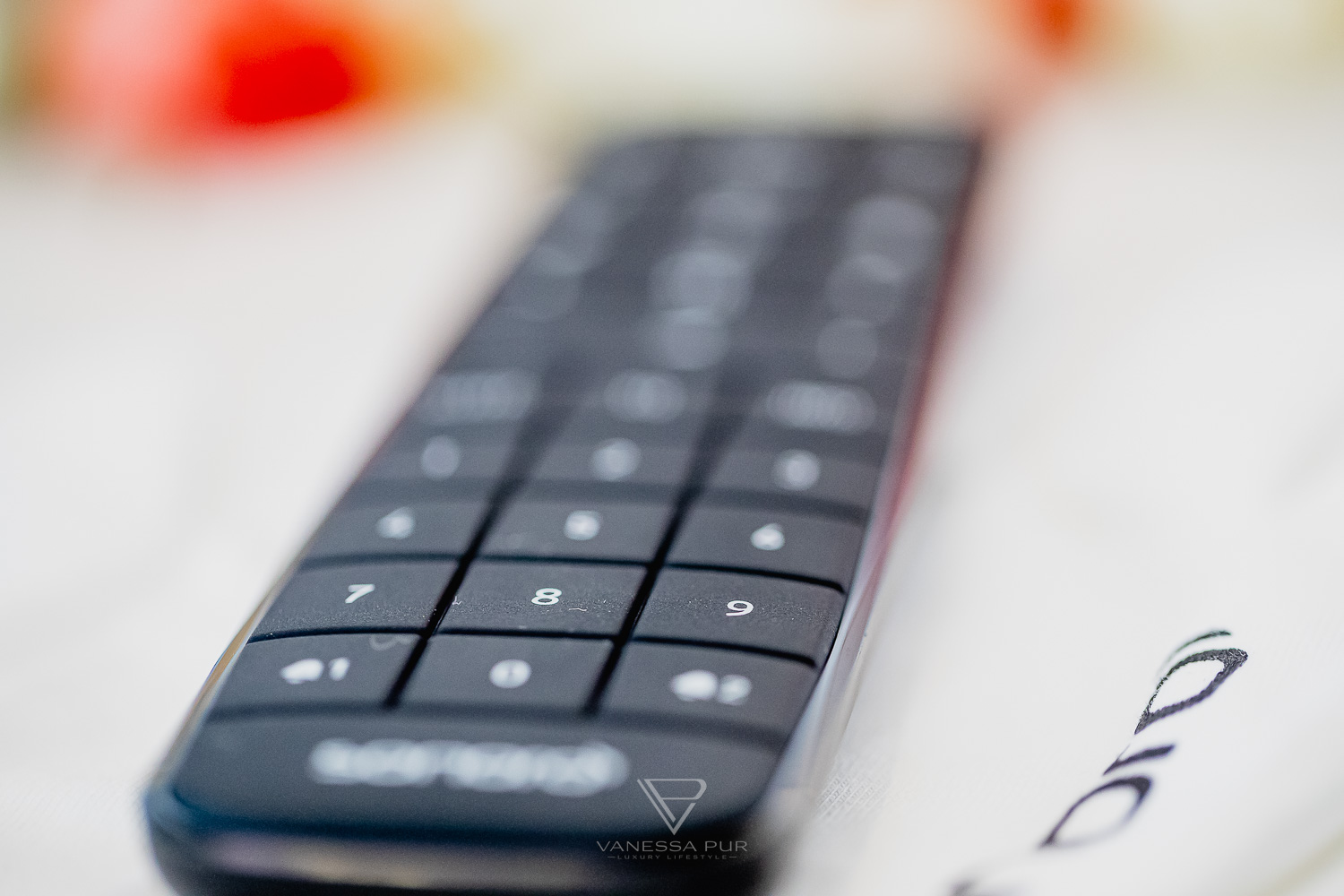 Sonoro Stream – the perfect solution for the bathroom – stylish, good sound and waterproof
The specially designed for the bathroom sound miracle not only looks absolutely stylish, but complements the perfect package of Sonoro Relax and other Sonoro devices.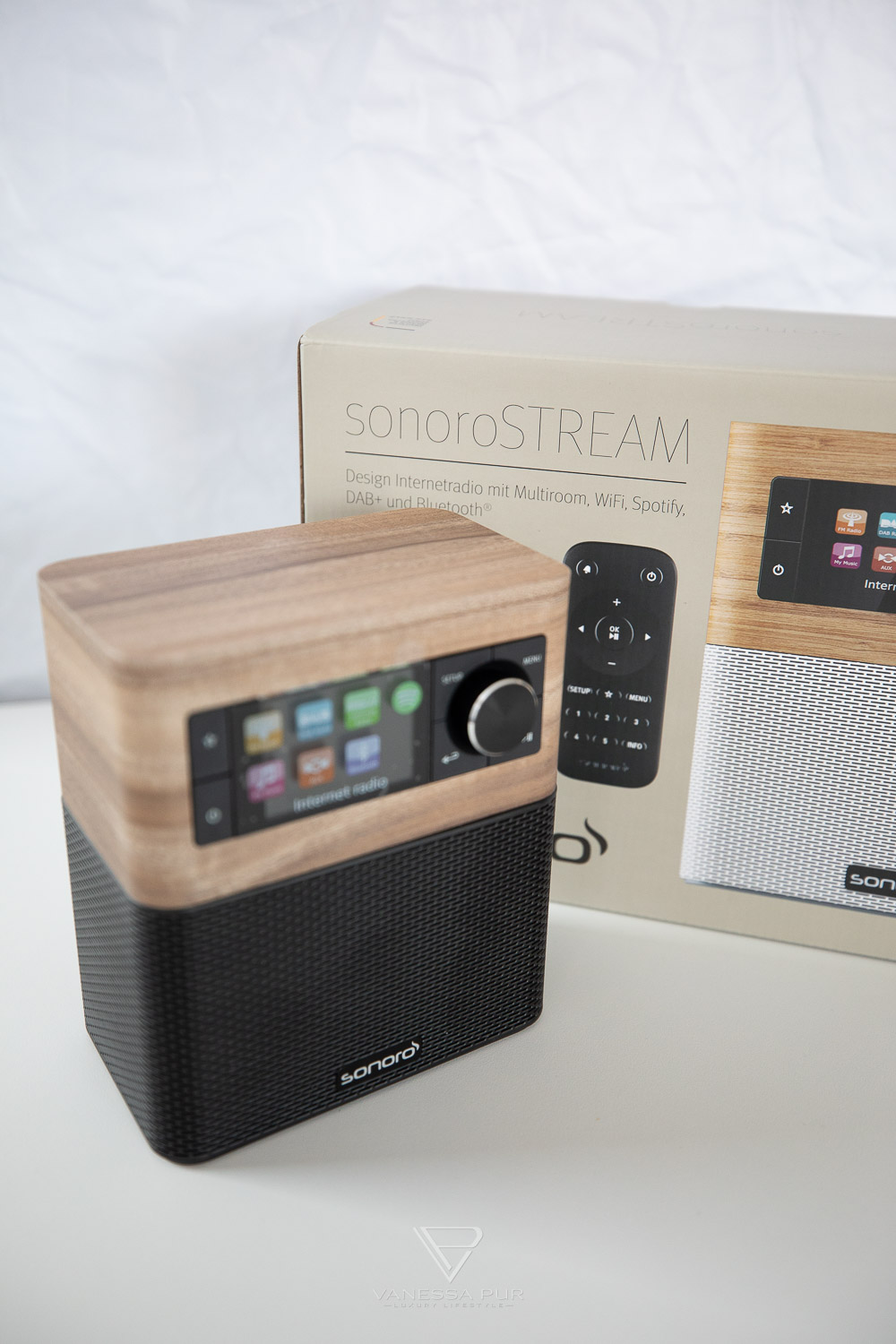 With me, it has received a permanent place in the bathroom directly after the IFA radio exhibition and plays my get-up playlist directly on. I must admit, the times in the shower have lengthened "somewhat", but my mood is significantly better before breakfast…
Maybe I should really capture these moments in a "morning routine" as a video sometime.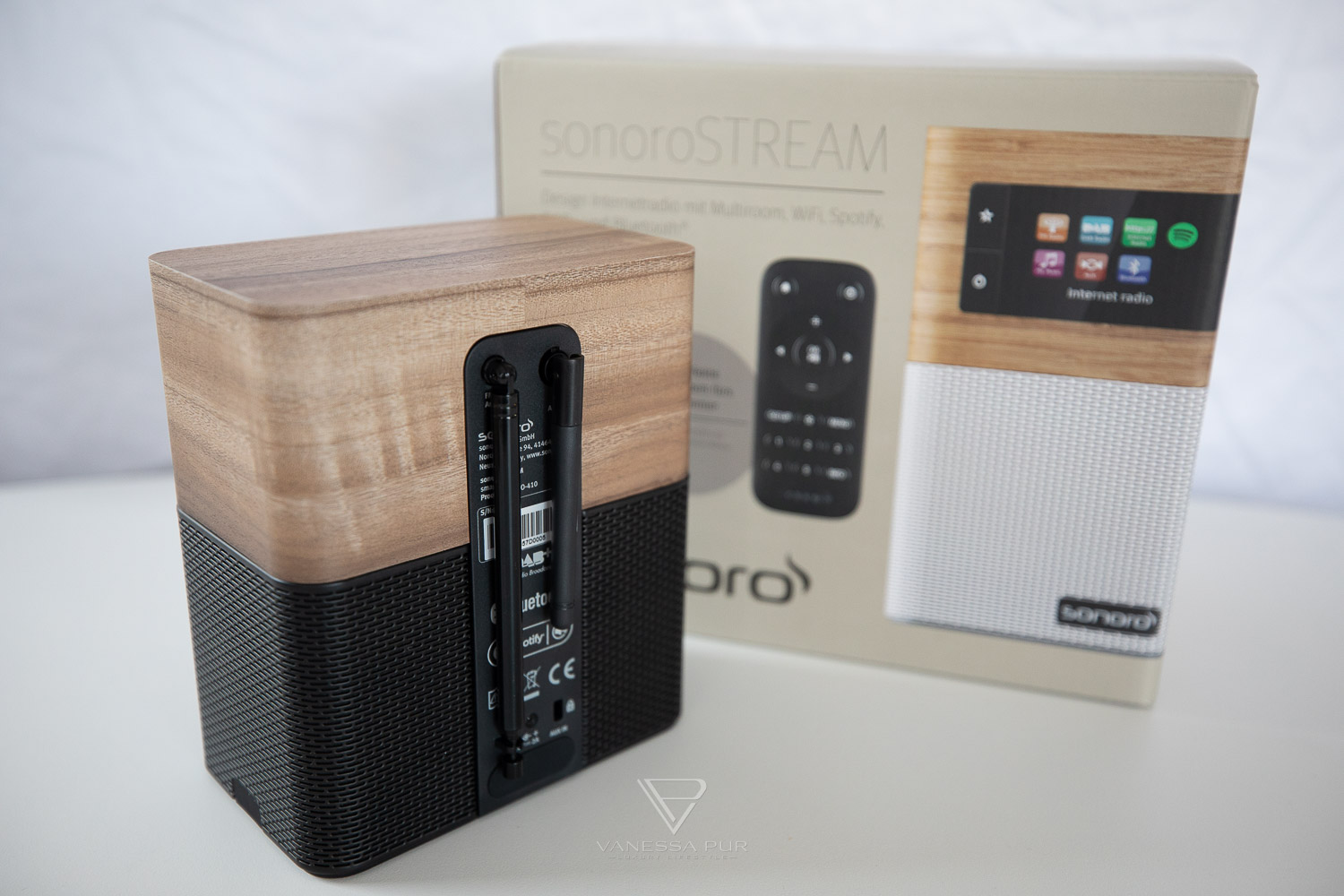 In addition, the Sonoro Stream has another advantage, a remote control that has nothing against water. Who once knows the situation in the shower, the music just does not fit the mood, you have forgotten a bad title or just want to fast forward knows it – wet feet, two steps across the floor, press on with "half-wet" fingers and yet you always have a queasy feeling.
Admittedly, the first time I took the remote control with me in the shower and it was next to shower gels, hair care products and other bathroom accessories and the first drops of water arrived, the feeling was a bit strange, but it's true – 100% waterproof and insensitive. I still have to get used to it, but I find it practical already.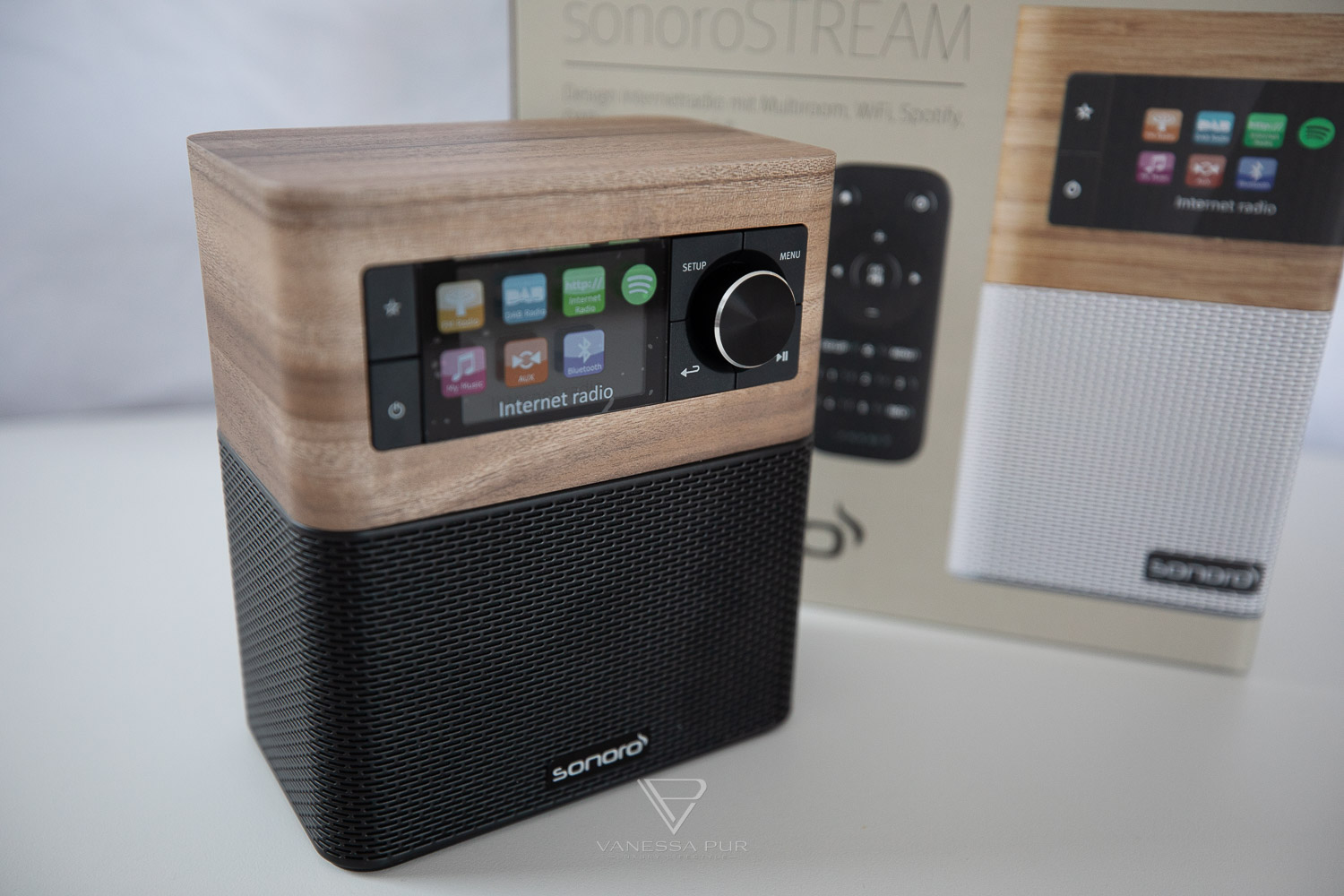 CONCLUSION – Sonoro Relax and Sonoro Stream – the sound wonders for the apartment – stylish and practical
Music is simply part of life for me, whether for a photo shoot, for a blog post or even before and after a video. I have countless playlists with me and there is always music playing somewhere.
Where I rely on my headphones when I travel, I like to enjoy my music naturally in my own home. I can still remember the first time I came into contact with a sonoro system in a hotel and had only known other devices.
I looked at the "radio alarm clock" somewhat suspiciously and was really very positively surprised after switching it on. The overhead bass speaker immediately fills the whole room with a pleasant sound and clean tones. The case has a high-quality finish and looks stylish – but unobtrusive – and fits perfectly with the home decor.
Where one usually tends to make sure that there are no unnecessary devices next to the TV, one has become accustomed to the sonoro Relax cube directly and I enjoy it in the evening before falling asleep to choose my music or later also a meditation offer.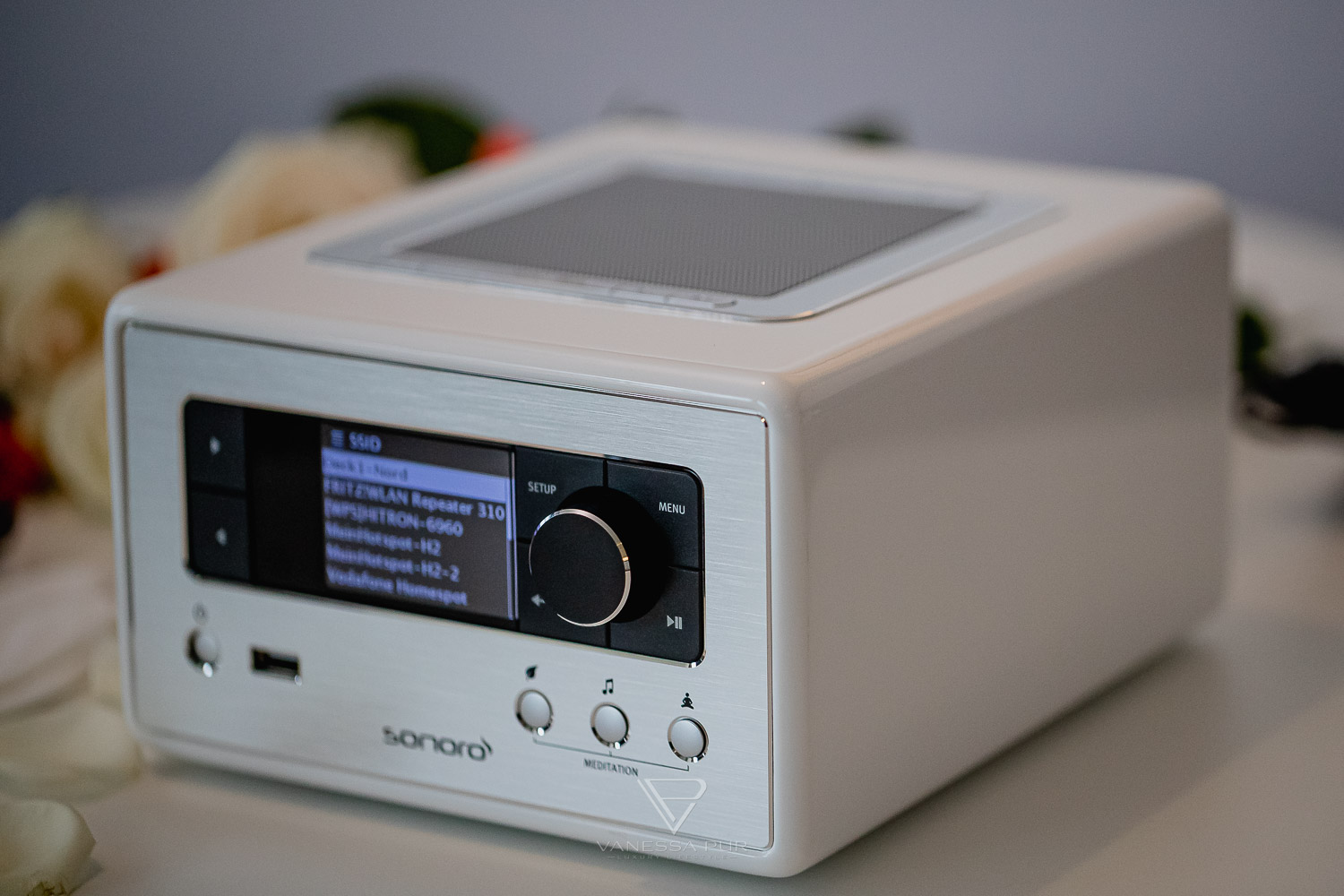 In the early stages I needed some time to get used to it, but after a short time it works very well. From my own experience I can say, first choose a playlist with your own quiet music and then at some point switch to the various meditation offers.
I notice after a short time, how you forget many things from everyday life around you and concentrate only on switching off and recovering.
During my time in Asia, I also looked at the meditation sounds a little suspiciously at first, before I got involved and was able to switch off very quickly with a mixture of meditative sounds – and especially also nature sounds. Once you get used to it a bit and can really use it, the various exercises that sonoro has installed are recommended and quickly give you new strength.
Sonoro manages a good combination between different approaches – both with the Sonoro Relax, as well as the Sonoro Stream. On the one hand, I find for the bedroom the combination of sound miracle and meditation very well solved, but also with the Sonoro Stream the possibility of the small sound miracle and the use in the bathroom perfect.
For me, who likes to walk through the rooms when she is at home, the multi-room function is perfect and I'm sure I will certainly add to my apartment in the future with a solution for the living room and then also my TV there afterwards and discover completely new function.
The first impression I received from the two Sonoro devices at the fair has been confirmed in the first review and I can only recommend it to try it out for yourself.
In addition, even for beginners, the absolute fair prices (sonoro Relax RRP 349.00 EUR, sonoro Stream RRP 249.00 EUR) and also the possibility of a nice gift idea for any music lover, radio listener or even meditation fan.
Sonoro Relax and Sonoro Stream audio solutions for bedroom and bathroom with meditation – Multiroom solution – Technikblog