Elgato Cam Link to connect your good DSLR camera to your laptop or PC for streaming, gaming or Twitch. How do I connect my DSLR camera to my laptop or PC? Is there a direct way to stream with a DSLR camera or even the GoPro Hero camera? What equipment do I need for a live chat and streaming video session? At the latest with the launch of gaming portals, Twitch or even YouTube Live, events are increasingly streamed directly to the web, but the performance of most built-in webcams is often very mediocre.
Elgato Cam Link – connect camera to laptop or PC for streaming, gaming
While we initially only gave our workshops in person and then connected attendees via laptop, we were looking for a solution that would guarantee good image quality while being easy for any person to use and install.
The main requirement is a camera with an HDMI output, such as the Canon 5D Mark IV, but also Canon 80D or even the new GoPro Hero7. Depending on the design of the HDMI port (from standard to micro-HDMI), you can find a wide range of cables and adapters, e.g. on Amazon.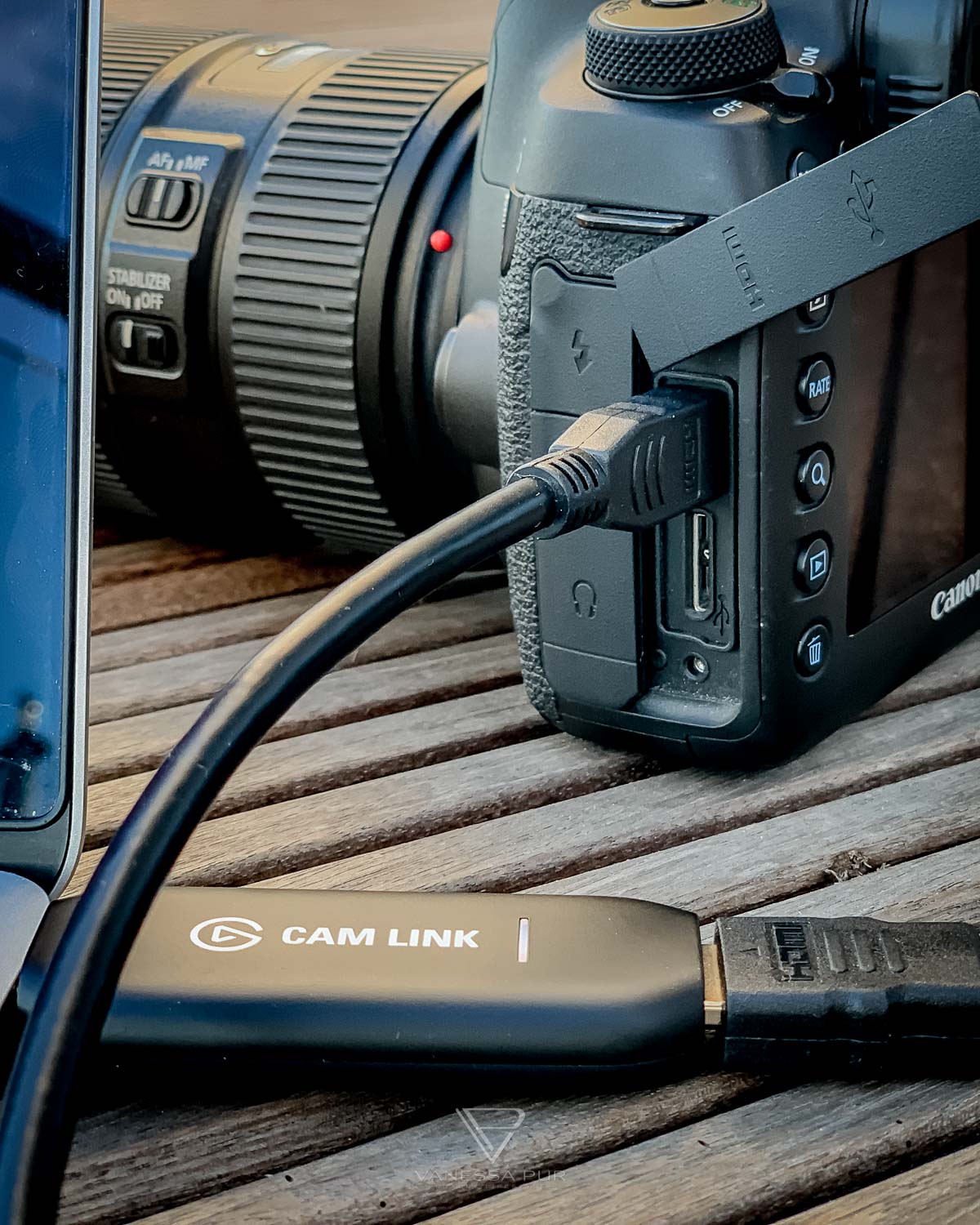 To connect to the computer or laptop, you then need a USB stick or converter (often as a small box), which is connected via the USB port or also Thunderbolt port on iMacs and Macbooks.
We opted for the simplest solution that is easy to transport and install: the Elgato Cam Link USB Stick.
This stick is optimized for YouTubers and gamers who like to stream content on Twitch or YouTube and want to be visible themselves, as in good broadcasts.
The German company Elgato, based in Munich, has been known for many years for smart solutions in the field of media, whether receivers for the TV signal, mobile solutions for the iPad and also streaming solutions for YouTubers.
Compared to other providers, the stick from Elgato seems very small and handy, can be easily taken along for business travelers even to conferences, if these are to be broadcast live on the Internet and practically explains itself.
The Elgato Cam Link USB Stick has an HDMI port labeled HDMI IN on one side and a USB 3.0 port on the opposite side. You simply connect the HDMI signal to the USB stick and then plug it into your laptop or desktop computer.
It is recommended that you then download the software from the Elgato website and the stick is installed and ready to use.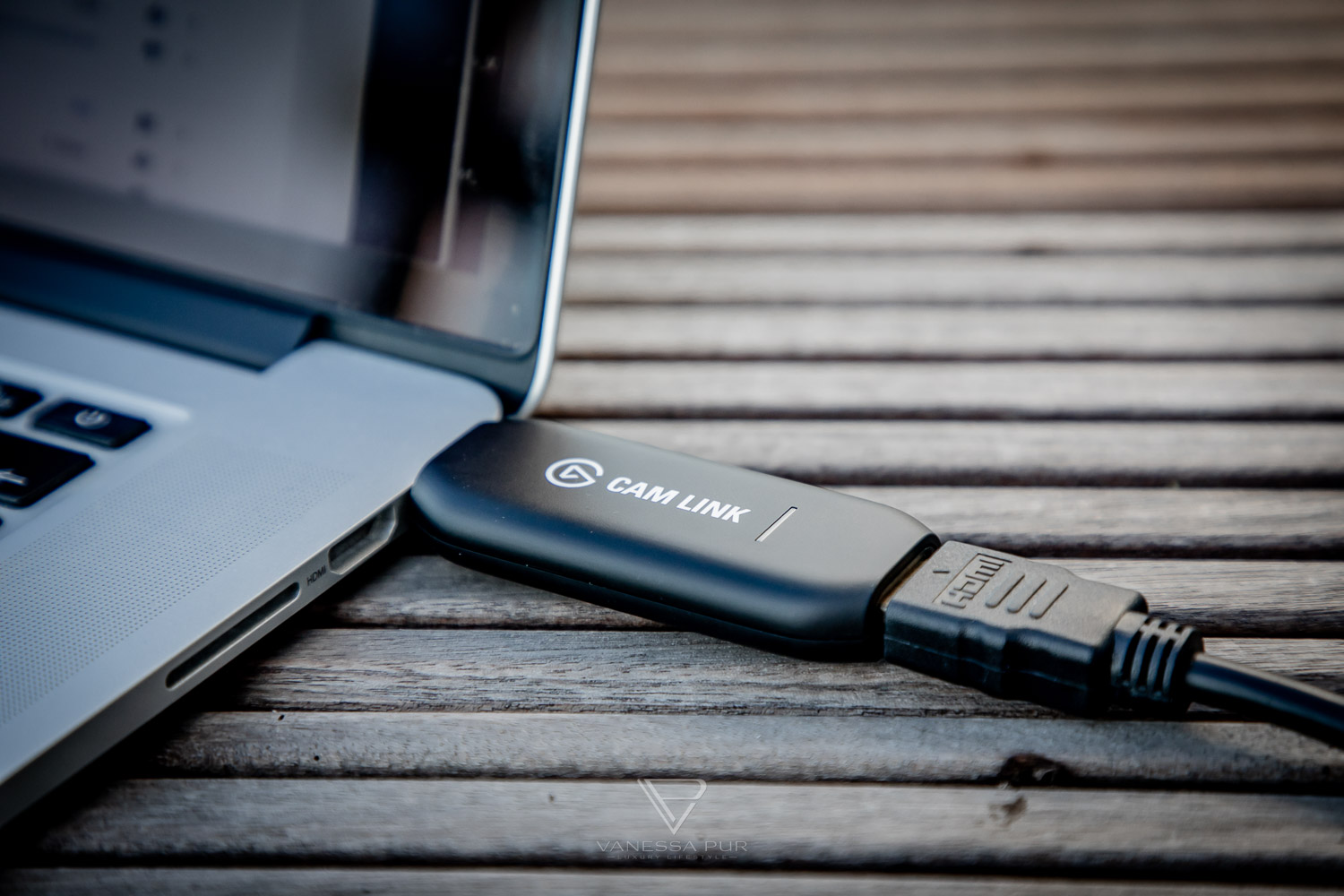 We were very surprised by the ease of installation and after a few minutes we already had the DSLR camera image on our laptop without any delays.
Very positively, we must note that the image signal can not only be used in Elgato's own software Game Game Capture HD, but can also be used without problems in OBS. We also did not notice any problems in our applications with Crowdcast and the signal is transmitted to the browser (Google Chrome) without any problems.
Elgato's software also already includes various templates for gaming portals, where the image can be faded in at various points and labels can be added. At the same time, it is also possible to record the stream on one's own hard drive as well (automatically activated as standard), so that it can be viewed again afterwards or made available as a cut session later on YouTube, Twitch or other portals.
While we primarily use the Elgato Cam Link USB stick for video conferences and use a setting of 1080p and 30fps there, gamers can also fall back on 60fps.
The Elgato Cam Link USB Stick can be used with all desktop PCs with Windows 10 and processors with four cores, as well as with Apple computers from macOS 10.12.. Users of Apple's new MacBooks will need the usual USB 3.0 to USB-C adapter to connect the stick.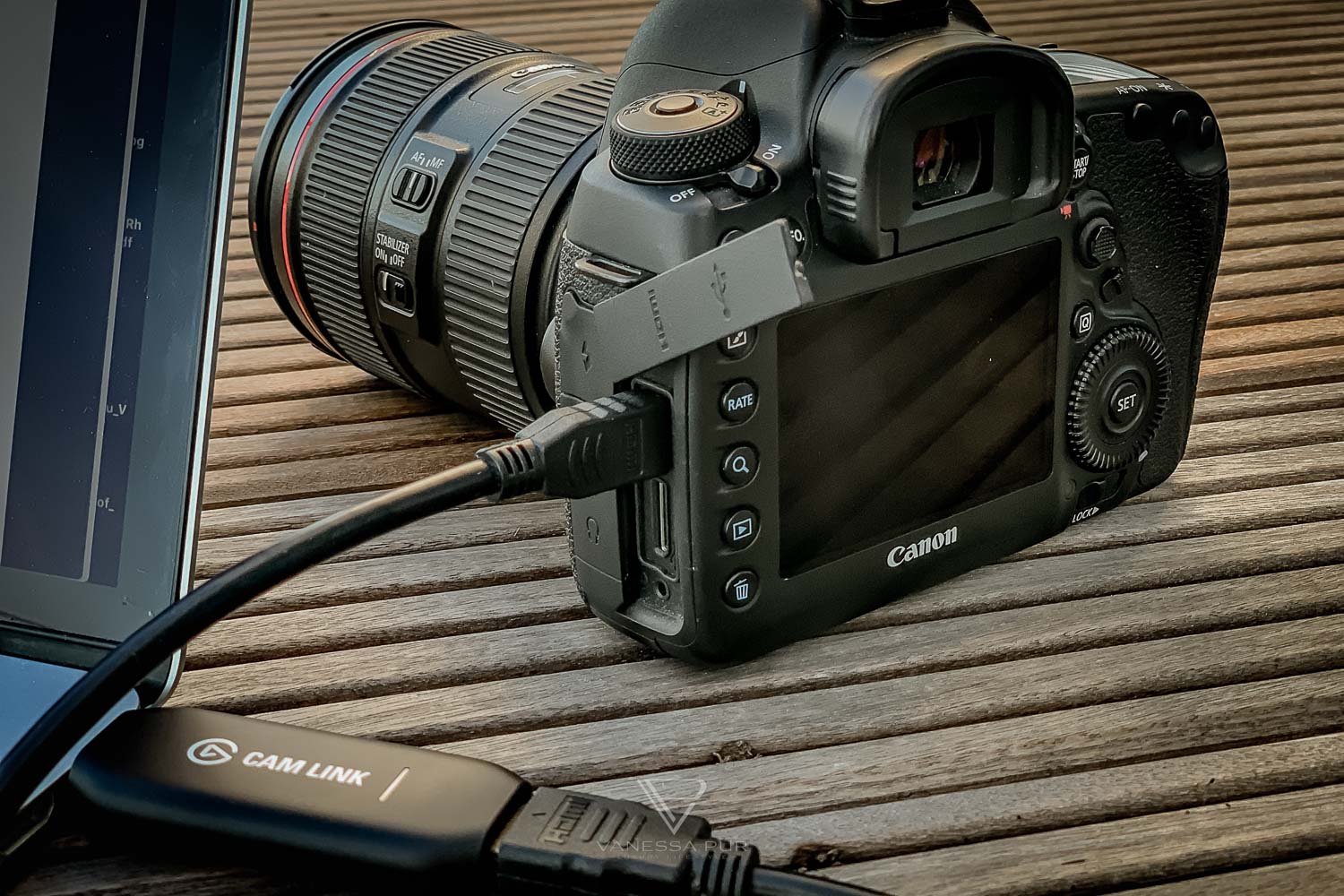 Elgato Cam Link – connect camera to laptop or PC for streaming, gaming – CONCLUSION
Elgato succeeds with the Cam Link USB stick a product that is easy to configure and quickly leads to the desired success. Thus, sessions on the Playstation, XBOX or even video conferences can be transmitted to the Internet without much effort.
The small size, as well as the favorable price/performance ratio of about 130 EUR currently and the good usability even for beginners in gaming or video sessions have to be noted very positively.
The only small point of criticism in our reviews, when using the Elgato Cam Link USB stick on a MacBookPro (touchbar), the fan gets a bit very loud in the long run. It is possible to reduce the processing power here by reducing 1080p to 720p. Nevertheless, a very good product.