I'm reviewing the best external hard drive for YouTube, the LaCie Rugged Raid 4TB. What do you use to edit your videos and how do you process all the data for the VLOGs you've been shooting lately when you're constantly on the go. Good questions and really a situation I've faced frequently when I started shooting at least three YouTube VLOGs a week again and editing them immediately while traveling as well. The base for YouTube videos for me is a MacBookPro (Retina, 15 inch, mid 2015 edition) and the software is Adobe Premiere Pro.
Best external hard drive LaCie Rugged Raid 4TB for YouTube and video editing – problem definition
So far, I've had a 750GB external SSD drive in addition to the MacBook's 256GB internal hard drive (SSD drive) and it worked fine for current photos from my Canon 5D Mark III in RAW over the year. An occasional video once save and edit was also no problem and could be temporarily managed via the storage of the MacBook.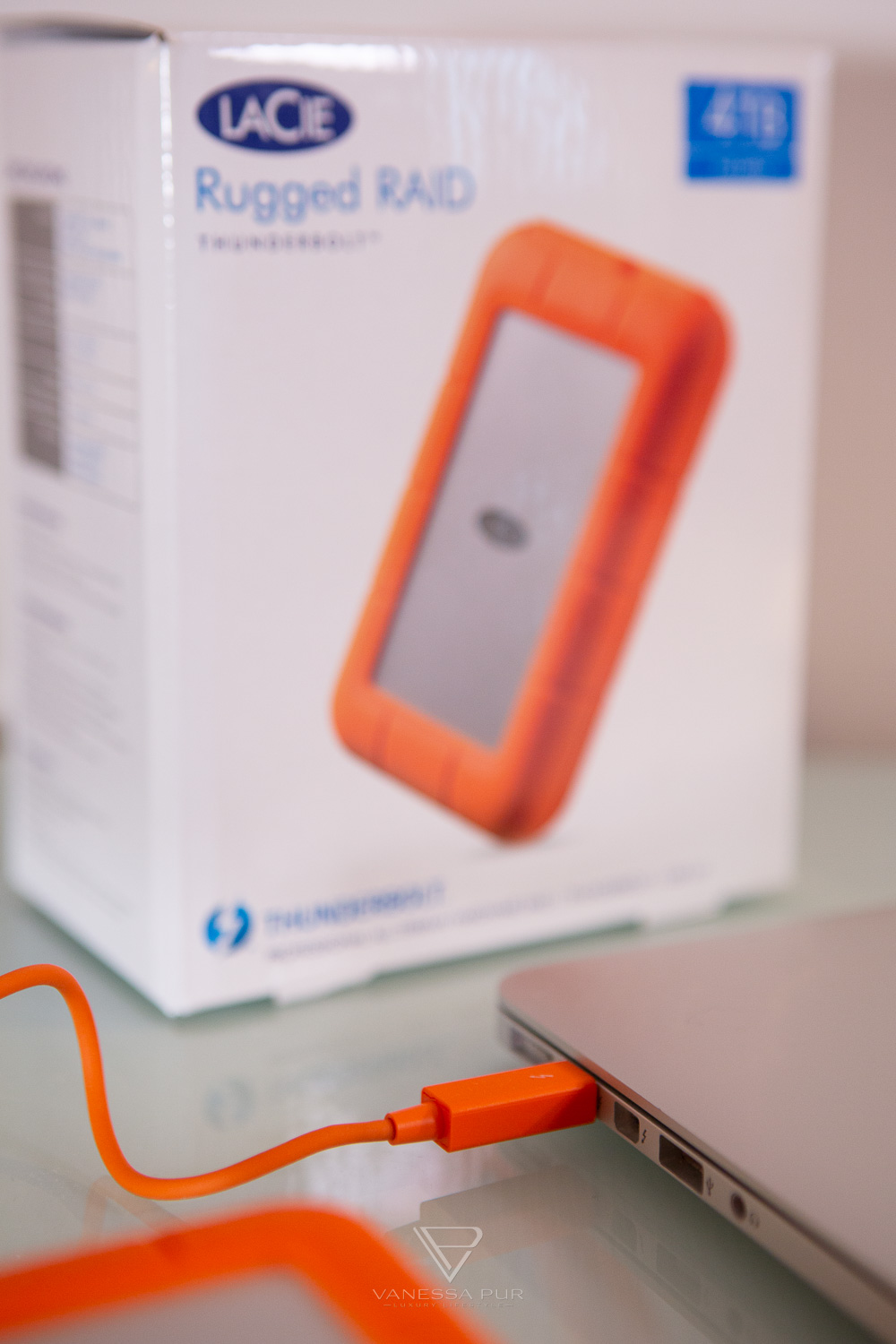 My basic plan of the first weeks, to edit every VLOG directly in the evening, so that I am not even tempted to get behind with videos worked the first weeks, but if you have appointments that go into the night and start the next morning again with the next appointment, it worked at some point no longer.
The memory cards from the Canon 5D Mark III, my YouTube camera Canon EOS 80D and from my Samsung Galaxy S7edge and the GoPro Hero4 were quickly backed up, but then the next "shooting day" began. Quickly 80-150 GB of data accumulated per day and was backed up to an external USB3.0 hard drive.
The only problem was, the hard drive is way too slow for video editing and so every single VLOG was then backed up back to the desktop, edited and then deleted. New data was added and if you had to change something in a video again, the problem started all over again.
The external SSD hard drive with 750 GB was not bad and relatively fast, but the size was also limited. After five VLOGs, the capacity was exhausted and the data transfer rate was satisfactory, but often not fast enough for editing.
A new SSD hard drive with 4 GB (e.g. the Samsung EVO 850 4TB) costs from 1500 EUR and is also only operated via the USB 3.0 port, the full speed of a Thunderbolt port cannot be used. A safer alternative – but also a very expensive alternative with speed losses.
LaCie Rugged Raid 4TB in review
The only alternative is often to use multiple USB3.0 hard drives, but most external USB3.0 hard drives, regardless of whether they are 2.5″ or 3.5″ in size, are often slow or unreliable (according to various reviews in tech magazines, Amazon, etc.).
When talking to many YouTubers with large accounts, professional film producers and many wedding photographers and filmmakers, the reference "LaCie Rugged Raid 4TB" in the "beautiful" orange coat often comes directly.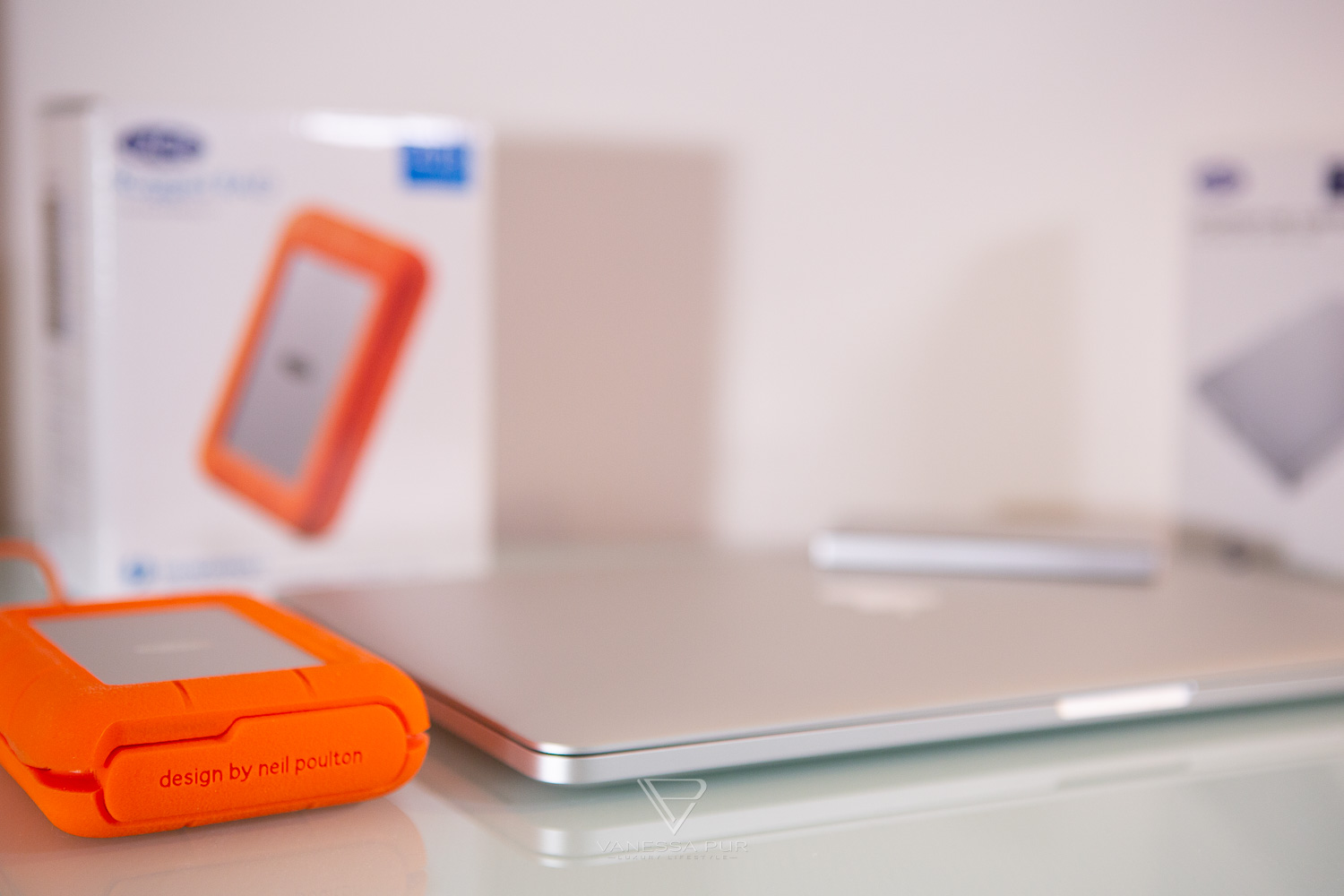 When I have dealt more precisely with the LaCie Rugged Raid 4TB hard drive then also for my use, the LaCie Rugged Raid 4TB hard drive from LaCie was always positively evaluated and I can also confirm after now about 8 weeks of continuous use the LaCie Rugged Raid 4TB hard drive very positive and as mentioned in the video, I would not like to miss the plate more.
The dimensions of the LaCie Rugged Raid 4TB hard drive are about 3.5cm x 9cm x 14cm and the weight is about 500 grams. Certainly not directly light and handy, but due to the rubber coating also well protected against possible falls (up to 1.5 meters) or shipping and transport. For me, the hard drive is either in my handbag when traveling or in my photo luggage and has survived the first several thousand kilometers of travel without damage.
When you have the LaCie Rugged Raid 4TB hard drive lying on your workspace, it stands out with its "beautiful" orange rubber casing. The corners rounded in the rubber casing and also nice to grip – as a luxury blogger, I would certainly have preferred a different color, but you can also say "the LaCie hard drive is seen".
Best external hard drive with Thunderbolt and USB 3.0 connection – LaCie Rugged Raid 4TB
For me, as described above, it was initially particularly important that the hard drive from LaCie has a Thunderbolt connector and this issue is solved perfectly in my opinion. The connector is attached directly to the disk and is packed with a rubber protection directly on the case. All you have to do is take out the hard drive and you immediately have the connector ready for your laptop.
There is no need to search for the right hard drive cable and the risk of a bent hard drive connector is completely eliminated. In my opinion, very well solved, although of course there is also the risk of a cable breakage, but with the diameter is very small.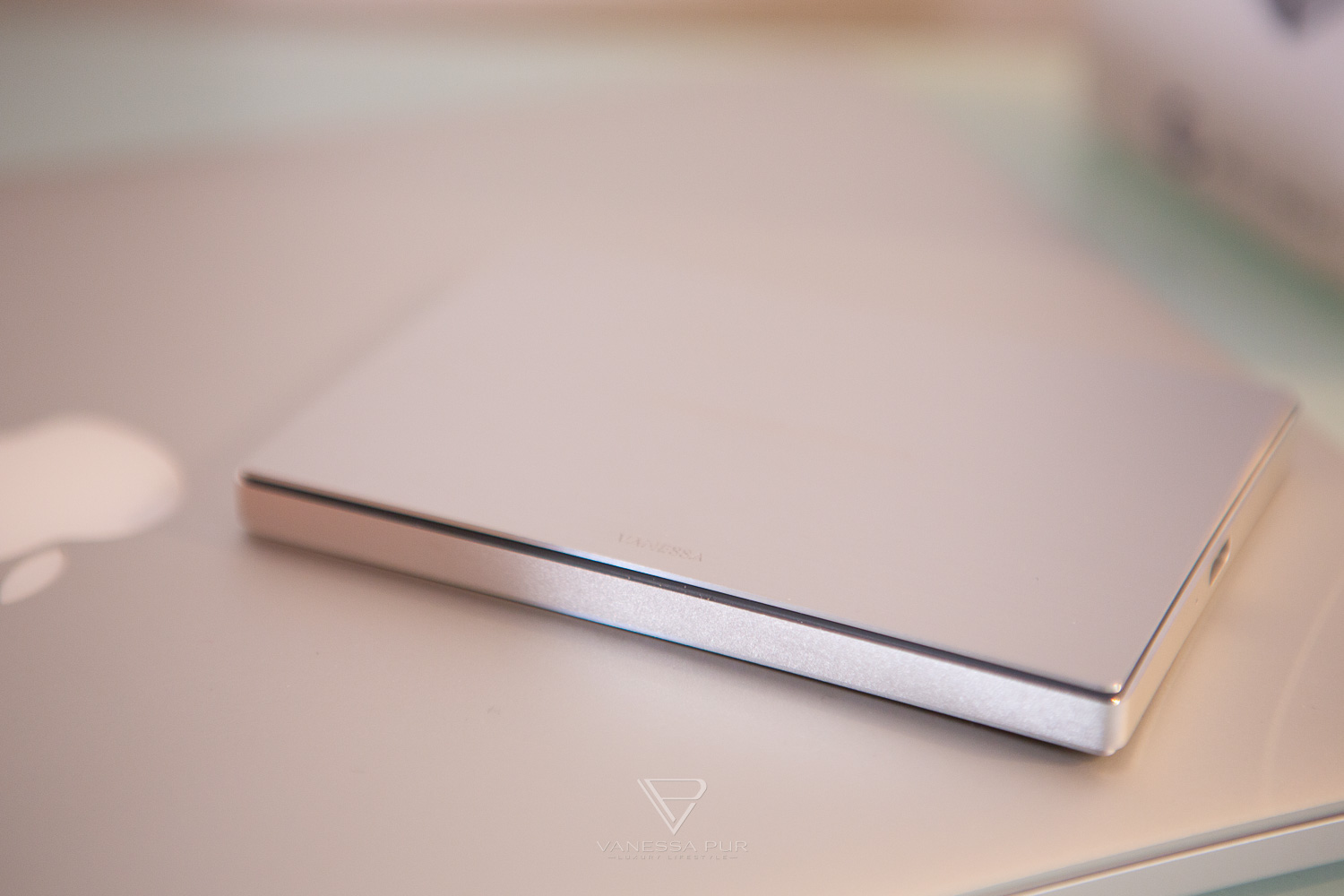 In addition, the LaCie Raid 4TB hard drive still offers the possibility of a USB 3.0 connection with the also included cable. However, the hard drive has to be additionally supplied with power via the included power adapter, which is completely omitted with the Thunderbolt connection. If one of the protective covers of the LaCie Raid hard drive should really get lost, a spare cover is already included as a precaution. (well solved!)
Note: The hard drive can also be connected directly via an adapter from USB-C to Thunderbolt in the new MacBooks. On MacBooks with a 12-inch screen, the hard drive does not get enough power via the port and must be connected via the USB3.0 combination. On MacBooks Pro (Late 2016) with four USB-C ports, the hard drive works fine via the internal power supply.
Who is the LaCie Rugged Raid 4TB hard drive suitable for?
As a luxury blogger and lifestyle blogger, I have always been careful to rather buy a reasonable equipment once and enjoy it for years, instead of buying cheap alternatives more often, having to reckon with data loss or having the uncertainty in each case whether the hard drive has endured this treatment.
If you're a blogger who's been in contact with film or TV productions more often, you'll see the LaCie Rugged Raid 4TB hard drives in use regularly, as well as many photographers or large advertising productions. The hard drives are simply made for tough permanent use and with IP54 certification, they are also water and dust resistant. If it starts to rain during a photo shoot, the hard drive will likely survive it unscathed, but a toss into the nearest ocean will not.
A unique feature for mobile hard drives compared to other manufacturers is the use of two identical hard drives of 2TB each, providing the capacity of 4TB via the internal controller, or with a RAID1 configuration, two identical disks for double the security.
I can absolutely confirm LaCie's stated speeds for YouTube videos, and was even just above the stated values of 240 MB/s with the Thunderbolt port and just below that with a USB3.0 port with external power supply.
When using the LaCie Rugged Raid 4TB drive in the RAID1 configuration, transfer speeds drop to about 120MB/s with a Thunderbolt port and to about 100MB/s with a USB3.0 port.
The LaCie hard drive can be used on Windows computers, as well as MacOSX systems, of course, and offers all formatting options. Of course, you should consider in advance whether the hard drive should be used on both systems or only on a Mac.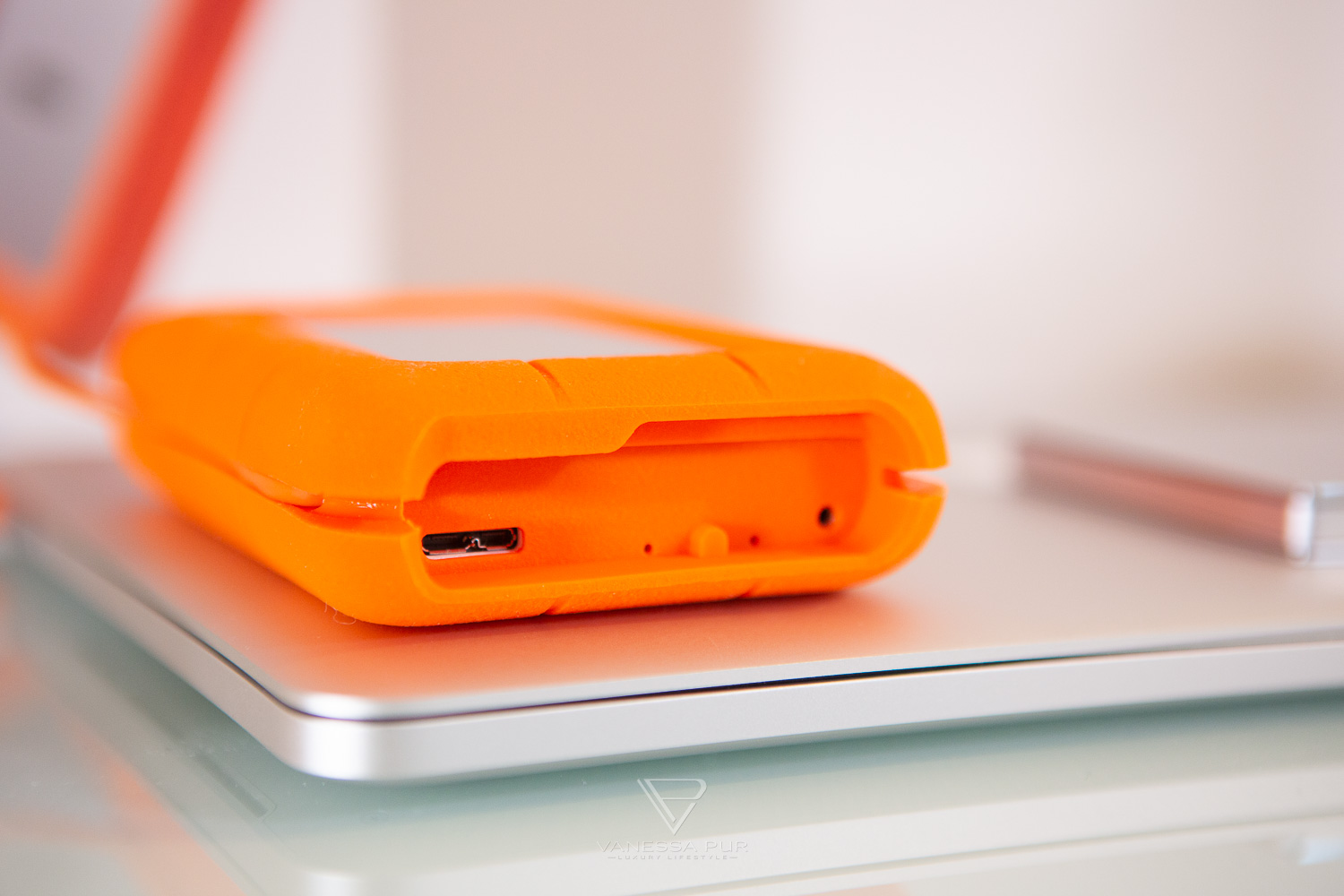 Conclusion – LaCie Rugged Raid 4TB
I have used the hard drive for all videos on my YouTube channel in the last few weeks and also consciously only accessed and processed the videos and raw files via the hard drive. There is absolutely no loss of speed compared to working via the desktop and all processes work smoothly.
While in the early days the hard disk was primarily used for Adobe Premiere Pro, I now also regularly use the disk for Adobe Photoshop or Lightroom and also edit many things simultaneously – without any loss of speed.
If you're a blogger or YouTuber looking for a fast hard drive for professional applications that is also well protected on many trips and forgives minor drops, you'll be absolutely satisfied with the LaCie Rugged Raid 4TB.
For my use and my YouTube videos, it was the right decision and I would choose the hard drive again at any time (maybe there will be the case in another color by then) … 🙂