Here it is, the new Canon 80D DSLR camera as the new upper middle class from CANON. After three years CANON now offers the successor of the popular CANON EOS 70D DSLR camera. After the presentation of the new CANON 80D camera a few months ago and the first hands-on in February 2016, the CANON 80D DSLR camera now enlarges my photo equipment and will accompany me together with a CANON 5D Mark III and Canon 750D on my travels as a lifestyle blogger. The CANON 80D DSLR camera is also a small return to the mid-range for me after my first steps with the CANON 10D many years ago.
Canon 80D DSLR camera – new upper middle class from CANON.
The comfortable middle class with touch screen. For me, the Canon 80D is the perfect always-on camera and will also be in use for various video clips for my YouTube channel. Where the Canon 5D Mark III with an external battery grip is too conspicuous for street photography, a second camera with a good body and a fast image sequence is to be used for fashion shows, or an alternative camera must be used for sports photos, I will use the Canon 80D in the coming months.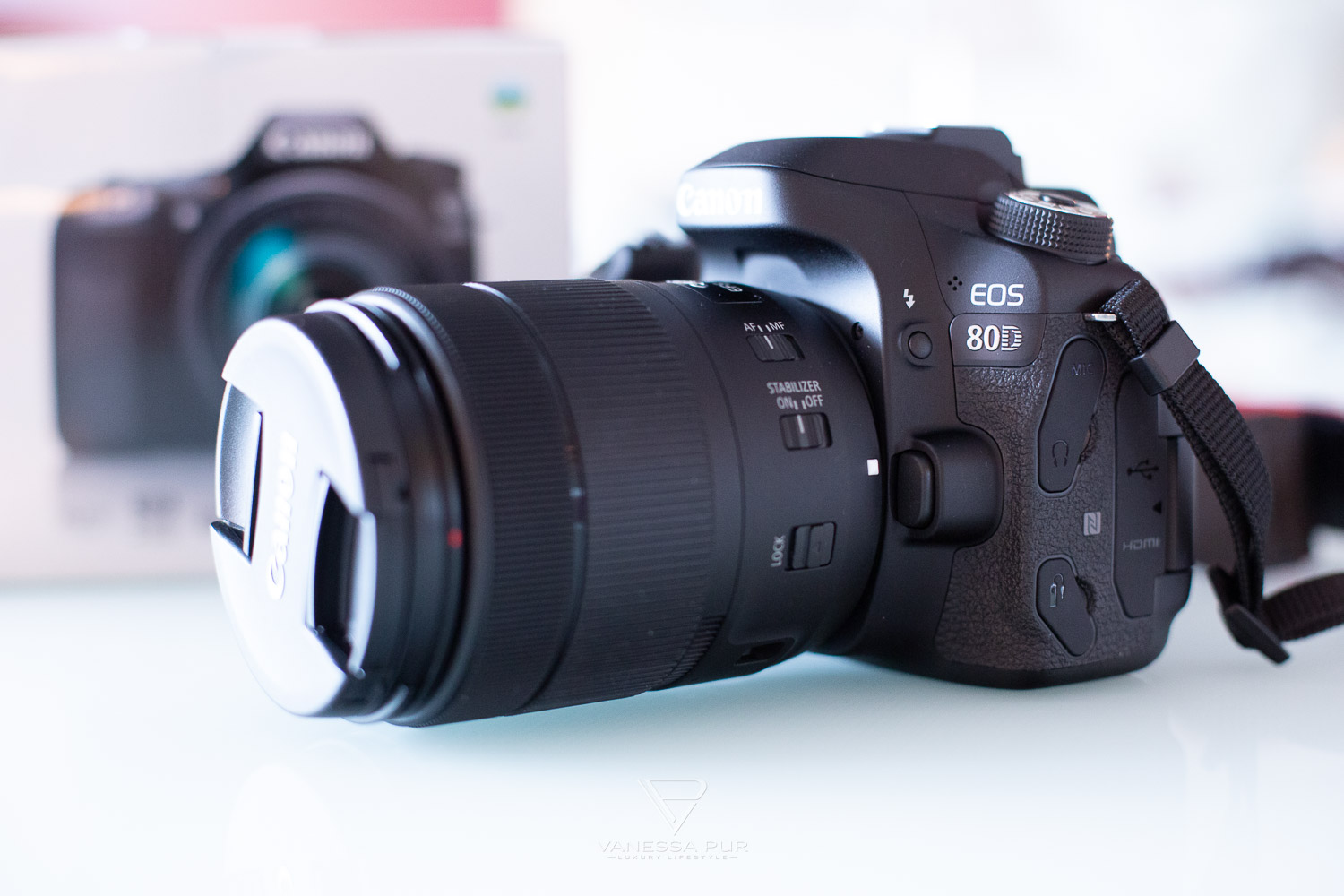 The successor to the CANON EOS 70D features a new APS-C sized CMOS sensor with the familiar DUAL pixel AF technology and 24 megapixels of image resolution. The Dual Pixel AF sensor is intended for the video function and is therefore also permanently put to the test by me in many fashion videos. I will pay special attention to the pull-focus effect in particular.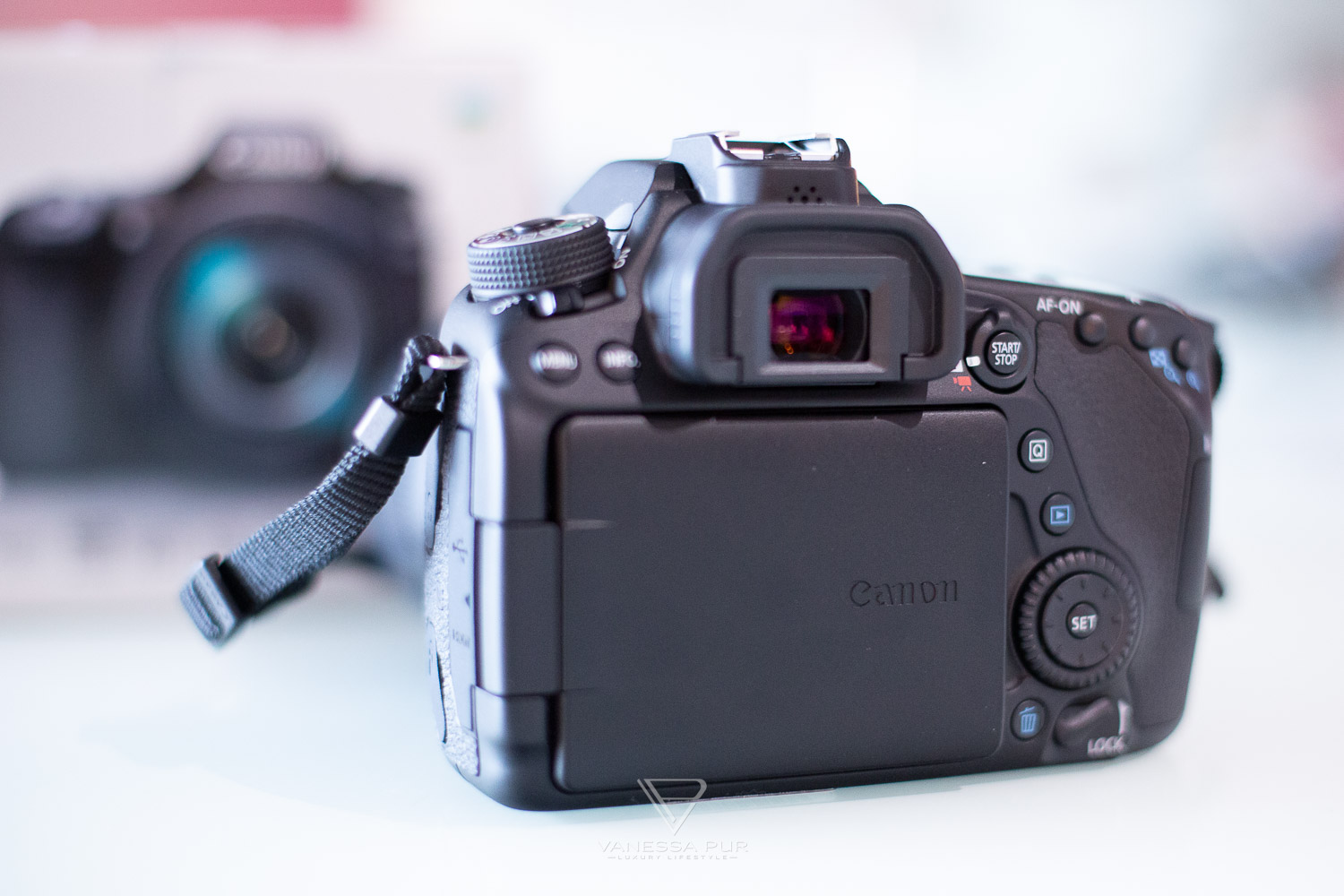 The new videos are recorded with a Full HD resolution with up to 60 frames per second and are, in my opinion, sufficient for my purposes. It is often discussed why the cameras do not yet offer 4K or UHD, but as a YouTuber, the resolution is absolutely sufficient. A UHD resolution would also mean larger files, more post-processing, etc. for me again and many viewers watch my YouTube videos on a smartphone with a maximum Full HD resolution anyway.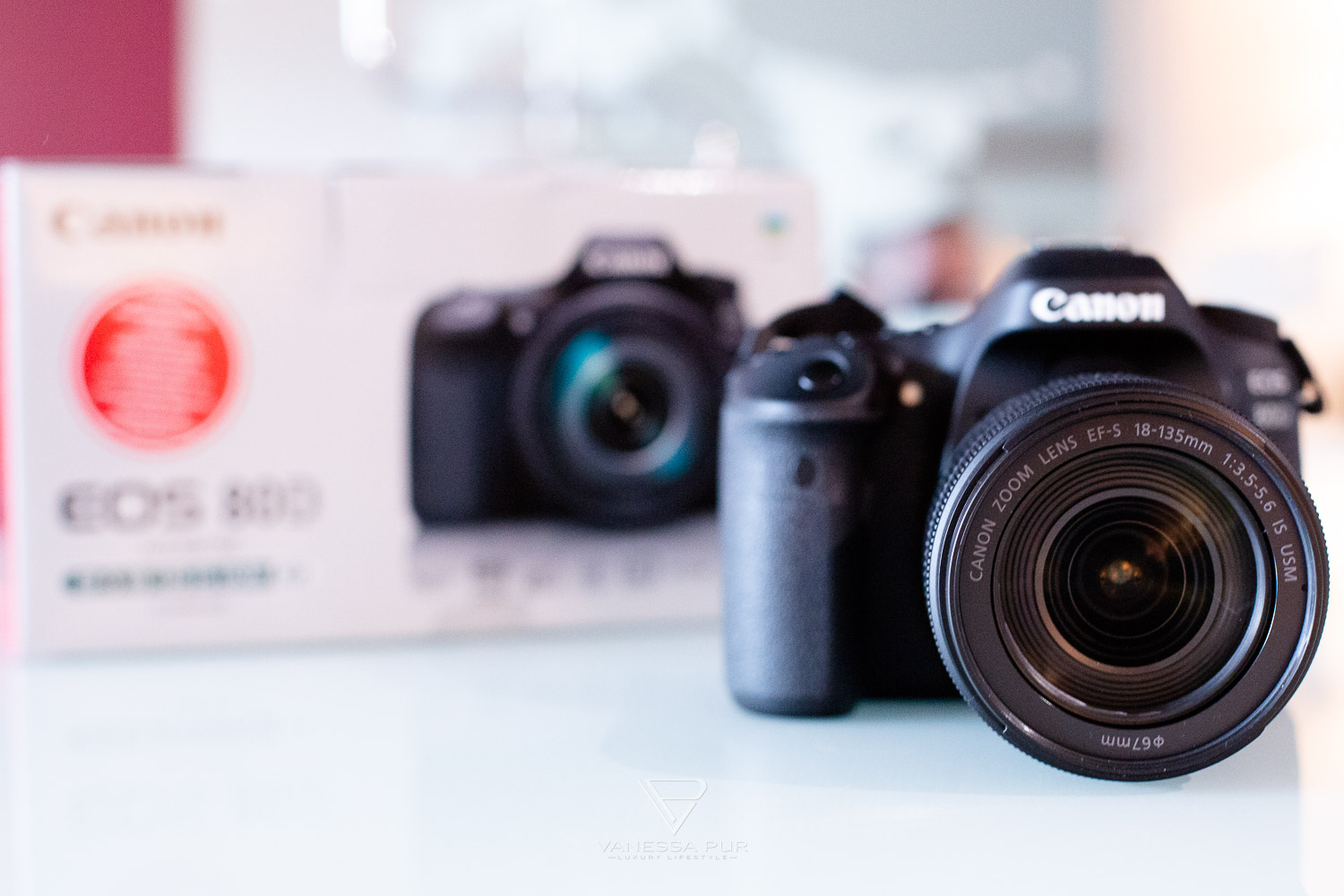 For me, with the new CANON 80D camera, it's much more important to be able to connect an external microphone, as well as instantly control and manually adjust the sound via headphones. Depending on the surrounding situation, a big advantage for me.
Many changes in detail
The new CANON 80D has improved compared to its predecessor, the CANON 70D, especially in the area of autofocus. While the 70D still had 19 measuring fields, the 80D now has 45 measuring fields, of which all sensors are cross sensors and react much faster and much better. The cross-type sensor in the center especially supports lenses with f/2.8 and offers particularly precise focusing even at open apertures.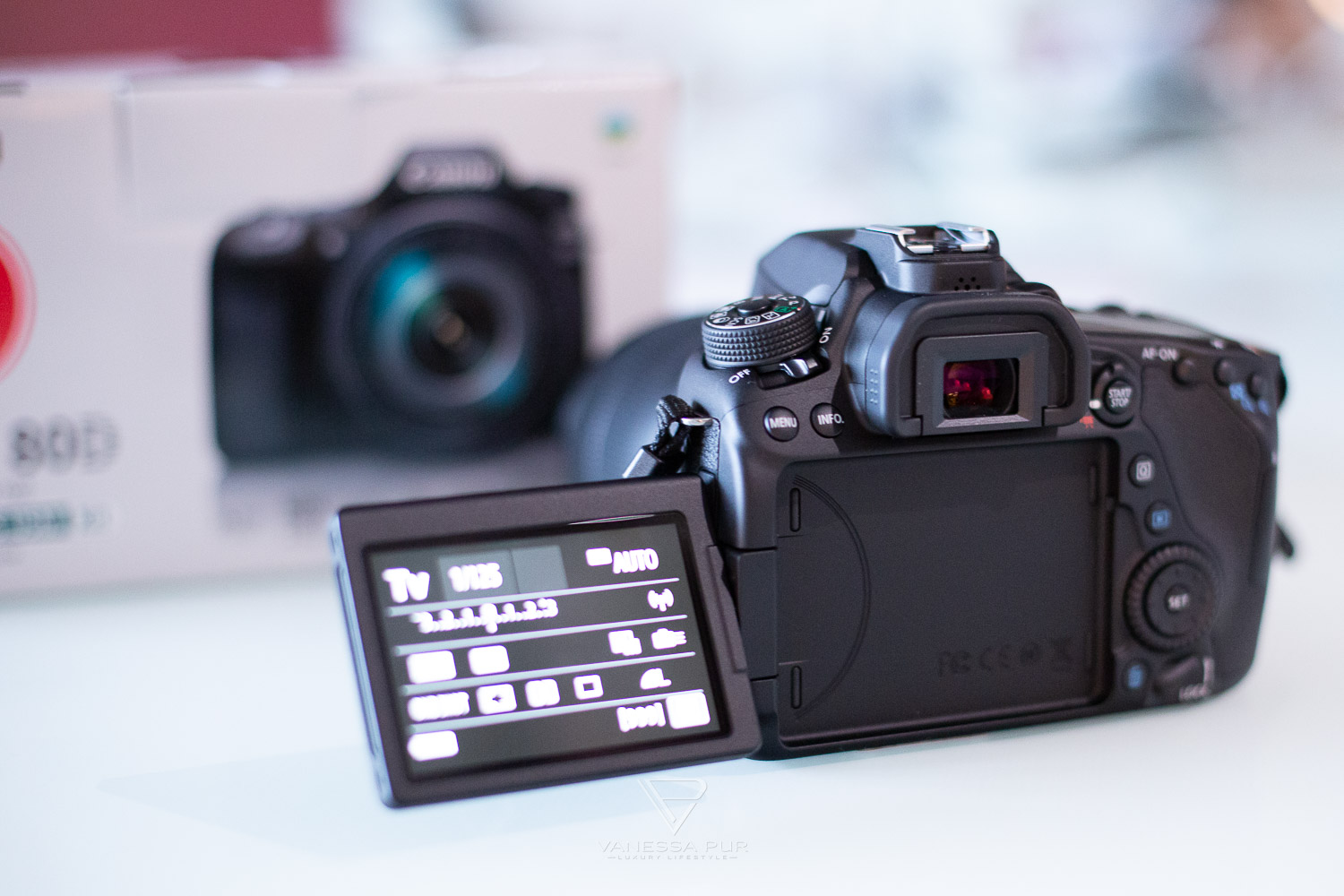 27 of the total 45 cross-type sensors also have very high precision, even with lenses with f/8 or in combination with a teleconverter.
The camera's sensor has increased from 20 megapixels to 24 megapixels and the viewfinder now covers 100% of the surface. Images are now processed with the Digic6 processor (Canon 70D Digic5+ processor). The number of continuous images has remained at 7 images, according to initial reviews, up to 110 images in continuous mode in JPG format (25 RAW images) should be possible without any problems. I probably won't need this function for my fashion photos, but I will test this function in detail when I do another sports track with triathletes in the water, steeplechasers or even fast motorsports.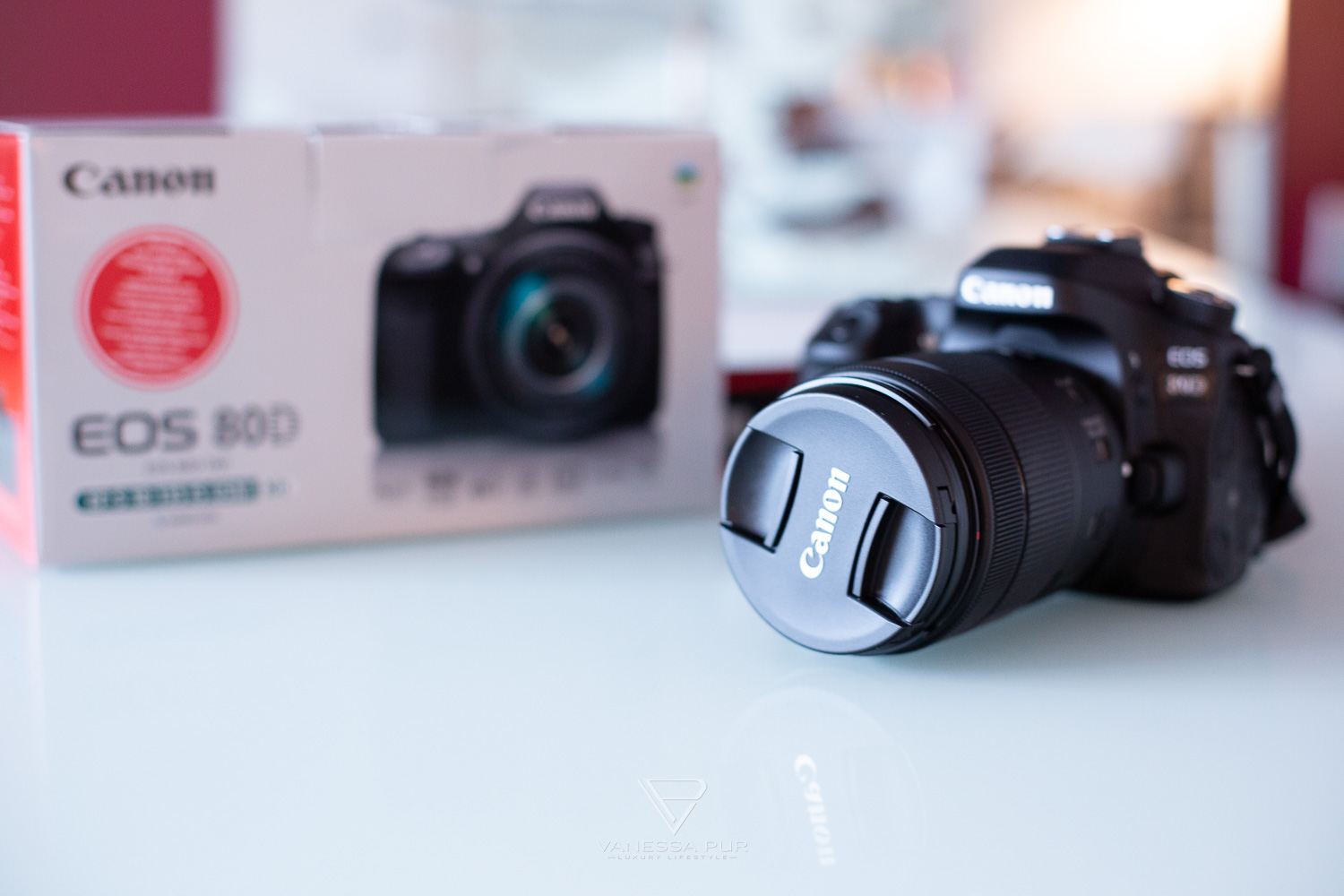 The camera's light sensitivity has been expanded from ISO 12,800 to ISO 16,000 for this purpose, so the photographer has a range of ISO 100 to 16,000, expandable to 25,600.
Canon 80D connections with smartphone
For me, who has primarily photographed with a CANON 5D Mark III so far, the connection with WiFi and NFC is of course a big step forward. Quickly transfer the latest photos from the city, with a current fashion look or even special food photos from a dinner to the smartphone and immediately transferred to my Instagram channel, Facebook page or even to Twitter.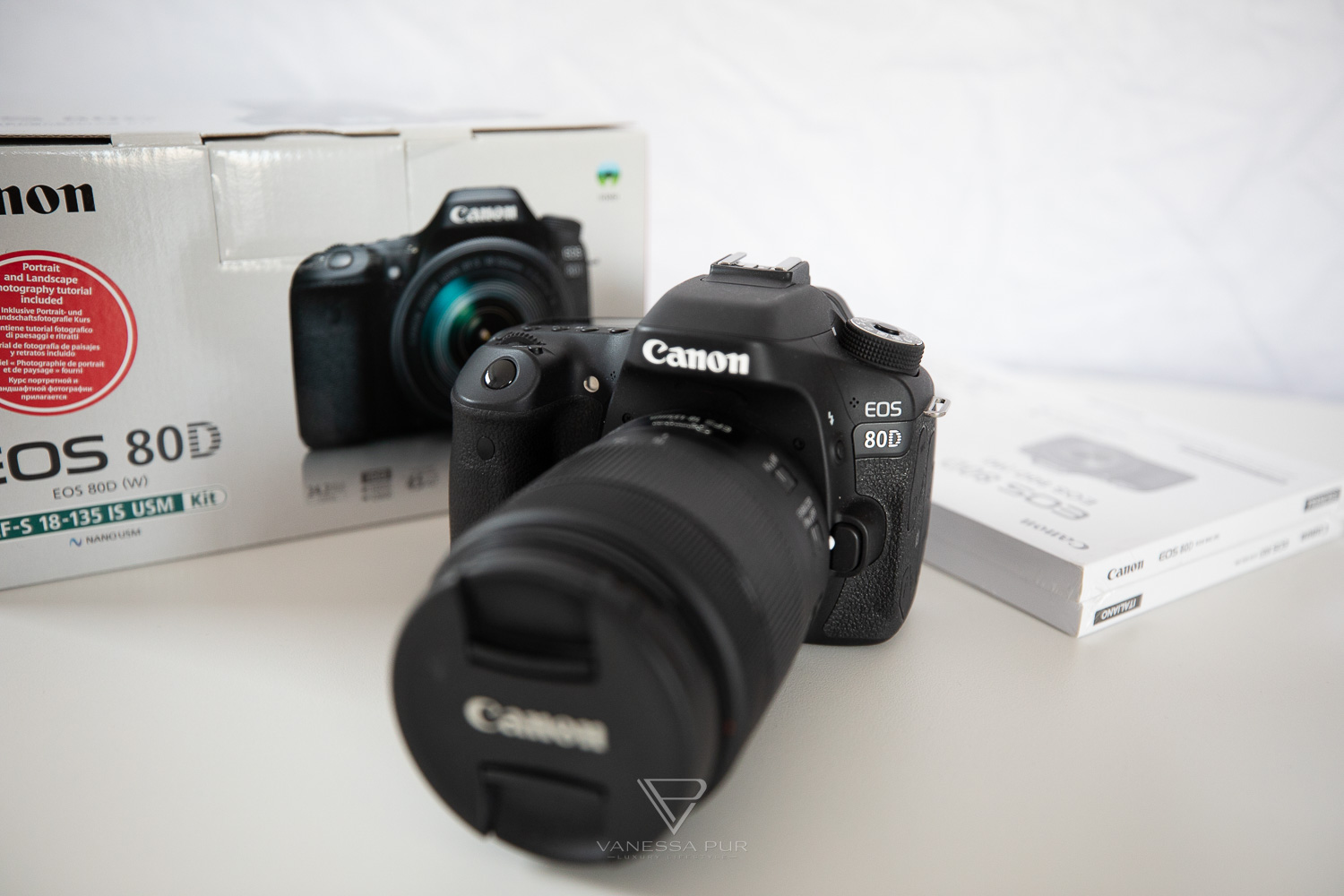 Often you take very nice photos on the road, but only get to edit or transfer these images days later and then the moment is already gone. The Canon 80D will therefore be with me all the more often in the handbag (do I need a bigger bag?) 😉 and take you even more personal.
Per NFC connection and corresponding APP, the connection to the camera is then easily established and the latest photos immediately transferred. I will try it the next few months in continuous use and am now already after the first days, since the camera is now in use with me, thrilled by the function …
Add to that the ability to control the camera remotely, the final adjustments for the video or even for particularly elaborate photos where you do not want to adjust anything. Again, these are things that make the daily work as a professional blogger much easier and you do not want to miss after a short time.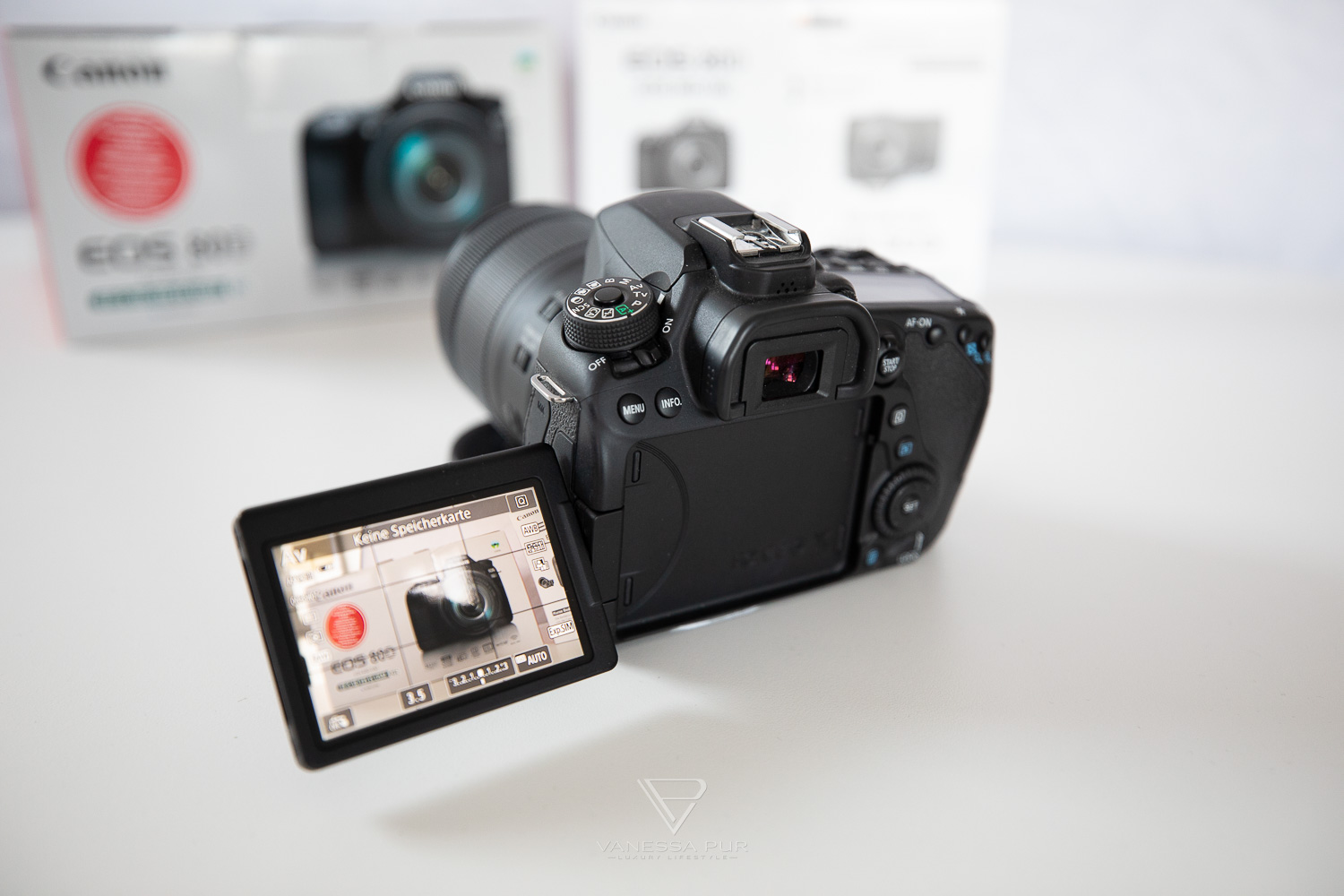 Touchscreen on Canon 80D – especially helpful for women
I've often been ridiculed for my preference for cameras with touchscreens and especially rotating screens, but I find this feature extremely practical. If you want to take photos at events in the evening, it is often much easier to focus on the corresponding points comfortably and then trigger accordingly.
In addition, there is the practical function when you shoot videos (such as currently my various weekly reviews) and you want to see for yourself how you are sitting in front of the camera, whether you have everything accordingly in the picture, etc.. – so the screen always allows you to get an up-to-date impression and makes controlling the camera a lot easier. Why can't my Canon 5D Mark III have this feature? But I have hope for the next generation – for the Canon 5D Mark IV.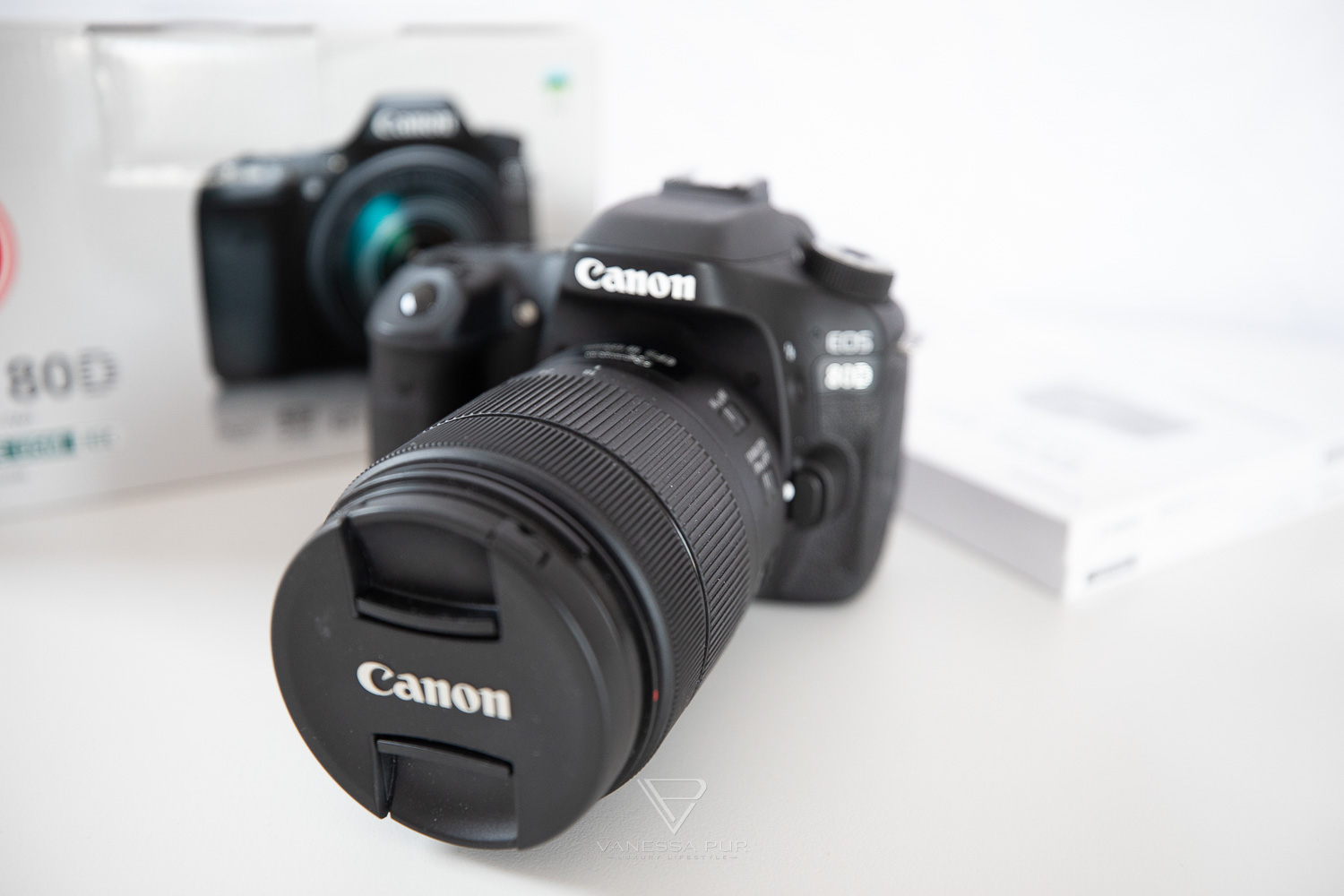 Canon 80D DSLR Camera – First CONCLUSION of the new mid-range camera
The new CANON 80D pleases on the first impression. A further development of the very good "10-series" of CANON cameras with many small and larger improvements that make especially bloggers and YouTubers like me the everyday life much easier.
From a better AF field with now 45 AF points, to up to 60 frames per second in full HD resolution for the videos and an interval function for long-term videos, to additional ports. For me, a big advantage with the Canon 80D is, of course, the batteries (LP-E6n), which are used again in the camera and are also compatible with my Canon 5D Mark III.
I will take you both on the blog, as well as on Snapchat under "blissiry" to my various photo shoots and there also report directly "live" from my experiences with the new camera and the new lens 18-135mm IS USM f/3.5-5.6.
There will be another interesting addition then from July 2016 from CANON, when the adapter PZ-E1 is presented, which allows a motorized zoom for the lens and allows once again completely different possibility for YouTube videos. The first impressions and teasers are already very promising.
I am looking forward to take you in the future also more into my photography and to be able to present you my experiences with the Canon 80D and to give you a preview of the upcoming Photokina 2016…. see you soon – on my blog or on Snapchat 🙂