How to deal with YouTube copyright claim and copyright infringement on your videos or a YouTube channel duplicate of your full account. Your videos and entire channel have been copied on YouTube? Then stay calm and follow my guide to delete copyright infringement. The more you deal with YouTube, the more you will come into contact with problems at the video portal. You can protect your own blog relatively well if you pay attention to a few things, but with some plugins it is unfortunately possible to download videos and movies from YouTube and simply re-post them even if you did not produce the videos yourself.
YouTube copies automatically means a big disadvantage for the hardworking YouTuber is quite clear here. In addition to missing views, which for many large YouTubers certainly account for more than 80% of revenue per month through advertising, this also often means ranking losses in search. If well-known videos were previously in the top five positions, you automatically lose some of the visibility when the identical video is uploaded again and is often placed at the beginning with the identical description even before the original video.
Until now, I knew it from my own experience that individual videos are copied and re-placed on YouTube. Sometimes the watermarks are deliberately removed or simply stolen quite brazenly, including thumbnail, description, metatags, etc. and one is only surprised when suddenly the title image is displayed twice as a recommendation on the right side, from two different channels.
YouTube copied – quick help from YouTube with YouTube copyright claim
So far, the help with YouTube copied problems was relatively fast. One selected the "Report" button under the video and the video could be quickly submitted to YouTube with the original source. A "few" additional details and usually within 24 hours the copyright infringement was dealt with and the video removed.
Of course, there is no compensation or excuse for missing views, a worse ranking or similar things – you can't get the data of the copying channel in the normal way, of course, and unfortunately it is very rarely worth it, because the operators are not sitting right next door.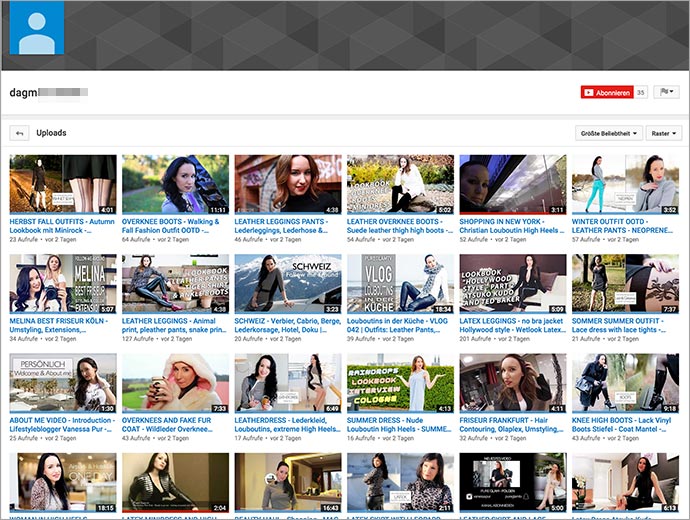 This is what it looks like when all your videos are copied and illegally re-uploaded in one go
190 of my videos copied and re-uploaded on YouTube
In recent days, it has then also caught me, just in the time where I was thinking about whether I still leave the note "@vanessapur" in the video, because I also find it annoying or remove it completely. I only use a small watermark, too far on the outer edge it must not stand, then it is simply cut out quite brazenly, too far inside also not, then it disturbs the video.
From some loyal followers I suddenly got within a few hours a few emails with the hints and in each case a link to the channel that has pretended to be "me".In over 80% of the videos, even my thumbnail was used, the other images were screenshots from the videos copied from YouTube.
Report each copied video and copyright infringement individually?
The most important factor – it must now go quickly – is unfortunately not so quickly solvable on the YouTube page, because really EVERY copied video must be reported individually as copyright infringement always with the appropriate counter source. A maximum of 10 videos may be reported per form – there is no function to report the entire copied channel.
If one deals a little more exactly with the tips and assistance of the YouTube side, then one finds the email address "[email protected]" to which one can turn also directly with YouTube copy problem – at the same time however with the reference, one would like to use the form, it goes there clearly faster and the own experience confirms it.
Even if you send all the details of the form to YouTube, you will of course first receive an automatic reply saying that the request is being processed, but the form is faster…
Fastest solution to report copyright infringements of countless videos of the same person at YouTube
From my own experience, I can only recommend you to immediately take screenshots of the YouTube page, channel info, etc. and document them with time and date. Then go to the "Videos" page and display these copied videos by popularity and first select the videos that cause the most traffic or generate the most views and thus harm you the most
Click more (the "…")
Choose report
Violates my rights / copyright infringement (on my own person)
Fill in the form conscientiously and attach more examples (4 to 5 more videos)
Send to YouTube and wait. Usually it takes between 60 and 120 minutes and you get a notice that the copied videos are removed and if you look at the player, there is now also the notice that it is a copyright infringement of ….
Once you have the confirmation, you report the next 4-5 videos – again sorted by popularity and wait again for the confirmation email and repeat it a third and final time. In most cases, YouTube will then block the channel completely and you don't need to bother reporting all 190 videos individually. The time required is probably the same as reporting all 190 copied videos individually, but in the meantime you can do other things.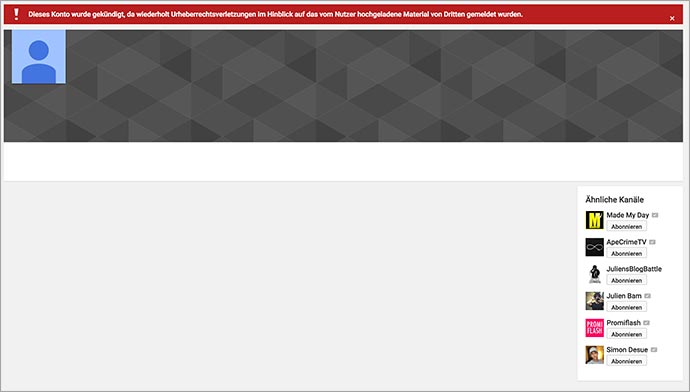 This is how the channel shown above looks after reporting
Poor protection for stolen videos on YouTube – why don't they control the upload?
Of course, there is no hundred percent protection for stolen videos and if the video is shortened or reduced in size, the thumbnail is not used, etc. – but if the exact identical video is uploaded again, why doesn't YouTube recognize it?
Interestingly, however, as a content creator, when I try to upload the video, I already get the notice – I've already uploaded the video once. Intelligent, isn't it? However, if you copy it on YouTube and upload it to a new channel, it's not a problem?
That you can check videos in advance, just like the description of videos before publication, I was allowed to notice a few days ago, when the video was not approved for monetization, because I used a term of history in the description, which is apparently on YouTube's blacklist. A new upload of the video didn't resolve it, but it did shorten the video by 0.02 seconds and give it a different filename. Such things can be detected – but a stolen video cannot. Too bad…
YouTube Copies – YouTube is Fun and New VLOGs to Follow
Do not get me wrong when I criticize or question the networks YouTube in the area of copyright infringement. I think the network is fantastic, I watch a lot of videos myself on a daily basis and great friendships have been made and even if you can't do anything about the illegal uploading of videos, it would just be more helpful for the countless YouTubers if you could report such transgressions more easily.
Why can't I, as a channel owner, report a new channel that has copied all my videos on YouTube and why isn't there an option for followers as well? On countless networks you can report fake profiles directly and you don't have to refer to a post, you can tag the channel directly.
Don't be discouraged when your content is so brazenly stolen. Even if it robs you of energy and you probably don't feel like your "fans" anymore afterwards, think of the "good guys" for whom you shoot your videos….
Maybe it's worth to think about a simpler way to do it – the possibility to delete videos one by one works fast and at any time of the day or night, but if you have to report 190 videos one by one, the only trick is to report 5-10 videos in three groups.
Maybe it helps you a little bit, if you get into the YouTube copied situation and your videos are simply copied again at YouTube.
To all those who like to watch the videos more often, just create a playlist, save the videos there and this way a win-win situation is created. Your favorite YouTubers will be fairly compensated for their work by the advertisements and you will have less work with downloading videos and putting them up again. If a YouTuber removes a video at some point, he will have a good reason… 
I wish you a lot of fun with the various YouTubers, hope the tips on the subject of Youtube copied have helped and of course I'm also happy if you look at my channel "vpureglam" once.