Time for a post about my current video equipment and camera equipment. I have you last weekend very intensively via Instagram stories and Instagram me to the Formula E in Berlin taken and there for you countless photos and videos. Subsequently, there were then very many questions and emails about the equipment I use, which camera I'm currently using for video equipment and what things I have practically always with me on my travels. So what equipment does a blogger and YouTuber use when traveling? I have unpacked for you once the photo backpack with my video equipment and put everything on a table.
Photo equipment and video equipment of bloggers and YouTubers
I will introduce you to the items of my video equipment in detail, which I use in each case, but also try to name cheap alternatives. Who is not professionally as a blogger and YouTuber on the road, of course, has other requirements and should therefore also fall back in the beginning to the cheaper alternatives. You can still expand and replace the video equipment piece by piece afterwards, many items you can still sell on an online marketplace afterwards and take the amount again as a deposit for the next items.
I usually always have two cameras in my video equipment. For more elaborate productions, it's simply more practical to film directly from two angles and, on the other hand, a "smaller" camera is often better suited for moving videos or vlogs.
CANON EOS 80D – I started many years ago with a Canon EOS 10D and have changed again and again. Since last April, I've also been using the Canon EOS 80D regularly for video and stills. The advantage of the camera as video equipment is the handiness and the low weight. The camera sits above the well-known cameras Canon EOS 600D, 650D, 700D and 750D and is pricewise still well in the hobby range. A very big advantage of the CANON 80D is the video function with dual autofocus, select sharp/blurry via the touchscreen, move freely and get a very great imagery. Many of my vlogs are filmed with the CANON 80D. You can already find a detailed review of the CANON 80D on my blog.
CANON EOS 5D Mark IV – Since February, the Canon EOS 5D Mark IV has replaced my Canon EOS 5D Mark III and has clearly increased my enthusiasm. The new features of the camera as video equipment are incredible – the autofocus on each image razor sharp and so it was no problem to get detailed images at the right moment, even with a large telephoto lens on the track from the Formula E Grand Prix. Currently I'm writing the next reports on individual topics of the 5D Mark IV, such as additional autofocus, special video function and HDR video recording and will then show you the experiences and explanations from summer every month a bit further.The Canon EOS 5D Mark IV is at every appointment of mine in the hands and so far also for me the best camera for my purposes. It is simply fun – to use the camera and to use. You can also find my impressions already on the blog. (Cheaper alternative currently – e.g. Canon 5D Mark III, Canon EOS 6D)
Good entry-level camera in my video gear (not always with me) – Canon EOS 750D – the "blogger all-around camera" for photos and videos. A perfect entry level camera with great image quality, good autofocus and all the options for a good video. With the rotatable monitor, the camera is very well suited for different angles of view and the touch screen makes it even easier, especially for us women, to capture details with focus/unfocus. Combined with a Canon 24mm 2.8 pancake lens (approx. 150 EUR) or a CANON 50mm f1.8 lens (approx. 110 EUR), the ideal basic equipment for travel and fashion photos.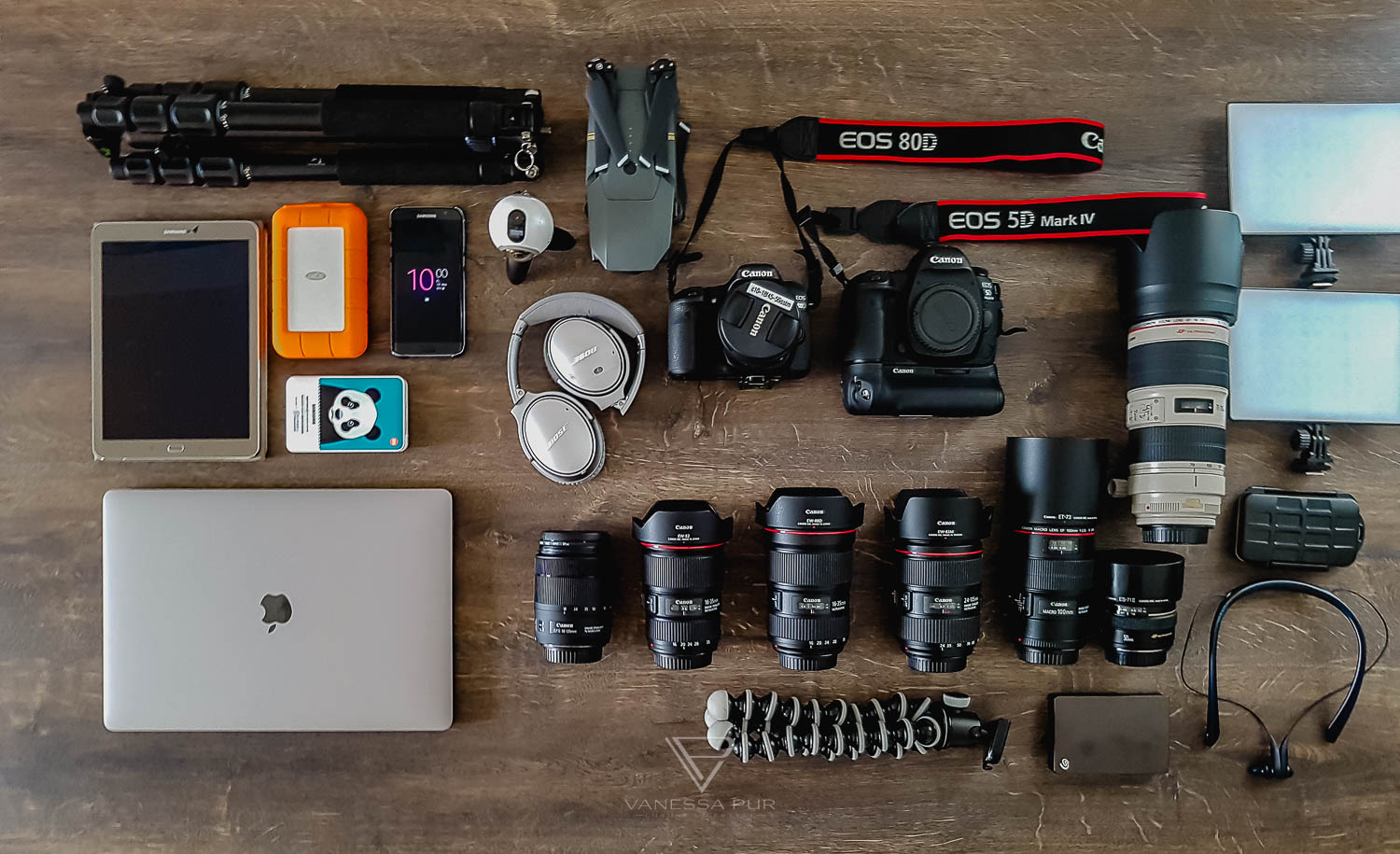 Lenses in my photo equipment and video equipment
CANON 50mm USM f1.4 – been the perfect fashion lens for me for a long time and also perfect for food photography. I use the lens now mainly still, if the camera should be a little smaller once or also as a lens for videos and vlogs. A cheaper alternative is the above mentioned CANON 50mm f1.8 lens (ca. 110 EUR)
CANON 16-35mm L IS f4 – the perfect wide angle lens and also ideal for vloggers. The big advantage of this lens compared to many other lenses is the "low" weight of about 600 grams. Thus, the lens can also be used well at events, the image stabilizer allows for much better movements in the image. My choice in video equipment when I want to shoot VLOGs in conjunction with the 80D or 5D Mark IV.
Canon EF 16-35mm f/2.8L III USM lens – the fast wide-angle lens. Compared to the aperture f4 lens above, the f2.8 lens is more suitable for photos even in dark rooms. Since my cooperation often includes interiors, dark rooms and hotel rooms and suites, the f2.8 is the much better choice. If you are looking for a wide-angle lens more often for videos, you can also choose the f4 lens. A recommendation report will follow between these lenses in the coming weeks.
Canon EF 24-105mm 1:4L IS II USM – the all-round lens and actually always mounted on the CANON EOS 5D Mark IV. With the good zoom range, it is suitable for event documentation, spontaneous fashion photo shoots and also shots in the restaurant as video equipment. The weight is appropriate and very balanced on the Canon 5D Mark IV. The combination fits perfectly in the hand. At the same time, the lens is used very regularly for videos and vlogs, the Image Stabilizer offers a much smoother movement and thus often still allows great photos and videos from the hand in nightfall.
Canon EF 100mm f/2.8L Macro IS USM lens – My "food lens" and for detail shots of beauty products. The ultra-short close-up range makes it great for shooting restaurants and lots of detail and mood. The weight is relatively light for the focal length and my first choice when shooting food and drinks in the evening. Also often used for fashion photos or for special portrait shots. For the price, an absolute recommendation!
Canon EF 70-200mm f/2.8L IS II USM lens – My absolute favorite lens – even though the weight is very high at 1600g and quickly reaches 3kg when combined with a Canon EOS 5D Mark IV and additional battery grip, there is no comparable lens in the range. The lens is incredibly fast and precise, the images razor sharp and even recently with very fast moving objects, such as the BMW i8 on the racetrack at the Formula E absolutely reliable. Well over 95% of the pictures of the racing action are razor sharp and freehand shot and the other 5% I blurred. Anyone looking for a perfect telephoto lens for fashion, action and sports – should definitely grab this 2nd series lens. The price is high – but absolutely worth the investment. I will present you the lens again separately – the cheaper alternative, the CANON EF 70-200 1:4 L I presented a few weeks ago.
Canon EF-S 10-18mm 1:4,5-5,6 IS STM lens (mounted on Canon 80D in the photo) I have already presented once as the perfect vlogger lens. The advantages here are quite obvious – it's lightweight, it has an ultra-wide angle, and it has sufficient speed. For vloggers and YouTube beginners, there's also the affordable entry-level price of just over 200 EUR. You can't go wrong with this lens.
Canon EF-S 18-135mm f/3.5-5.6 IS USM lens – I can still remember the reactions – "A kit lens." What would you want with a kit lens? Then when the first pictures went online, many readers didn't want to believe that these pictures were taken with the lens. In combination with the Canon 750D and also the Canon 80D a perfect kit for every photo situation. Due to the crop factor of the cameras you reach 29-216mm and can cover every situation. For my videos and event reports a firm choice and almost any time mounted on the 80D. A very clear recommendation for those looking for a compact and fast lens for any situation.
Sound and light for YouTube video equipment
LED light panels Yongnou YN300 – for my light panels, which I have already presented to you separately as YouTube accessories, I have been using the inexpensive alternative from Yongnou with adjustable color temperature for several months. This way, less work is needed after the shoot to edit the videos in the right colors and upload them later. Here the size was most important for me and of course the weight. The devices with external battery or charging cable are perfect for traveling as video equipment.
Sound system – RODE Videomic Pro – as an event microphone to capture impressions from the road. All cameras have internal microphones, but they are not suitable for good videos and productions. Of course, there are cheaper microphones from RODE again, as well as higher quality microphones. The RODE Videomic Pro offers a good price/performance ratio.
Currently I use a cordless microphone set from Sennheiser, which is also used in TV productions. There are certainly some alternatives – but for me the set was the best choice at that moment to be able to move freely. Attention(!) – there are cordless microphones from some suppliers that cost only a few hundred euros, but do not have a broadcast license in Germany. To get the annual license for these cheap microphones, you will have to pay some costs. If you want to use a cordless set, better pay a little bit more or choose other solutions until you know if you can enjoy YouTube and videos permanently.
Headphones for YouTube video equipment
Samsung Bluetooth Headphones for Sports – these lightweight headphones have been my choice primarily for sports and the gym. Particularly lightweight and easy to put around your neck without a cord. With a pleasant battery life, I use the headphones mostly in conjunction with tablet and laptop, if I want to quickly once on the road och check something or even make the first rough cut of the videos. Currently, there are several similar products (cordless or corded) e.g. also from AKG, JBL, B&O and Harman.
BOSE QC 35 Bluetooth headphones – My travel headphones and always with me as video equipment. I have already presented the headphones to you once in detail in a blog post and currently it is the best choice for me. Through the noise cancelling I have peace when traveling and can concentrate much better on my work, lectures and blogposts or listen to my current playlist on Spotify.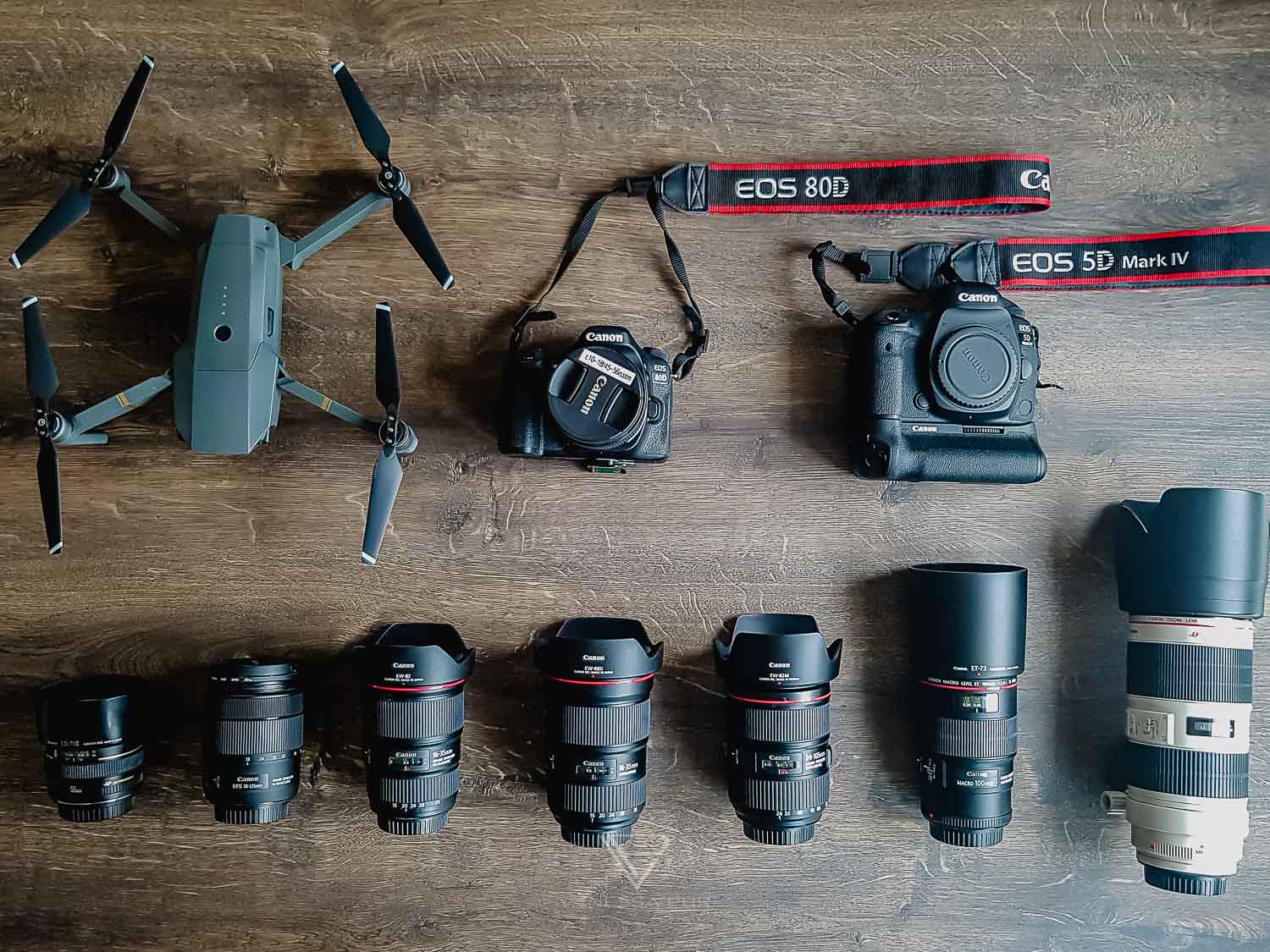 Laptops, hard drives and memory cards
MacBook Pro 15 Retina 2016 – currently I use the new MacBook Pro with Touchbar for all videos and blogposts. I had considered switching to the smaller MacBook around the turn of the year, especially for travel, but then decided to go with the new MacBook pro because the performance is much higher. Even if I would have liked the Macbook for the handbag, it is simply too slow in video editing and with Photoshop and Lightroom and can not supply my hard drives with enough power. For me simply currently the best solution for my pictures, blogposts and daily work
La Cie Rugged RAID 4TB hard drive – my first choice for all data. I always have the hard drive with me and also presented in my hard drive test before. Even if the disk with a weight of 500g is relatively heavy compared to other hard drives, on this disk are all the important data that I need for the moment and want to have backed up. Due to the fast connection with Thunderbolt port, I can edit all videos and VLOGs directly and do not have to copy them to the desktop first. At the same time, my last few years of photos are on the disk in RAW/CR2 files, as well as many presentations for my lectures and workshops. It has been one of the best purchases I have ever made in years for my everyday work.
WD My Passport 4 TB mobile hard drive – my backup hard drive. Not in permanent use but also always with me to back up more photos, pull backups of the main drive and from my desktop. Due to USB3.0 connection and 2.5 inch size relatively light and easy to pack.
In the Canon 5D Mark IV, I use a combination of compact flash memory cards and SD card memory cards. I currently have all the RAW files and videos recorded on LEXAR compact flash memory cards, and the JPG files (also for quick syncing with a smartphone) on an SD card. I have also used cards from Transcend or Sandisk, but have not had particularly good experiences in the long term. Therefore, the following memory cards are currently in use:
Lexar Professional 128GB 1066x Speed 160MB/s Compact Flash
Lexar Professional 64GB 2000x Speed SDXC UHS-II
Card reader – Lexar Professional USB 3.0 dual-slot reader
Smartphone and tablets as video equipment
Samsung Galaxy Tab S2 you see as the current tablet still in use with me. I use the tablet primarily for connectivity with my Canon 80D and Canon 5D Mark IV as a control monitor for the Canon Connect app. It is much easier to control the cameras remotely with it and use the tablet as a control monitor. At the same time, I often use the tablet to take notes for the Haul or even to deposit your questions on it during Q&As. However, at the moment I'm actively toying with the idea of switching to the new iPad Pro 10.5 with stylus in order to get all my processes into a cloud again. The pen solution from Apple is currently the best solution for lectures and notes and therefore probably my next choice.
Samsung Galaxy S7 edge is currently my smartphone. Here it is also primarily used to quickly transfer pictures from the DSLR cameras and play them to Instagram, Facebook or Twitter. At the same time, I control the second camera via it and use the smartphone for interaction with my drone. Here, too, however, the consideration to change and switch to the large iPhone 7Plus 256GB to have everything together again and because the further development of the S8+ has not yet completely convinced me. What good is a voice assistant that is only available from December 2017?
Accessories in my video equipment
360° camera – small, handy and always with you, the small Samsung 360° camera. I use the camera primarily to show you hotel rooms and hotel suites from all angles as video equipment. Quickly coupled with the smartphone and good for an inexpensive all-round view. By switching to Apple, I will part with the camera, but it currently goes very interesting alternatives, such as the new Garmin-360° camera, which can already fade in much more information and has an image stabilizer.
Battery pack with about 22000mAh is enough for quick help during long days without the possibility to charge the smartphones or recharge the tablet. For me, the battery pack is enough for several smartphone charges and 2x the tablet. Looks good and is extremely practical due to the built-in cable.
Rollei Travel Tripod / Photo and Video Carbon Tripod – Compact Traveler No 1 Carbon – at only 980g – the perfect travel tripod for me and well suited for both photo and video productions. Due to the low weight and the size it fits well in suitcases, as well as on the photo bag if necessary. Use the tripod for all hauls and also long shots. Every time I think about not taking it with me once, I get annoyed later.
Joby GP3-BHEN Gorillapod SLR-Zoom with ball head – the "monkey tripod" with countless rotating joints, if the camera must be mounted once at a difficult point, the light needs a special place or the flash for the next production must hang ideally in the tree. In combination with the Canon 80D a perfect solution and relatively cheap. There is still a larger edition, then also for the Canon 5D Mark IV and an entry-level tripod for the first productions and smaller cameras. Belongs for me to the Vloggen simply to it.
Drone as YouTuber video equipment
DJI Mavic Pro drone – in some videos and blogposts you could see the drone as video equipment already in use and I have this more and more often in use. Especially for fashion videos, which has already been shot, a whole new perspective and many great opportunities arise. I use the drone especially for hotel presentations very happy, because you can do many things simply much more pleasant with it and gets completely different angles. Often it's not even the great heights that make it interesting, but mostly the different perspective. The drone is perfect in use and just many supporting programs are very helpful and offer really incredible shots. The drone is currently controlled via the smartphone and the external controller. The Android app from DJI is unfortunately very error-prone, those who use an iPhone will get slightly better results.
IMPORTANT NOTE: Before you play with the idea of a drone, inform yourself in advance about the conditions and restrictions and where there are no-fly zones and safety zones everywhere. For this, also note the current changes to the marking of drones from October 2017 and, if necessary, speak to a model flying club in your area. Also note that if you want to use a drone abroad, different rules and regulations apply. Be sure to find out in advance. Even if New York or Las Vegas would be a good place for aerial photography – the regulations here are just as regulated and the penalties are significantly higher than in Germany.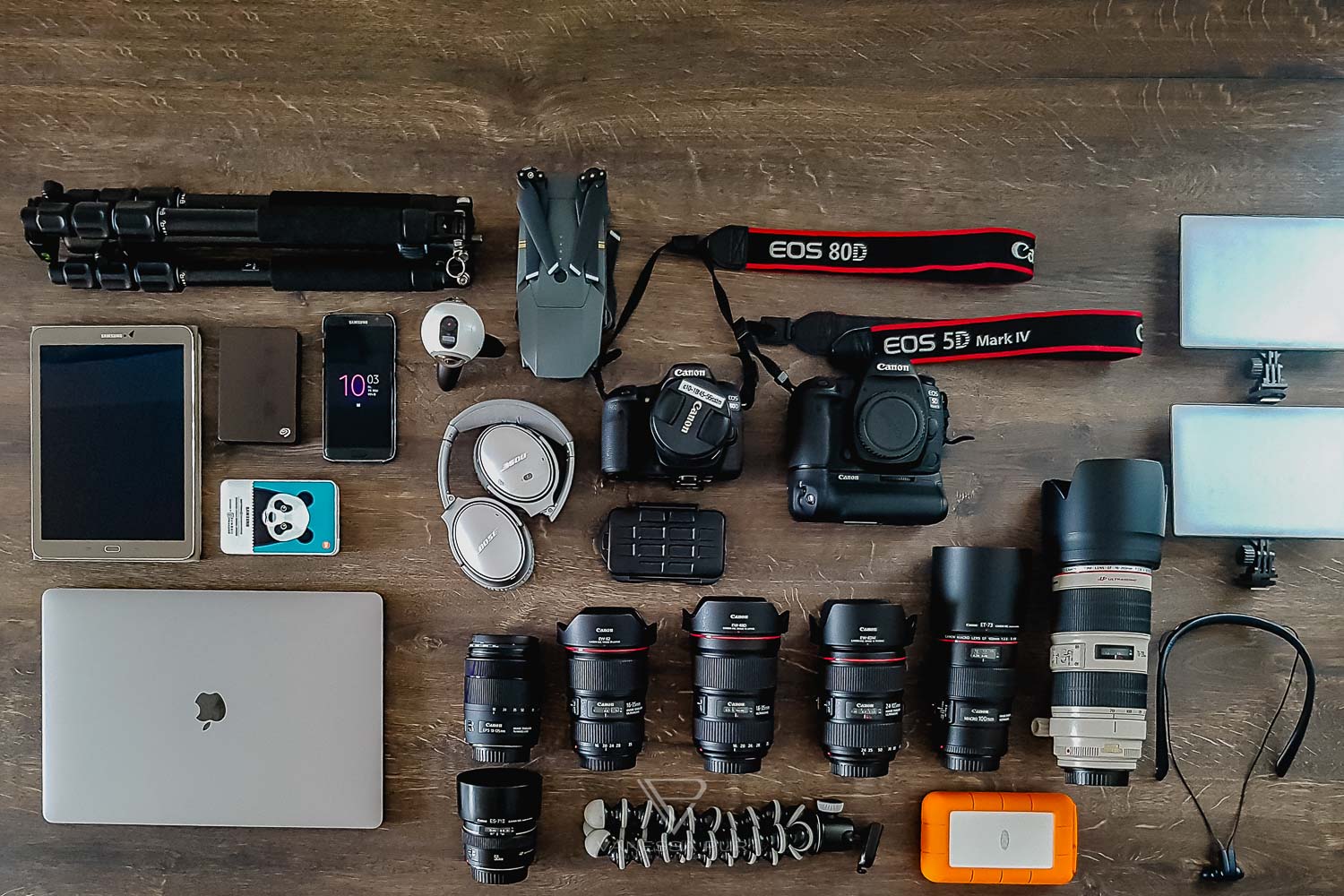 CONCLUSION – Photo and video equipment as a blogger and YouTuber
Even if it sounds at first glance like an incredible amount of video equipment, you also need it again and again. I would also like to reduce the weight a bit and get through the security checks at the airports faster, but most things you just need. So if you want to talk to me, stand in line at the airport when my luggage is being screened and you'll certainly have 30 minutes to talk 🙂
Of course, the video equipment has also grown piece-by-piece with me and there are also always some parts sorted out and replaced by other items, but for Fashionweek, for example, will certainly be the big lens again, two camera bodies, microphones and light for YouTube and of course a wide angle for my hotel room. Without tablet, laptop and smartphone it does not work anyway – so many things come but again in the bag as video equipment.
My articles of video equipment are of course only guidelines and a video equipment for a professional blogger and YouTuber. If you do it as a hobby or want to start, initially a normal camera with a nice lens and the borrowed laptop from the family is enough. The longer and the more professional you make the "job" but then, the larger the equipment.
So I also started once and slowly found my favorites of video equipment and now also think about again change and optimization (eg smartphone and tablet). After switching to Android three years ago, I'm now thinking about returning to iOS and Apple.
If you have more questions about the products of my video equipment, you are of course welcome to ask questions below and I will try to answer them then to my video equipment.